Disclaimer: This blog post is not sponsored by stuf|f – fine goods.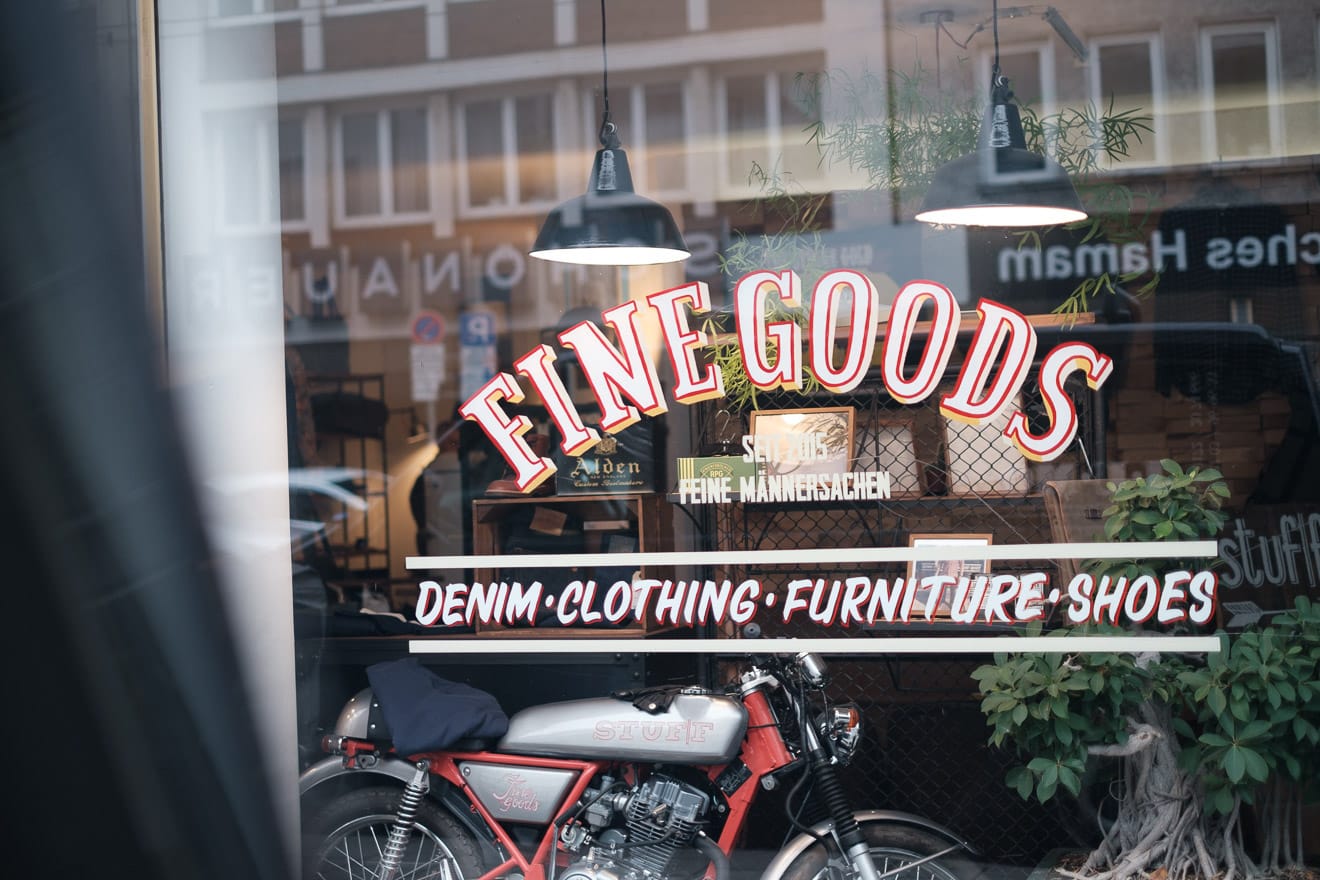 First Store Review in a New Series about Denim Destinations
It's 2019, and the amount of clothes purchased online is only going one way; up. But we all know it can be tricky to buy stuff like jeans or boots in front of a screen. Don't get me wrong, I'm a fan of shopping online myself; it can make your life so much easier.
But there's just something about walking through the doors of a store, smelling the denim and the leather, and having the opportunity to try on things before you buy them. That thing is called an 'experience.' And if it's good enough, people will travel around the world to get it.
These places have become destinations in their own right. What they usually all prioritise is something as old-fashioned as good customer service.
This blog post launches a series where I go behind the scenes of denim destinations from around the world and discuss why they are worth travelling to. The series kicks off with a review of stuf|f – fine goods.
I'll review the concept and direction of the store, why they stock the brands they do, and how they run their business in general. The review is based on an email interview with the people behind stuf|f, and in this particular case, Freiburg's finest Irish denimhead, Cal Geary, shares his first-hand experience with the store as well.
Key Facts about stuf|f – fine goods
Location:
Düsseldorf, Germany
People behind the store:
Vital contact information:
Email: info@stuf-f.com
Instagram: @thomas.von.stuff
Phone: +49 (0)172 26 111 87
Address: See the Google Map below
Five brands that define the store and its concept:
The Roots of stuf|f – fine goods
Thomas Jablonski has always been into style and fashion. Especially denim has fascinated him ever since he got his first pair of 501s as a teenager.
"In the 90s, when the washes were very boring, I began customising my jeans with a file and sandpaper. I did that for some good friends too until Diesel and the whole industry came up with the worn washes," he tells me via email.
In 2005, he was introduced to raw denim when he got a pair of Nudie Regular Ralfs. "I was infected with this stiff and crispy fabric." He started collecting raw denim jeans from all over the world, particularly from smaller brands that you couldn't buy in Europe at the time.
I wanted to support these brands, which gave me the idea to open a store where you could discover locally produced brands from all over the world that you hadn't heard of before."
Thomas (left) and his business partner, Stephan Bartelmuss (right), both worked in advertising before. They started discussing setting up a business together about 8 years ago.
"We'd both worked in advertising and would often talk about what we'd do 'when we got older'," Thomas writes.
They wanted to create something they could identify with and put passion into. While on summer holiday in Greece in 2014, he decided to take action on it. He developed the idea of stuf|f – fine goods at a beach club in Chalkidiki.
When I got back to Germany, I created a powerpoint presentation about the concept (typical advertiser, he adds) with the philosophy and the cornerstones of the store, and presented it to Stephan. He loved it."
Jan Weiss has been into fashion and jeans for years too, although he admits he got into raw denim quite late. His first pair was the Rogue Territory SK, which is still one of his favourites.
Jan and Thomas met through a mutual friend at a party some years ago, and they immediately struck a chord. "Some years later, as luck would have it," Jan tells me, "Stephan and Thomas were looking for a store manager exactly when I had just quit my suit-and-tie-job. Bingo!"
The Concept and Idea Behind stuf|f
For Thomas, stuf|f is far more than a denim store. "I always describe it as an 'egoistic lifestyle concept.' It's about everything Stephan and I love; about what we feel doesn't exist, or at least not in that way we wish."
However, a denim store has always been a part of the concept, but they almost opened a hotel instead. "Maybe the next project, who knows," he adds.
The Decisive Moment That Gave Birth to stuf|f – fine goods
In April of 2015, once they'd decided to open the store, everything went quite fast. They began contacting the brands they wanted to stock, went to Selvedge Run, flew to Japan, met people, ordered goods, and scouted for a location.
At first, we wanted to open as a pop-up store in a cool industrial building that belonged to a friend of ours until we'd find the perfect location. But then, the location found us."
On November 26, 2015, stuf|f – fine goods opened, and in February 2016, their online store went live.
'stuf|f' stands for 'stephan, thomas und freunde | feine sachen.' In English, that's 'stephan, thomas and friends | fine goods.'
The name reflects the concept of the store:
'Fine goods,' meaning quality, craftsmanship and passion without compromise.
and 'friendship,' meaning working with friends and supporting business partners.
Brands With Stories, But Not a Heritage Store
stuf|f has one of the most extensive lists of denim brands you'll find around. But although all brands at stuf|f have a story, it's not a heritage store, Jan points out.
It's about classic and timeless goods, but the style has to be contemporary. We want great craftsmanship like in the past, but we don't want to look like we live in the past," as he puts it.
Thomas elaborates and describes the style that the store represents as 'stylish relaxedness.' That means versatile basics, a lot of blue and black, and stuff you can wear virtually anywhere.
"Always simple, but never boring. That's the high art for us; to take simple clean essentials and transform them into sophisticated, contemporary style."
Make no mistake, though, they love denim! "It's classic, versatile and iconic. Our fathers wore it, our kids still do," as Thomas so rightly puts it. "When you don't know what the day will bring, you never go wrong with a great pair of jeans, white sneakers and a t-shirt," he adds.
And like most of us denimheads, it's the evolution of wearing in a crisp new pair of raw denim jeans they love.
The fades express the unique personality and character of the wearer, and the garment becomes even more attractive."
Speaking about the complete list of brands you'll find in the store, they're all selected based on what they personally love and wear. Inspiration comes from Instagram, magazines (especially Japanese ones), friends as well as customers. Trade shows too.
While Thomas already had an initial brand line-up in mind when they opened, they're constantly on the hunt for new ones that complement the selection. This season, they're adding Fullcount, Pure Blue Japan and E.L.M.C to the already extensive list.
2019 will also see new collaborations launched by stuf|f, including a 12 oz. lightweight version of they SGXSFGO1 cut from The Strike Gold; a second collaboration with Vanson Leathers on a 1960s Cafe Racer jacket; and a chino project with Blaumann Jeanshosen.
Brands like Rogue Territory and Momotaro are top sellers, and product-based level it's the Apolis wool chore jacket, SGXSFGO1 collab jeans, the RGT ISC work shirt, the Nine Lives Duster coat, and heavyweight flannels from UES and The Flat Head that perform well at the moment.
The Decoration and Design of stuf|f
Personal tastes for style and living and consciousness for quality and sustainability are directly reflected in the design of the store. This is Stephan's domain. Ideas like their wall made of hundreds of wooden door stops are his.
"Almost everything you see is for sale, also the furniture. It's part of our concept," Thomas explains. And it makes a lot of sense when you think about it. Interior is very closely linked to clothing; a leather club chair ages as beautifully as a pair of jeans or a leather jacket, Thomas points out.
Similarly, their online store was designed based on very personal opinions. Clean, puristic, easy to navigate, and with a 'less is more' attitude.
It's been important to us that you can see and feel that we're a real store in Düsseldorf with the opportunity to buy online," Thomas explains.
That's why they also encourage online customers to reach out with questions. They strive to give the same service over the phone or via email as they do in-store.
At the time of publication, the online store is available in German. But even though visitors might not fully understand the language, it's already an international store. "The very first order we received when we opened the online store was from Alaska," Jan adds. Nevertheless, they're currently working on an English version.
How stuf|f Approaches Social Media and Marketing
If you're on Instagram, and especially if you follow Jens aka @sel.vage (who's one of the 'friends' of stuf|f), you've probably come across the store.
Social media is very important to us," Thomas stresses. "We use Pinterest, Facebook and Instagram, each of them with a different purpose."
They started with Pinterest, using it to outline their taste and style, and show the direction they wanted for the store.
Facebook is more like their social media business card and newsletter with store information, stories, brand and product news.
On their two Instagram profiles, @thomas.von.stuff and @jan.von.stuff, they get more personal and show 'behind the scenes' and their daily styles.
"Our business is not about clothing; it's about people, passion and inspiration," Thomas points out. "We really live and love what we do. And I think when you visit our Instagram feed, you'll feel that. Real people, true passion, and (hopefully) inspirational style."
Why @calgeary Lists stuf|f as a Denim Destination
Everything you've read so far is based on Thomas and Jan's answers to all the questions I sent them. Plus what I've pieced together about the store from my research.
Unfortunately, I've not yet had the chance to visit the store myself. And what is a review without first-hand experience?!
That's why I've asked my friend and partner-in-crime at the @eudenimhangs account, Cal Geary, who's visited the store, to share his experience with it. Here's Cal:
stuf|f is one of the first raw denim stores I visited. I'll never forget my first visit because I spent over three hours there, inspecting everything they had to offer."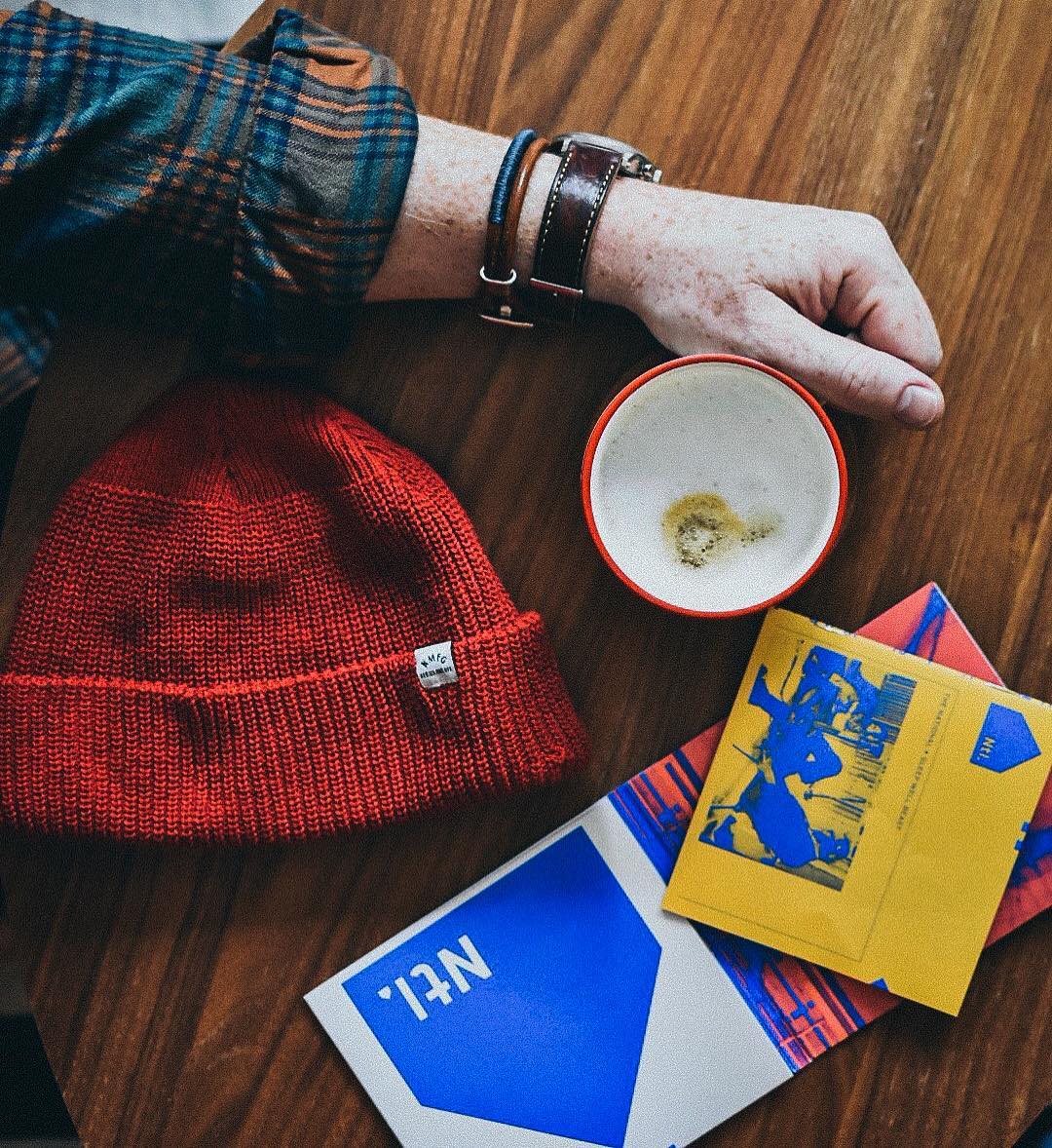 Drinking espresso—and beer—he remembers how he was offered Thomas' own jeans to try on! "I was interested in the RGT SKs and he was giving me advice about the sizing and how they'd stretch. To give me a better idea, he suggested I try on the jeans he happened to be wearing that day."
This is a great example of the advantages of visiting a physical store (although I don't think it's common you get to try on the owner's jeans). Cal continues:
For me, the lads there have built a beautifully curated store with the right amount of comfort and style without ever feeling over-crowded. The space is used so well. It's very authentic and welcoming. I even wanted to take the furniture home!" (Which we now know he could've.)
Cal is also a fan of the brand selection. From Knickerbocker and Freenote to Momotaro, The Strike Gold and Tanuki. And not only that, the selected items from those brands are flawless, he says.
His favourite purchases from the store are his 3sixteen Type 3s and RGT neppy western shirt. "I've bought multiple tees from there too, and of course my beloved Knickerbocker red hat."
And then there's the customer service. Apart from the odd chance to try on worn in garments, Cal values that you can spend time in the store at ease, and enjoy getting a close look at the goods without feeling you have to rush out again. Don't we all know that feeling?
He's bought online too where the service is just as good. "On my most recent order, I received an email the next day from Jan telling me it had been sent, and I received the package the following day."
Finally, I wanted to know whether Cal truly thinks the store is a destination worth travelling to:
For me, it's always worth a visit, even though I have to make a 950 km round trip!"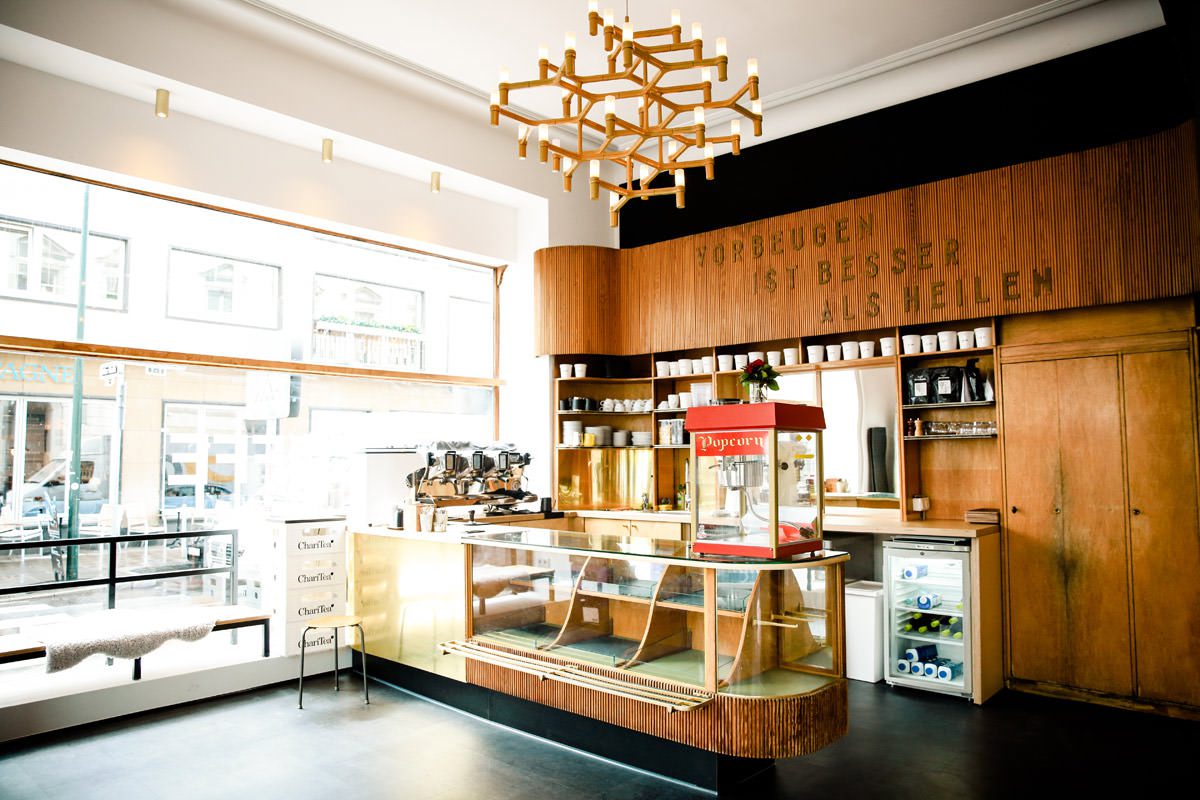 Need More Reasons to Visit Düsseldorf?
It also helps that Düsseldorf has a lot to offer besides stuf|f. Thomas tells me the city is small enough to let you discover almost everything by foot or bicycle. He recommends the Media Harbour, the old town, the Königsallee, the Rhine promenade and the Rhine Tower.
Düsseldorf has one of the biggest Japanese communities in Europe, so if you like Japanese food, Thomas recommends Takumi for ramen and Kushitei for Japanese cross-over food.
Cal is a fan of the Japanese bakery, Taka. He highly recommends the pastries there, but says you should get there early!
Besides the espresso at stuf|f, Thomas recommends Café Nikan in Düsseltal. Downtown, you should visit the Cøffe, Rösterei Vier and the Bazzar.
Jan gets the last words with a recommendation of Cafe Muggel in Oberkassel for breakfast, dinner at Brasserie Hülsmann, and afterwards a drink (and party) at the Sir Walter Bar.
Ready for More Stories …?
Did you get this far? In that case, my sincerest thank yous for reading it all to the end.
I really hope you've enjoyed this review of stuf|f – fine goods. Feel free to share your experiences with the store in a comment below or on Instagram.
If you'd like to read more stories like this one, check out all the previous posts published here on Denimhunters. Maybe start with the most recent ones below.
And if you'd like to get a heads up when we post new stuff (no pun intended), you can sign up for the free email newsletter.