The Low Down on Denim Becomes Iron Heart Vienna
What does the future of denim retail look like? My two cents on this million dollar question:
1) Online is NOT going to kill brick-and-mortar retail altogether (but it is going to separate the wheat from the chaff), and;
2) we will see more branded (offline) retailers.
Why? Because retail is and will be about experiences! While online shopping is more convenient, it doesn't (yet) offer the same experience as offline. On the other hand, online retail can be an extremely powerful way to drive more visitors to physical stores.
You can read much more about our predictions for the future of denim here.
All of this is especially true for jeans; a product that's so tactile, so much about how it feels. Even if the product description says the denim's heavy, slubby or soft, or a video shows you have the jeans fit, it's something you only truly appreciate when the garment is in your hands.
So why am I talking about online and offline retail? As the title already gave away, Iron Heart recently announced that they will be opening their first branded store outside of Japan. More specially, Vienna's The Low Down on Denim will be converted into the first international Iron Heart store.
The Low Down was originally opened in April 2014 by Martin Novak. For the past two years, he's run it together with Markus Weber. I got in touch with Martin and Iron Heart's Giles Padmore to ask how it all came about, and why Vienna is the perfect location for an Iron Heart store.
Addictiveness and Great Partnership
Martin's been a fan of Iron Heart for years. "It started when I got my first pair of 21 oz. 634S," he writes in an email.
I bought them from Giles' webshop, I guess it was back in 2010 or so. It was actually my first pair of real Japanese raw denim jeans! I already had some raw Nudies, which were made from Japanese selvedge denim, but I was totally blown away by the feel and the fit of the 634S."
I've had the same experience myself as I've worn my first Iron Hearts (also the 634S) for the past couple months.
"It was love at first sight," Martin continues. "Everything on those jeans are special, the denim, the fit, how they feel on your skin, the fact that they're indestructible. From that point on, I was addicted to Iron Heart."
I then asked Martin to elaborate on what it is about the brand that makes it so special:
For me, apart from the product, it's the people behind it! It's the way they work with us retailers. You'll get an open ear every time you're in need of something or there's a problem. There'll always be a solution."
"We have worked with Martin and Markus for years," Giles explains via email. "They have a great store, and like many Iron Heart retailers around the world, Iron Heart is their best selling brand."
While I wouldn't call Iron Heart products expensive (because they're worth the price tag), we are talking about jeans and shirts that cost from around €250 and up. So I wanted to know how Martin's managed to be so successful with the brand.
By the time customers feel the product and try it on, they instantly know how well it's made! I've NEVER ever had any quality issues with any Iron Heart product. Once customers experience this, you can bet they'll come back for more!"
Why Vienna Is the Right Place for an Iron Heart Store
Vienna isn't exactly knownas a denim hub like Amsterdam, New York or Los Angeles. I was curious if they're just crazy about heavyweight denim in the Austrian capital or what it is that made Vienna the right place for the first international Iron Heart store.
Because that is where The Low Down on Denim is!," Giles writes in his familiar no-BS fashion. "It's a wonderful city with a discerning customer base and a vast number of tourists," he adds.
The historical city is located right smack in the middle of Europe, Martin points out, and people flock to it from all over the world. "It probably also helps that I'm passionate about the product; if you're convinced of a product, you'll be good at selling it!"
I'd love to think that people will visit Iron Heart Vienna as the destination and then spend some time looking at what else Vienna has to offer," he continues, "but that may be a little fanciful!"
From Leather Craftsman to Iron Heart Store Owner
In an interview published in 2013 at Rope Dye about the leather goods that first put Martin on our radar, he was asked to predict where The Low Down on Denim would be in five years. His answer: 'running your my store in Vienna.'
And here we are, five years later, and not only did he manage to reach that goal, he's been so successful at it that one of the most respected Japanese denim brands has allowed him to convert his business into a branded store. I asked Martin if he ever envisioned he would run an Iron Heart store.
Yes and no," he replies. "Yes, because back then I was already really into Iron Heart! No, because it wasn't the right time to focus only on one brand before we knew what brands would be accepted by our customers."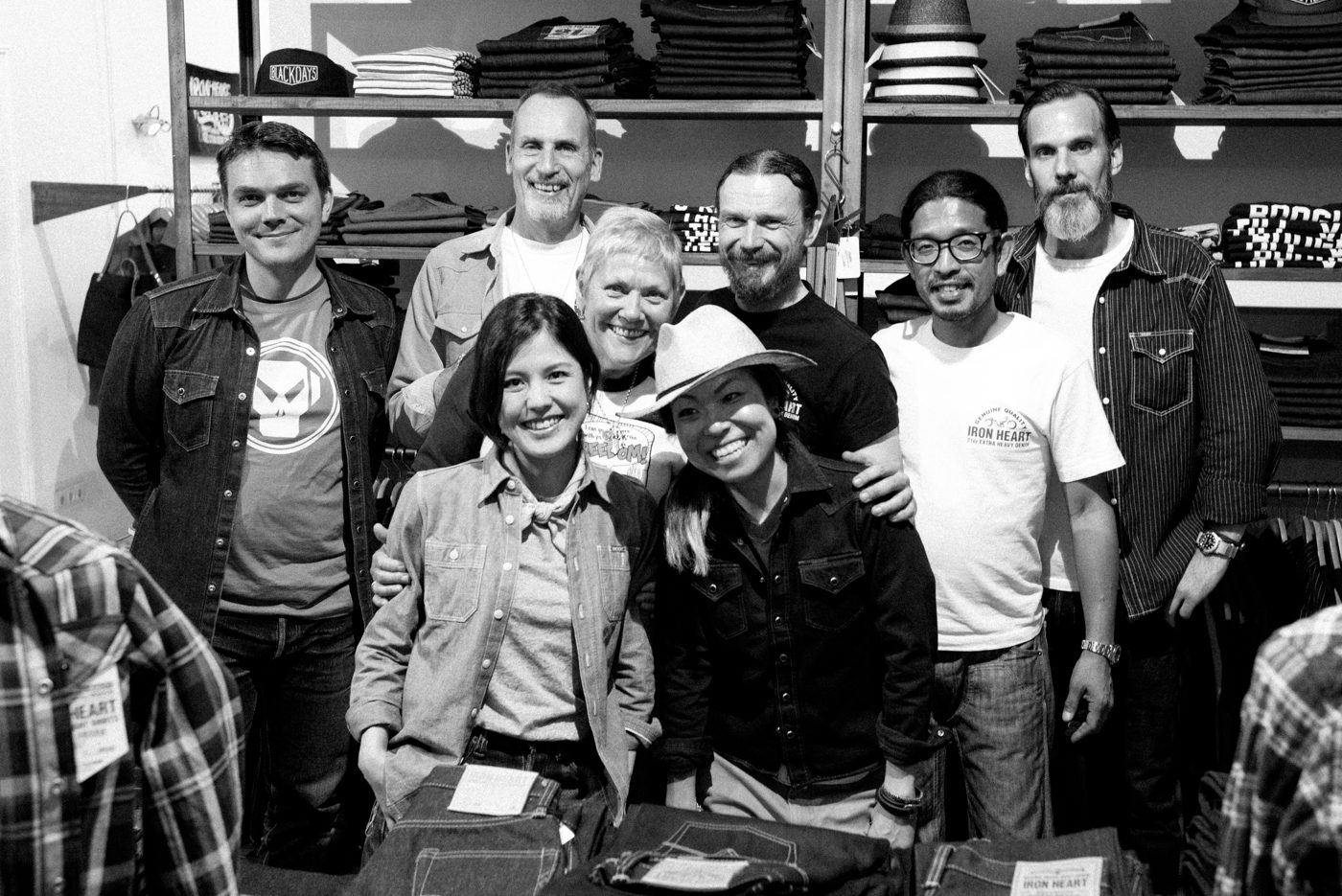 Being humble and realistic are obviously two traits that help if you want to open an Iron Heart store. I asked Martin what else they did to land the deal.
It was me and Markus who decided to focus more on brands we love. It was actually a very fast decision that came up last summer. From that, it took us some phone calls, emails and meetings."
Giles chimes in: "Martin and Markus felt that rebranding the store as Iron Heart Vienna and putting more investment into the brand (and a few complementary brands) would enable them to become increasingly successful selling Iron Heart."
Not a Franchise, Not Exclusively Iron Heart
The store is wholly owned by Martin and Markus, it's not a franchise, Giles explains. Together with Haraki-san, he's allowed the two Viennese to use the Iron Heart name, and 'the two bosses' have also been involved in the look and feel of the store, plus which other brands it offers.
In addition to Iron Heart, the store will stock Wesco, Dehen 1920, Simmons Bilt and Good Art Hlywd; all brands that already have a strong relationship with the Japanese denim brand.
Up until this point, The Low Down on Denim has offered a range of other great denim brands such as Indigofera and Eat Dust as well as other Japanese ones. But Iron Heart has been the best selling, as Giles already mentioned. So although Martin's very proud of being the first Iron Heart store outside of Japan, the decision to make the change wasn't without hardship:
We've had and still have great friendships with all of our suppliers," he explains, "but Markus and I decided to cut it back to the essentials and focus on what we love most."
He says he hopes the new store will improve the brand's status outside of Japan, and that Iron Heart will get the recognition it deserves.
Last question to Giles: will there be more international Iron Heart stores?
We'd love that to happen, but it has to be the right time and the right place," he ends.
Visit the Iron Heart Store in Vienna
I've never had the change to Vienna yet, but when I do I'll surely make it a priority to visit the store!
Iron Heart Vienna is located on Burggasse 100A, 1070 Vienna, Austria. You can reach the store via Facebook, Instagram or phone +43 1 9053800. It's open Tuesdays to Fridays from 11am-7pm, Saturdays 11am-3pm.
A launch party for the store will go down on Saturday, June 30 from 6pm. Register here! Haraki-san, Giles and their team will be in attendence.