This blog post is sponsored by Bluezone, the independent trade show for the denim and sportswear community by Munich Fabric Start. Register for the show here!

We denimheads tend to be a bit nostalgic. That's one of the reasons we love denim: it's a constant in the fast-moving world of fashion, something that doesn't change from one season to the next.
But denim's always been evolving. Some of the earliest denim innovations were the flying shuttle and the sewing machine. And more recent technologies such as laser, ozone and fibre developments have been revolutionary.
For the near future, we will witness a digital transformation of manufacturing using market analytics (also called 'Big Data') and robotics to create decentralised 'smart factories' and digital supply chains.
Companies such as Softwear Automation are introducing fully automatic sewing lines, and creative software like MYR digitises the creative processes of designing jeans.
Artificial intelligence will be applied in various steps of the supply chain, including retail," Sandeep Agarwal of Denimandjeans.com predicts.
But it can be a bit overwhelming to keep up with all the innovations that are happening in the industry. That's why—with the help of half a dozen experts—I've put together this list that provides an overview of the what we believe are the 27 most influential and recent denim innovations and technologies in denim that you need to know.
The list isn't exhaustive or in any way definitive. And the innovations are not listed in priority of their importance. Instead, I've listed them based on the chronological process of turning raw material into a finished garment.
Innovations #1 to #3: Stretch Denim
In the past couple of decades, new fibre blends are some of the most influential denim innovations we've seen. "The use of stretch fibres has changed the denim industry," Lenzing's Tricia Carey argues.
The problem with stretch in the past has been a lack of recovery, meaning jeans would get saggy after only a few wears. Several of the experts I've talked to point to technology such as Lycra's dualFX (innovation #1) as a solution for this issue.
While the hype of extremely stretchy denim (innovation #2) may have reached its peak—there's no added value in having 64% compared to 59% stretchability, designer Klas Dalquist points out—it's hard to deny the importance of the innovations that've made it possible.
Most recently, mills have also been experimenting with bi-stretch denim (innovation #3), meaning denim with an elastomer spun into both the weft and the warp.
Lycra and Lenzing are both showing at Bluezone's Keyhouse.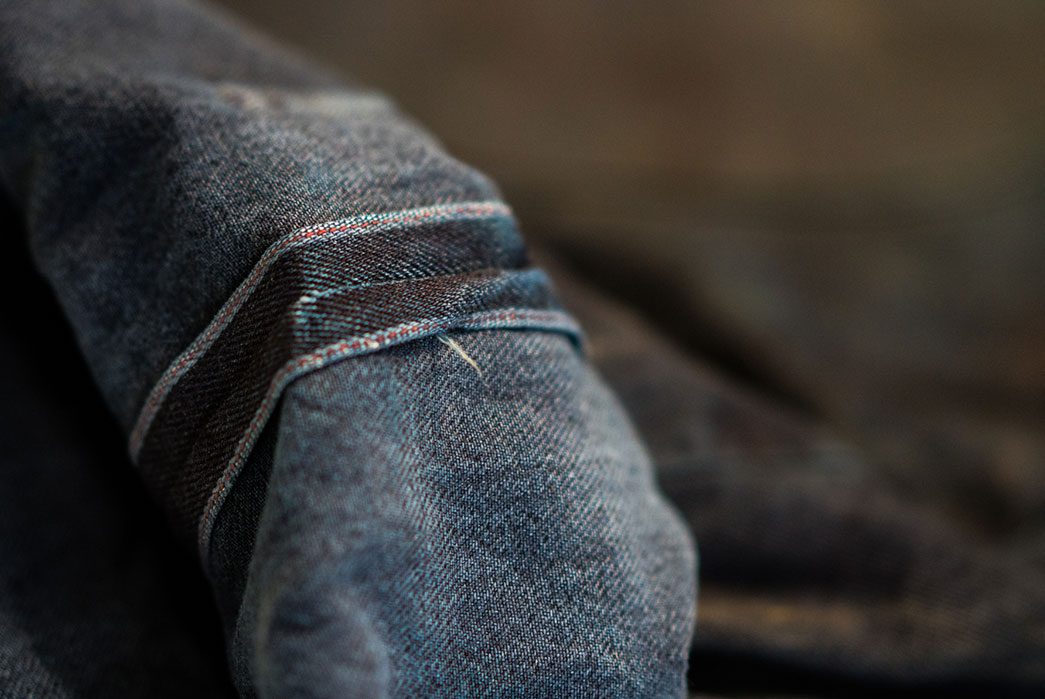 Innovation #4: 'Performance' Denim
A topic that's important for both makers and wearers is how to make jeans last longer. Crotch blowouts are one of the most common complaints for wearers, especially for those of us who're commuting by bicycle.
This is where fibres such as Cordura, Kevlar and Dyneema come into the pictures. When spun with cotton, you can get a fabric that looks and feels like denim but with a lot of added strength.
Artistic Milliners is the longest running authorised mill to use Cordura, which they've been working with since 2010. Last year, the Pakistani denim maker collaborated with Cordura on no less than four different performance denim concepts, one of which (in the picture above) was designed by Bluezone's creative consultant, Tilmann Wröbel.
Artistic Milliners are showing their collections at the All Star Mills hall at Bluezone.
Innovations #5 to #8: Sustainable Raw Materials
The buzzword of the decade has surely been 'sustainability,' leading makers to invest heavily in clean technologies. In the fibre stage of making denim, recent technologies that help mills create more sustainable denim include biodegradable synthetics and bio elastomers (innovation #5), says designer Stefano Aldighieri.
We've also seen alternatives to the thirsty cotton crop; both natural ones, such as hemp or linen, and man-made alternatives in the form of lyocells (innovation #6), like Lenzing's Tencel and Micromodal.
One of the best ways to be more sustainable is to avoid consuming new resources. This is where we have recycled fibres such as the new Refibra (innovation #7), a type of Tencel that's made out of waste material from the manufacturing processes.
Recycled fibres can be made from either 'pre-consumer' waste (leftovers in fabric production) or 'post-consumer' waste (discarded garments), which is shredding, turned into new fibres and then (usually) blended with other fibres.
And when you do need fresh cotton, the sustainable alternatives are organic or BCI cotton (innovation #8).
Innovations #9 to #11: Spinning Technology
In the spinning department, there's not been a major disruption since the invention of open-end spinning.
Still, core spinning (innovation #9) with different components has been key in the development of stretch denim with natural fading capabilities.
Denim makers are also putting effort into designing and controlling the slubbiness of the yarn in both ring and open-end spinning (innovation #10).
Improving the hand feel of denim is another goal where spinning innovation is applied. Thanks to the recent advancements, very fine yarn can be turned into coarser yarn (innovation #11), Indigo Textile's Martin Schaefer explains. That means you get the authentic look of denim but with a much softer hand.
Denim City's Maarten Wentholt also predicts that as we use more and more recycled fibres, we will see a growth in open-end spinning.
Indigo Textile is showing at Bluezone's All Star Mills hall, and Maarten Wentholt is attending too to host a presentation at the Denim Club in hall 7.
Innovations #12 to #15: Rethinking the World's Oldest Dye
By definition, denim used to be dyed with indigo. Sulfur dyeing changed that in the '70s. And with the more recent innovations in dyeing, the definition of denim is getting broader and broader, it seems.
Indigo dyeing remains the most water and chemical intensive process of denim manufacturing. And how denim is dyed hugely impacts the weaving and finishing stages.
That's why, in the dyeing department, makers are focusing on technologies that lower water consumption and create recyclable discharge, Sandeep Agarwal explains.
The challenge is to improve a century-old process using the oldest dye in the world without corrupting the inherent character of indigo, but at the same time significantly reducing the environmental impact of indigo dyeing. Some of the most important recent innovations to do this include:
Using pre-reduced indigo dyeing instead of powder indigo (

innovation #12

)

.

One example is the recently released Crystal Clear dyeing technique, developed by DyStar and Artistic Milliners in collaboration with G-Star and produced at Saitex, which saves significant amounts of water, uses 70% less chemicals, and it's salt-free.
Nitrogen dyeing, which slows down oxidation and accelerates the dyestuff's penetration into yarns (innovation #13). One example is Candiani's N-Denim.
Or the opposite; dyeing with less indigo penetration, which helps reduce resource consumption in the garment finishing stage (innovation #14).
Innovations like foaming and spray dyeing also save considerable amounts of water (innovation #15).
Case study of how sustainable innovations are combined
Candiani Denim's proprietary Indigo Juice dyeing method, which minimises indigo penetration, and the patented Kitotex (an alternative to conventional starch) help the Italian denim maker save water, chemicals and energy.
Their latest development is Re-Gen, a fabric that's also made from 50% recycled cotton that is collected throughout the mill and 50% Refibra.
No new cotton is used, which means they save the 2.565 litres of water per jean that would otherwise be needed to grow the fresh cotton (the number is based on the 2015 Levi's life cycle assessment).
And because they use recycled cotton from the spinning and warping departments only, the fabric looks exactly like conventional denim.
It's pretty much like taking your favourite BMW," says marketing manager, Simon Giuliani (who knows I'm a bimmer fan), "and replacing the engine with a kick-ass electric one without changing the aesthetics."
The team at Candiani are showing the Re-Gen fabric at Bluezone's Catalyzer hall.
Innovation #16: Knitted Denim
There's still a lot of love for the classic 3×1 kind of denim. Hurray for that! You have it both right and left-handed; heavy- and lightweight. Not too much innovation there.
What is truly new in weaving is the knitted kind of denim, several of the experts I've talked to argue. It's actually a 'non-woven' fabric, and we're once again challenging the definition of denim, which up until this point has been a woven fabric.
Knitted denim is very comfortable, but it doesn't have that familiar look of denim, which is so important for true denim lovers. The next level of knitted denim is circular knits that a completely seamless. But is this really denim?!
Innovation #17: Denim That Connects to Your Phone
While it's still quite experimental, the integration of conductors and other materials into denim—such as the denim Arvind made for the Levi's Commuter x Google Jacquard project—can prove revolutionary.
Essentially, we're talking about denim with touch-sensitive technology woven into parts of the fabric, which ends up as the sleeve of a jacket, for instance. Connect the jacket to your phone and you can answer calls and skip through your music just by touching the denim.
Is it cool? Hell yeah!! But do we need it?
Arvind are showing their latest innovations at the Catalyzer hall.
Innovations #18 to #21: Smarter Fabric Finishes
The fifth and final stage of making denim, the fabric finishing, is quite heavy on resource consumption, which is why there's also some important yet not as sexy innovation going on here.
Smart finishes and smart chemicals are now used throughout these processes, Maarten Wentholt explains. Martin Schaefer mentions foam coatings (innovation #18).
Stefano Aldighieri lists ozone finishing for fabrics (innovation #19) as well as coating, bonding and tinting used to combine different substrates or to add new aesthetics or functionality to fabrics (innovation #20).
Technology such as ammonia finishing (innovation #21), which use ammonia gas to reduce water and chemicals is another important yet very expensive fabric finish, a trusted source tells me.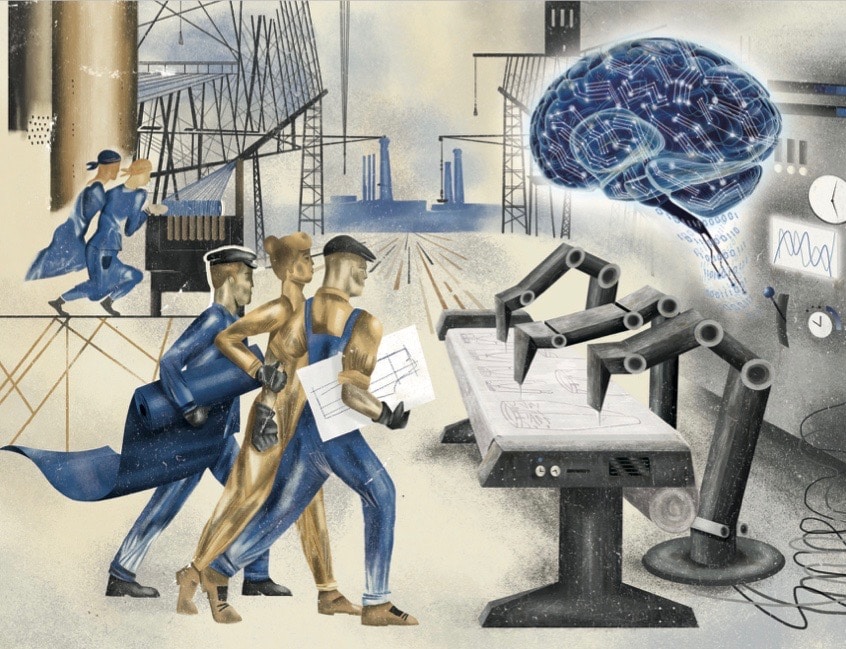 Innovation #22: Design by Artificial Intelligence
In a recent blog post, I discussed how AI is coming to the design process of making jeans. Former general manager of the Martelli laundries, Giovanni Petrin predicts that designers of the future will be using AI to create complete collections and to study trends. But we're still some from making it effective, another expert argues.
While AI design may be in its infancy, the industry is already using algorithms and data to figure out what consumers want.
Suppliers are already working with real-time measurement guidance programmes that automatically adapt patterns," says the head of design at Hugo Boss, Michael Kampe.
And based on body scans from studies of consumers' measurements, the software creates super accurate patterns, resulting in better fits, Maarten Wentholt adds.
AI is ideal for direct-to-consumer retail for jeans makers. As online retail is continuously gaining ground, 'bespoke' denim and made-to-measure, aided by AI design software, will likely become more accessible.
Last autumn during the New York Denim Days, designer Christine Rucci collaborated with Alvanon and TG3D on a 3D body scanning software. Working with self-serve 3D body scanners, consumers are scanned at 200 points. No trained personnel is required! The data can then be integrated into pattern-making systems to create made-to-measure jeans that are delivered to the consumer in just a few days.
In the Keyhouse hall, you can learn more about artificial intelligence in the design process from companies like MYR.
Innovation #23: Jeans Sewn by Robots
Ever since jeans were invented, innovation in the cutting and sewing stage has been gradual and focused on optimisation.
Assembling a pair of jeans needs meticulous attention, Ebru Ozaydin argues. "It's not just the sewing but also the preparation for the washing stage," she adds.
And while some tasks—like sewing pockets—have already be automated, most processes are still predominantly done by human hands. That might change in the future.
Fully automatic pocket and fly machines and semi-automatic waistband folders have been available for years, and these processes will become more and more automated," Maarten Wentholt expects.
In the stitching department, automatic machines, robots and AI are slowly edging their way in, Giovanni Petrin explains. It's a competitive and price sensitive market, and robotisation might be able to cut costs even further. He expects we'll see major disruptions by 2050.
Sewbots, if the technology is established, might change the industry forever, and relocate production to bring it closer to the markets," Sandeep Agarwal expects.
But with the automation of production processes, productivity will go up, and it will be easier for makers to reproduce designs without 'mistakes' made by humans. That means more consistency, which essentially means higher quality garments. Another advantage is that working conditions will be massively improved.
Innovation #24: 3D-Printed Jeans
Making jeans is a labour-intensive business. In the future, though, there might not even be factories; the day when you can produce your jeans in a store or even in your own home with 3D printing could be closer than we think. But, until that day comes, your jeans will come from a factory.
Innovation #25: Laser Finished Jeans
The talk of the town when it comes to the innovative milestones in the denim and jeans industry have undoubtedly been the laundry processes.
There's been a major big push to reduce consumption of water, electricity and chemicals in the garment finishing stage of making jeans. This is where technologies such as laser enter the picture.
Since it's breakthrough less than a decade ago, pre-washing with laser from companies like Jeanología and Tonello has been revolutionising what's possible in the laundries.
Patterns can quickly and easily be transferred from the designer in one part of the world to the manufacturing in another part, which reduces the need for travel. That's obviously more efficient on so many levels.
Innovation #26: Ozone Washing
Another technology that's permanently changed the industry is the use of ozone in laundry machines.
Ozone is a revolutionary technology," says Alice Tonello. "It realises bleach effects on denim with a drastic reduction of water consumption and elimination of all hazardous chemicals."
The ozone is dissolved in water in the laundry machine and removes the indigo during the wash cycle. It's an eco-friendly way of bleaching that minimises health risks for the operators.
It's already a consolidated technology, and the latest iteration of the machinery, like Tonello's ECOfree 2, allows the ozone to function in both water and air.
https://youtu.be/UzFYGZu90ek?t=37s
Innovation #27: Robotic Laundry Machines
While the idea of automating the cutting and sewing stage still stirs up the business, some laundry processes have been more or less fully automated for years.
Tonello introduced their Brush Robot back in 1990. Today, almost three decades later, the technology employs spraying water onto the jeans using high-tech robotic arms.
The German-owned Gonser Group in Tunisia, for instance, is preparing a fully automated production line with mannequin laser and robot sprays for finishing applications.
The robot learns the gestures of a human operator, and it's able to reproduce the spraying of a wide range of finishing products, making everything quicker and easier," Gonser's creative consultant, Alvise Arcaro tells me.
Gonser Group are showing what they're working on at the All Star Mills at Bluezone.
Learn More About Denim Innovations at Bluezone in January!
The perfect place to learn more about everything that's going on in denim is at Munich Fabric Start's upcoming Bluezone MAN+MACHINE show, which takes place in Munich on January 30-31, 2018.