… And How to Avoid Hating Yourself for Buying Jeans You Will Never, Ever Wear
Good news for denim retailers: we're spending more money on jeans. The news gets even better if you're selling premium denim: data suggests that consumers are willing to pay more per jean! The question is whether they're buying the "right" jeans?
How do you as a retailer help your customers find jeans they'll actually end up wearing? How do you make sure your customers are happy with their purchase today and a year from now?
In this first episode of the series about buying jeans, I'm diving deep into the topic of how to find the perfect pair of jeans. I'll tackle the questions above and share my experiences about how to buy the "right" jeans, using four simple buying priorities, which will get you satisfied and loyal customers for retailers.
The four episodes of the series about buying jeans are:
How to buy "perfect" jeans (this post)
How I Completely Blew It With My First Raw Denim Purchase
In 2007, I bought my first pair of raw, selvedge denim jeans.
I remember them clearly. The 1967 505 from Levi's Vintage Clothing, and I recall getting them at an end-of-season sale. I actually think they were from one of the last US-made production runs of the model, but I'm not sure.
I don't remember the exact price nor the discount either, but I remember quite vividly how I had to bite my lip when the guy in the store asked for the money. My gosh, they felt expensive.
The sad part of the story is that I never really wore the jeans. I don't remember exactly why; I guess my mind decided to oppress the trauma; maybe it was the fit, perhaps it was the size. In any case, I ended up giving them away.
Although a seemingly insignificant purchase at the time, this became the start of my passion for raw denim and everything that surrounds the culture of what we today call heritage fashion. It also became the beginning of what feels like a never-ending search for the perfect pair of jeans for me.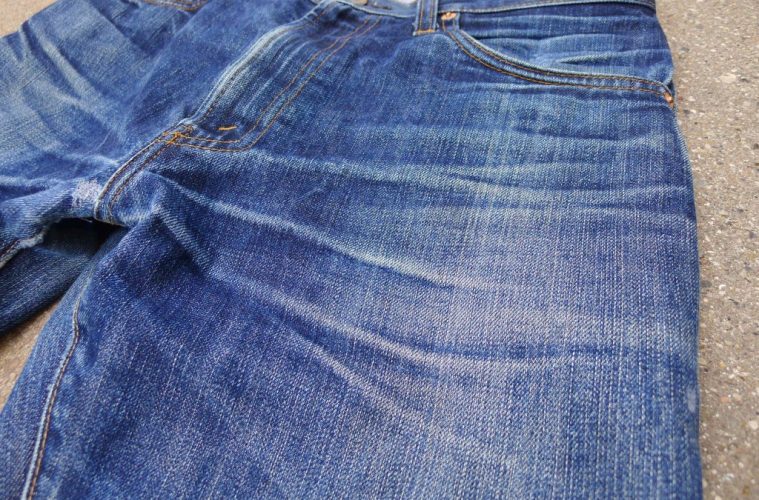 We Buy the Wrong Jeans Over and Over Again
Over the years, I've bought more jeans than I dare count.
I'm sure many denimheads can relate to feeling a weird mix of pride and shame when answering the question, "how many jeans do you own?". And you just know that if that person doesn't get your denim obsession, she's thinking, "what the hell does he need all those jeans for?!". At least that's how I often feel.
But, if you're like me, one of the main reasons you have enough denim to get you through a small ice age is that getting new jeans is intoxicating and highly addictive. Putting on crispy new jeans is exciting. And you secretly love to witness how the fades slowly evolve as the jeans start moulding to your body.
The issue is that, deep down, you know that the real reason you have all those jeans is that you haven't found that perfect pair yet. For collectors and self-proclaimed denimheads like myself, it's not a problem; it's a hobby. Men spend crazy amounts of money on hunting and fishing gear, cars, watches or, like my dad, old coins!
Still, we all know how the Eureka moment you had when you thought you'd struck gold with a new "perfect" pair turns to bitterness as you reluctantly realise that you're never going to put solid fades into those jeans.
And for the average bloke out there, this is serious business. Greensboro and Kojima, we have a problem!
Good News: We Spend More On Jeans, But Buy Less
The problem is not spending money on jeans. We're pretty good at that.
According to Technavio, the global jeans market had an estimated value of $58 billion in 2014, up 12% from $51.6 billion in 2007 (source). And as of 2015, the average number of 5.8 pairs of jeans owned by the surveyed population of US males in the ongoing research conducted by Cotton Incorporated, the trade organisation behind the research, was down from an 8.4-pair high in 2006. That's a 31% drop.
Now, the numbers are not scientifically comparable, but they do tell us that US males (who'll represent all men for the sake of my argument) have fewer jeans in our closets. The numbers also show us that, across the globe, we're spending more money buying jeans.
In other words, customers are willing to pay more. That's great news for the denim retailers that sell quality jeans, which inevitably come at a premium.
What that data doesn't reveal is what we're looking for when we set out to buy jeans.
What Makes a Pair of Jeans "Perfect"?
In Lifestyle Monitor's 2015-survey on that topic, the most important purchase criteria for US males were, in prioritised order; 'fit,' 'comfort,' 'durability' and 'quality.' Never mind that there's probably an overlap between 'fit' and 'comfort,' as well as between 'durability' and 'quality.'
'Price' comes in at a close fifth place while how the jeans 'look' and the 'style' of them are less important.
For US females, the purchasing criteria are a little different: 'fit,' 'comfort,' 'flattering look' and 'price' are the top four.
Now, I would argue that denim shoppers would have a bigger chance of finding the perfect jean if they reversed the order slightly.
Objectively observing the act of buying jeans, it shouldn't be that difficult. You start with an idea of what you want; how they should fit, what they should look like, how much you're willing to spend on them. And then find something that fits those criteria. But you and I both know it's not that easy, at all.
Why Is It So Darn Difficult to Find the "Perfect" Pair of Jeans?
During my time working in denim retail, I met waaaaay too many frustrated denim lovers, novices and aficionados alike, who couldn't find the jeans they were looking for. And over the years, content related to buying jeans has consistently been the number one top-ranking category on Denimhunters.
Although it's considered a wardrobe commodity by many, buying jeans is not like buying basic T-shirts or socks. It often feels more like getting a tailored suit or a custom-made pair of shoes (not that I own neither of such items, but you get my point!).
The sheer amount of price points, fits, styles and brands can make you dizzy alone.
That's before you consider the fact that a size 32 in a fit you like is not necessarily a waist 32 in another fit, from the same brand that is! And I'm not even talking about the differences in how they actually fit your body; I'm talking about hardcore numbers; differences in measurements.
Even with the same fit, from the same brand, in the same size, you might experience inconsistencies if the styling has changed or if the jeans are made from a different denim.
Don't even get me started on buying unsanforized jeans, which has taken me years and thousands of $$ to learn to appreciate.
Wrong Jeans = Unhappy Customers = Bad Business
Denim retailers shouldn't sneeze at the potential consequences of this.
The best case scenario is that you won't make a sale, but the customer might come back.
The worst case scenario is that you get an unhappy customer who's bought the wrong pair of jeans, which means you've broken his trust. And then you can be more or less certain that you won't get his business again.
He could even go on to tell his friends about the experience. You know what, he probably will. And you don't want to look down the barrel of a gun loaded with negative reviews. Social proof is a highly powerful mechanism!
On a personal level for the denim shopper, such frustrating experiences lead to lack of confidence and not feeling good in the morning when putting on the jeans, which means the garment is more likely to end up gathering dust in a closet than getting worn and torn.
The 4 Jeans Buying Priorities
So how do you avoid all the horrors described above from happening?
In my experience, and as I write in my book Blue Blooded, you need to go through the following four steps, or "priorities" as I call them, to find the perfect pair of jeans.
The 4 Priorities Are …
The priorities are based on my experiences buying jeans for a decade and blogging about the topic since 2011. They also formed the foundation of the strategy I followed when I was working in retail, advising customers about which jeans to buy.
To me, they are "priorities" because, in my experience, you have to go through them in the above order to get the best result. Now, let's look at each of them in a little for detail.
Priority #1: Budget
Before you go denim shopping, decide how much you're willing to spend. It's simple, and a rule you can apply in virtually any shopping scenario, but it helps you to make better decisions.
No matter what your number is, my advice is to follow the "less is more" principle.
Instead of buying two pairs of $100-jeans, buy one $200-pair and then go on a denim shopping hiatus if needed. In my experience, you'll be happier with the pricier option, simply because it's more valuable to you, which means you'll be wearing it more.
Priority #2: Fit
Once you know your budget, you need to find something that fits you.
The way your jeans fit is crucial to how much you'll enjoy wearing them. The wrong fit can make or break the jean. Lifestyle Monitor's data says the same.
How you're built tells you what jeans will look good on you, even before you slip them on. If you're lean, a slim or even a skinny fit can work, but chunky denim in a looser cut will probably also look good. However, if you're short or have chunky thighs (like me), looser fit jeans can make you look shorter than you are, especially if you wear your jeans low on the hips.
Priority #3: Style
How your jeans look is obviously important too. But if they don't fit you then all the greatest denim in the world, or the most authentic stitchings, won't matter much. That's why style is the third priority.
The way your jeans look, in others words their style, is made up all the details denimheads like to geek out about. All the small details like thread colour, seams, rivets, patches, labels, not to forget the denim itself.
For aficionados, certain details can be the main reason they buy a jean. For the majority of consumers, it's more important that the jeans match the rest of their wardrobes.
Priority #4: Brand
Finally, only when you've found a style of jeans that fits both your body and your budget should you consider the brand.
I'm not saying that shopping based on brand is bad per se. If the style works for you, if the jeans fit you, and if all is good with your budget, using the brand as a guideline can be totally fine.
But all too often, consumers disregard the three previous priorities and buy jeans solely based on the name on the waistband label. I've done this myself several times, and I usually end up not wearing the jeans.
I'm not saying that the brand is not important; it's loaded with values, storytelling and associations! If you don't like a brand because of what it makes you feel or what you associate it with, I'm not going to force you to buy the jeans even if the previous priorities are met.
All I'm saying is that you shouldn't let your affinity for a brand be the only reason you make your decision, whether that is to buy or not.
Need help finding the perfect pair of jeans?
Denimhunters is a knowledge portal for denim enthusiasts and newcomers. Launched in 2011 as a pioneering denim blog, we're a trustworthy source of denim knowledge and advice.
Our Well-Made Essentials buying guides help you build a timeless and adaptable wardrobe of carefully crafted items that're made to last. Start your hunt here!