Name: Evan Blanshan
Birth year: 1986
Location: Seattle
Profession: Company controller for a local property management firm
Instagram questions
Thomas: How did it all start with your Instagram feed?
Evan: I was using a separate Instagram account and following a number of other interests likes sports and music combined with clothes. It got to be a little unorganized so I decided to make this account to compartmentalize my clothing interests.
I was just kind of a lurker for a while. Then I thought I'd start contributing a bit to the community. From there, it turned into a fun blog of sorts where I could track my own style evolution.
T: Why Instagram? What are your goals?
E: In terms of social media, in my opinion, it is the most generally positive platform to use. The heritage community is very positive and close-knit, and it makes keeping track of what your favorite brands are doing very easy.
Following a lot of more knowledgeable users also makes discovering new brands less of a chore.
In terms of goals, I would say I just want to continue to have fun with it, learn from those more experienced than me, and contribute/advise when I can. I definitely never plan to be Instagram famous.
T: How much time do you spend on Instagram on a daily basis?
E: Maybe 30-60 minutes a day. A fair amount is contributing to any discussion groups I am a part of. Of course, I can tend to get sucked down the rabbit hole while sitting in bed at night and end up adding another 30 minutes to the tally.
T: How do you take your photos?
E: Always by myself with an iPhone. In general, I will just set the phone on a railing or ledge somewhere and set the phone timer.
@Illcutz mentioned using his wallet as a sort of stand in his interview and I have employed that method before as well.
T: Which tools do you use?
E: Just the iPhone with a timer. I will adjust the photo a bit using the phone's editing software but, in general, it's a quick and very amateur process.
T: What's your editorial flow?
E: I mostly just take them when I'm headed to work in the morning or at lunch. Since I treat my account as a sort of daily blog, I do my best to post a photo each day. I actually post less on the weekends than I do during the work week as I'm busy with the family most of the time.
T: What are your favourite locations to take photos? And why?
E: There's a bridge I'm a fan of near my office that I use most often at the moment. I prefer outdoors where the light is good. I'm still on the hunt for a good brick wall that is regularly accessible. 
Evan's Denim Style and How It All Began
T: How did you get into denim?
E: For as long as I can remember, I have cared about what I wore. That didn't necessarily mean denim but I have been into clothes since I was probably 10 or 12.
Toward the end of my time in college, I started to get really interested in 'nice' jeans (at the time that meant over $100). It started as a curiosity combined with my opinion that you get what you pay for. I wanted to know what made a pair of jeans cost $150+.
I bought a pair of Nudie Slim Jims (non-selvedge). Compared to what I was wearing, there was a tangible difference in both material quality and construction. From there, I started researching and really dove into the culture.
My first pair of selvedge denim jeans was from a company called Gilded Age that I bought when I was 23. Almost 10 years later I still have them, and they have seen at least a thousand wears and multiple repairs.
I then went through kind of a ravenous period where I just wanted to experience as many brands as possible. Now, after about 10 years of being a part of this denim world we all love, I have become much more selective and hyper-critical of the denim I buy.
T: What's your favourite feature of jeans?
E: That's tough. I think it depends on the jeans. Sometimes it's the coin pocket, sometimes the arcs, sometimes the patch design.
Outside of cut, the feature of a jean that can make or break whether I buy would be the back pocket shape. An arc I don't like can be removed but if the size or shape of a back pocket is wrong to me, the jeans aren't worth buying.
T: How do you wash your denim?
E: Always at room temperature or warm soak in a bathtub. Depending on how dirty the jeans are, I will hand agitate. Typically, I just use soap like Dr. Bronner's.
If I want to really try and shrink a pair of denim, I will do a hot bath with a kettle of boiling water; let stand for 20-30 minutes, and repeat the soak with fresh hot and boiling water for another 20-30 minutes.
I've never owned a quality washing machine and a lower quality machine can totally ruin the work you've put into denim. It only took one time for me to swear off washing machines.
T: What's your favourite denim brand?
E: Very tough to pick just one. The Strike Gold makes probably my favorite denim fabric (the SEXSG24). Iron Heart makes an unbelievably well-cut and cleanly crafted pair of jeans. Roy Slaper also makes a beautiful pair of jeans.
I have a custom pair of Companion Denim that over the past three years has been given by far the most love in my rotation (I'm rotating maybe 6-7 pairs at the moment). I worked with Iu (owner of Companion) personally on the pair and we covered literally every detail together. They're my all-time favorite pair of jeans, so I suppose you could say Companion is my favorite denim brand.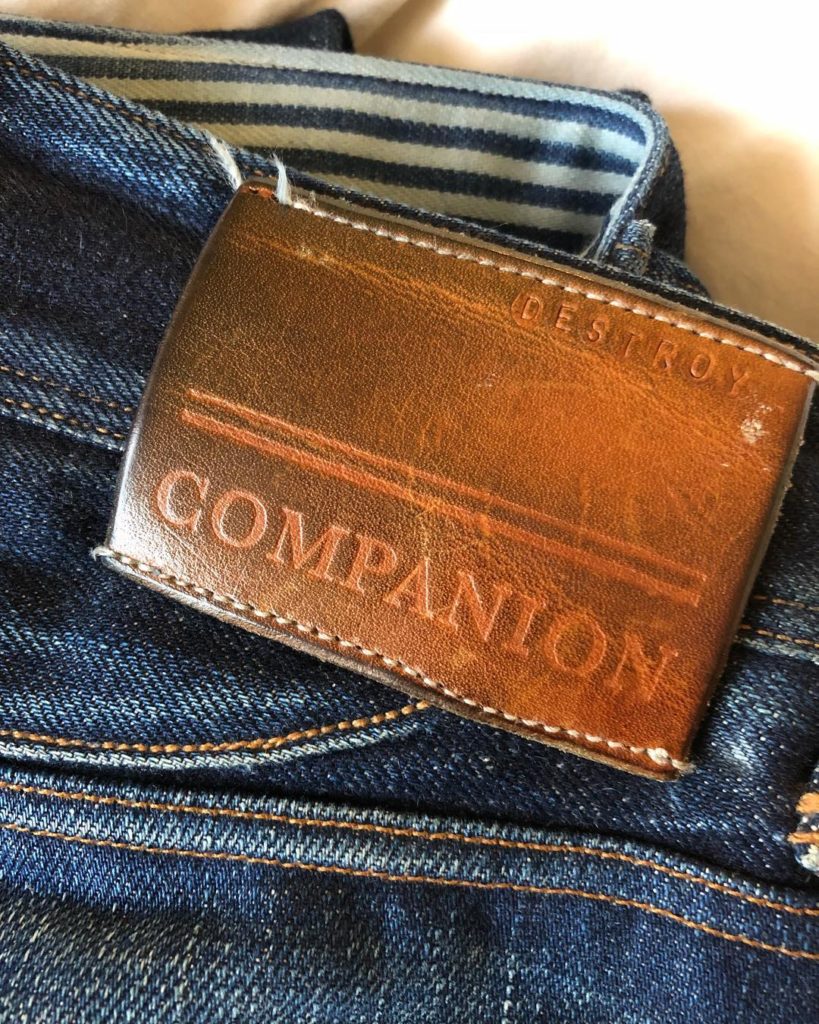 T: What's your favourite fit? And why?
E: I prefer a slim top block with a slight taper from knee to hem.
A few brand-specific cuts I like a lot are the IH-666, Pure Blue Japan's Slim and Relaxed Tapered, and the Kapital Monkey Cisco.
Lately, I've enjoyed a little more classic cut as well in the Mister Freedom Lot 64 and Roy Peanut Pants cut.
T: Which boots and leather goods do you wear with your denim?
E: My main rotation at the moment is a pair of Wesco x Division Road roughout boots, Viberg hikers, John Lofgren x Standard & Strange "Black Cats", and Viberg x Iron Heart "Wild Ones" engineer boots.
At the moment, the one thing missing from my closet is a leather jacket. I've lusted over a Himel or Real McCoy's jacket for years and someday hope to add at least one jacket from each of those makers. My grail jacket is probably the Buco J-24.
T: Which sneakers do you wear?
E: I rarely wear sneakers, but I do have one pair of Shoes Like Pottery in white that I will wear occasionally but in general I'm a year-round boot wearer.
T: Favourite item that's not denim or leather?
E: I have a few jackets I love. My Mister Freedom N-1 and my Mister Freedom Mulholland Master in indigo. Both are absolute beauties and each will be worn for many years to come.
I recently came across a Buzz Rickson's Colvinex B-15 that I'm in the honeymoon phase with at the moment and have worn as much as possible with the weather warming up here in Seattle. 
However, at the end of the day, there is one item I will go to bat for over any other maker's: the Iron Heart ultra heavy flannel (some of them below).
The cut of both the western and work versions combined with the weight and feel of the fabric and the meticulous construction make it the greatest flannel on earth. I own around ten of them and plan on adding more to the collection.
T: Where do you buy your gear?
E: I mostly buy online. Whenever possible I like to buy directly from the brand/maker but a few stores like Self Edge, Standard & Strange, and Rivet & Hide are curating a really awesome selection of brands, so I also order through them among others.
In terms of local shops, Blue Owl Workshop is the juggernaut of Seattle denim. They have an incredibly knowledgeable staff with literally hundreds of different denims and cuts.
A newer shop, Division Road, is probably my overall favorite locally. They have easily the best boot selection in town and have a strongly growing selection of brands. They brought Iron Heart to Seattle and anyone carrying Iron Heart ultra-heavy flannels has a special place in my heart. 
T: What's your monthly clothing budget?
E: These days I don't buy things very often as I've been able to build up a rather large closet over the past five or so years. I would say I allocate $200 a month, but that may mean one thing that costs more than $200 every few months or so.
T: What styling tips would you give your followers if they wanted your style?
E: I will play with my style a bit every now and then and wear an outfit that is very repro compared to other days.
But, in general, I'm easy to copy: Iron Heart flannel, slim tapered jeans, brown boots and you'll probably be my twin 80% of the time.
Sizing is definitely a matter of preference but I typically err on the side under vs. oversized. I'd rather have my sleeves a pinch too short than a pinch too long.
The most important thing is that you're happy with the fit and how the clothes you buy look. Even if someone says the fit is wrong, if you like how it fits and looks, then you're doing it right.
For me, style is all about developing and playing with a uniform you feel good in and ignoring anyone who says otherwise.
Ready for More Q&As?
If you'd like to read more personal stories and Q&As, you can check out all the previous ones right here. Want to make sure you never miss one? Sign up for the free weekly Denimhunters email newsletter.