Q&A with Illya aka @illcutz
Name: Illya Sobtchak
Birth year: 1984
Location: London, UK
Profession: IT Sysadmin
I'm the proud father of a four-year-old firecracker and the husband to my soulmate. We love to travel as a family and explore new places and cultural experiences.
My hobbies include listening to copious amounts of music, both new and old, reading books, keeping fit as well as motorcycles, tattoos and coffee.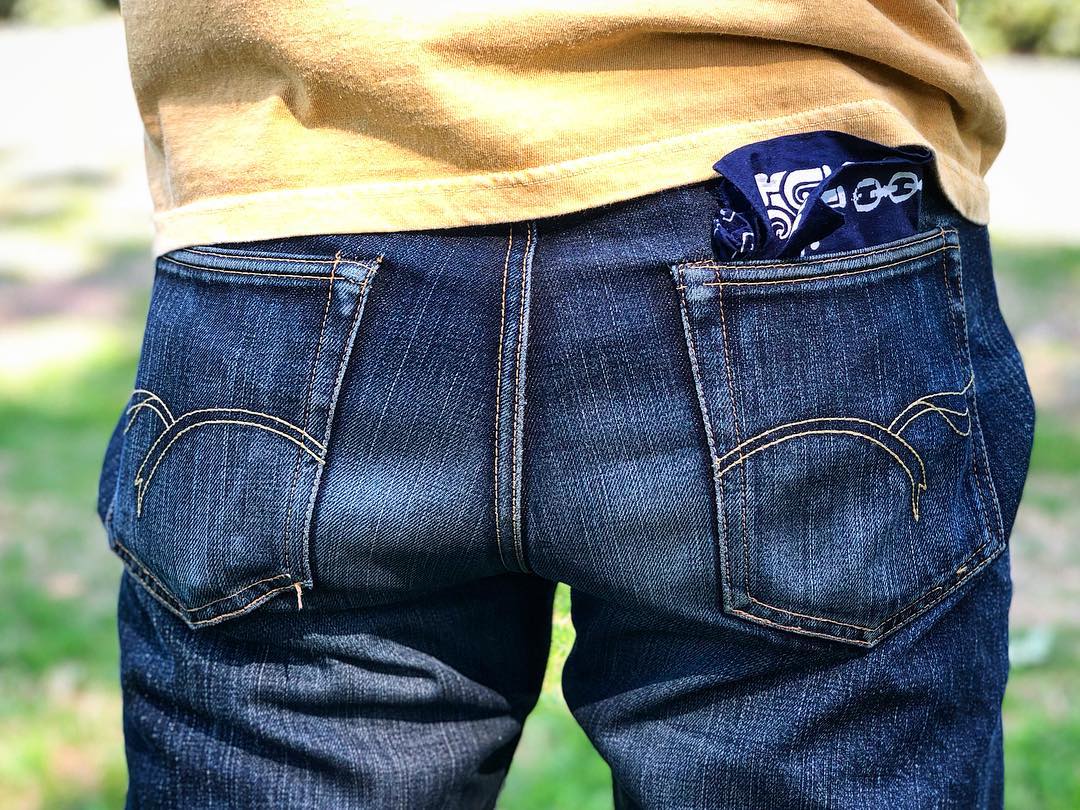 Instagram questions
Thomas: How did it all start with your Instagram feed?
Illya: After stumbling onto the reddit/r/rawdenim sub and being part of that community for a while, I craved for something more visual. I found it hard to connect with people on reddit as it was difficult to remember who everyone was.
Being a visual person, Instagram was a natural transition. Plus I always enjoyed how people were putting their outfits together on the weekly posts.
T: Why Instagram? What are your goals?
I: Whilst I was using reddit, I kept seeing links through to Instagram. I quickly realised that I enjoyed the curation of people's feeds and looked for inspiration for my emerging style, which I was developing back in 2012. I slowly started posting and became very engaged with the denim community who quickly took me in as one of their own.
Once I started Hatters Anonymous with my mother, I knew how much of an impact Instagram has and started to use it to showcase our Indigo Watch Caps, once again the response from the community has been unbelievable.
T: How much time do you spend on Instagram on a daily basis?
I: A couple of hours a day. I guess it's a bit of an escape for me both to be inspired and hopefully to contribute something to the community.
T: How do you take your photos?
I: I would say it's a mix. On the weekends, I manage to rope my wife into taking some shots for me, and midweek it's all me using my wallet as a tripod.
All of my shots are taken using my phone as I like the instant process of throwing up photos into my feed. If I had more time, I would like to transition to using a DSLR.
T: Which tools do you use?
I: An iPhone X and the Layout app, sometimes Snapseed if I need something advanced editing.
T: What's your editorial flow?
I: Everything is pretty spontaneous and it depends on where I am and what I want to highlight that day. Although I have my go-to shots that you can see recurring on my feed (shots by the Thames, in front of a brick wall), I also like the triple layout shots, which highlight the main pieces of my outfit.
T: Do you make it a priority to post on a regular schedule? And how do you remind yourself of it?
I: I try to put up a post every day; it's a little routine that I like to challenge myself to, almost like a visual diary.
T: What are your favourite locations to take photos? And why?
I: I love to shoot by the river Thames as I always feel calm being next to water. So I like to incorporate that into my shots.
Otherwise, my go-to is the orange brick wall which you can find at #pricksinfrontofbricks where you will see a few familiar faces alongside me ?
I'm also on the lookout for engaging graffiti or street art murals when I'm exploring the city.
T: Do you repost?
I: I don't repost as I prefer to provide original content. For me, that's the fun part.
Denim questions
T: How did you get into denim?
I: I was born into a pair of jeans. Okay, maybe not, but I just know I've always been around people wearing them like my dad and brother, both decking themselves out in Canadian tuxedos. Also hearing stories about my granddad who was a mechanic in the merchant navy, bringing back Levi's whilst he was overseas kind of made denim into this special thing for me.
So when it came for me to start buying my own clothes, I naturally gravitated towards that, even before knowing what raw denim was. As my search for a better pair of jeans continued, I started to look deeper and found out about this new for me but old world of denim.
T: What's your favourite feature of jeans?
I: Basically, I just love the way they wear in over time and evolve with your lifestyle.
T: How do you wash your denim?
I: For the first two or three washes, I tend to hot soak them with agitation making sure they are turned inside out.
Once I'm happy they are not going to shrink too much, I will use the washing machine on a 30 or 40 degree setting with not much spin.
I do try and not wash them for the first few months of wear, but I go by the "if it smells, wash it" motto.
T: What's your favourite fit? And what's your least favourite fit?
I: Relaxed tapered is my go to fit as I need room in the top block. But I'm slowly enjoying venturing into more heritage cuts like the classic 501 fits being reinterpreted by the Japanese brands.
As for least favourite, I guess going too extreme on either super skinny or super wide. Otherwise, I like seeing a wide variety of fits.
T: Which boots and leather goods do you wear with your denim?
I: Raw denim being the gateway drug that it is introduced you to other high-quality goods such as boots, leather belts and wallets.
It's especially been interesting to find artisans from across the world who're making these kinds of products, such as my friends Raffaello @anchorgoods, Mike @wildfrontiergoods, Ilya @redhillscompany, and Isaac @pigeontreecrafting.
In regards to boots, I guess I have a small problem as my collection keeps growing but the amount of feet I have doesn't! ?The fact that I like different styles and leathers means I have a versatile selection. This also means most of my boots will last even longer due to the rotation they're part of.
On a normal week, you will find me wearing my Viberg service boots (aged bark rough out or waxed flesh), Chippewa Bridgeman's or John Lofgren Engineer Boots.
T: Which sneakers do you wear?
I: If I'm not wearing my boots, my go-to sneakers are Shoes Like Pottery as I find them to be both better looking and more comfortable than Converse. I also like my Adidas x Bodega x End Boro Iniki's.
T: Favourite item that's not denim or leather?
I: My Nigel Cabourn x Filson Work Cape Jacket, everything about it is incredible, from the heavy wax and cotton to the infused mesh of Nigel's Cameraman Jacket and the classic Filson Mackinaw Cruiser.
T: Where do you buy your gear?
I: As my taste is quite varied, I look for items in different retailers and places like eBay. Living in London spoils you as you have some of the best denim shops in the world on your doorstep. But  particularly I like to visit;
In terms of online shopping, I mainly use Cultizm as I love their service and brands that they carry.
T: What styling tips would you give your followers if they wanted your style?
I: I think the best advice I could give is to go for quality solid basics that have stood the test of time. They will never go out of style.
So we're talking about an indigo straight/slim cut pair of jeans, Goodyear welted boots and a light blue chambray shirt. I believe this is a great template to start off or return to if ever in doubt.
Otherwise, go experiment and try different items that you might not think would suit you. You never really know until you try something on how it will look and feel.
Ready for More Q&As?
If you'd like to read more personal stories and Q&As, you can check out all the previous ones right here. Want to make sure you never miss one? Sign up for the free weekly Denimhunters email newsletter.