Name: Jess Murray
Birth year: 1992
Location: San Francisco Bay Area, California
Profession: Maker and the Big Cheese at Poorwill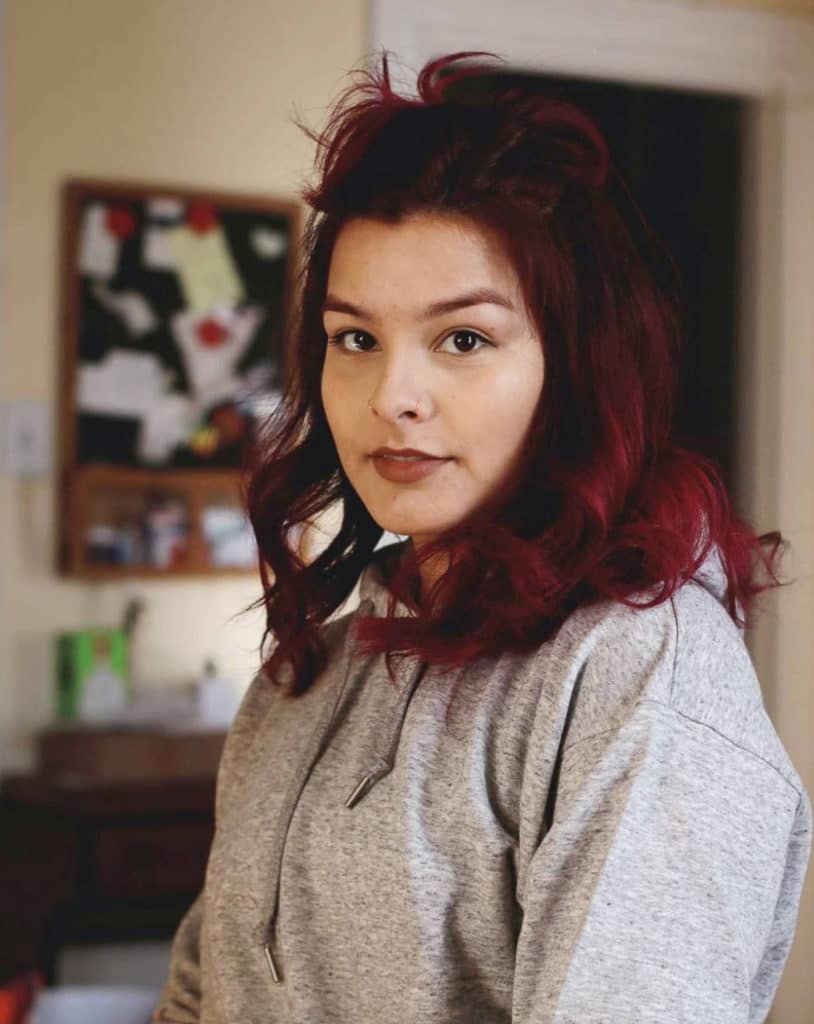 How Jess Runs Her Instagram
Thomas: How did it all start with your Instagram feed?
Jess: I started on Instagram about six years ago as a way to connect and spread the word of my brand (known as Aegis Handcraft back then).
I would only post product-related photos and kept my personal information private—especially that I'm a girl. It was just after the 'maker video' trend had picked up that I began to share more about myself, my dealings with 'the feels' (my journey with anxiety and depression), and of course the product I make for my brand.
Being a girl in this part of an industry that is very saturated with boys, I was able to express, through photos and captions, my story and the process behind the gender-neutral things I make.
Suggested further reading: Ladies in denim you should follow
T: Why Instagram? What are your goals?
J: As a business owner/entrepreneur it's almost a no-brainer. Why wouldn't you use Instagram as a way to connect with your target consumer?
My brand itself has grown substantially through Instagram, and for that, I am forever thankful. I find myself in an extraordinary position where my business and my (personal) profile are the same on Instagram.
I have been able to share quite a bit on this platform, relate to people feeling similarly, connected with amazing people from all over the world, some that I have had the pleasure to meet in person and turn into real-life friends.
I can never begin to express how humbled I am to be living out my dream job, finding my tribe, and being supported the way that I continue to be encouraged by the folks on Instagram.
As for my goals; to keep at it! I don't care about the likes, the follower count, the minutia that for some reason really takes over and often can make a detrimental influence on what you'd prefer to post or the honesty that is often lost in translation when that is the focus.
If I get the likes, that great. If more people join in on following my journey, they're welcomed. I do worry about how often those that would like to see my posts see them on their feed due to the changes in the algorithm. But then again, I have no power or influence on how Instagram runs their application, so I make it a habit to check in on profiles I enjoy. If I don't see their posts in my feed, I hit that notification alert to get that notification whenever they post.
T: You recently changed your username. Why?
J: I did! It went a lot smoother than I expected too!
Long story short: Last year I went back to school, working on a law degree, which naturally called for a change in my routine and my schedule in how I make goods for my brand.
I also am pivoting to a mix of workwear and streetwear with Poorwill, and so the name change to represent the vast variety of product I'm looking forward to making just made sense. Bags, accessories, apparel, home goods, I would love to do it all!
T: How much time do you spend on Instagram on a daily basis?
J: I use Instagram as a form of texting often, can't pass up on those memes! Checking on the app, I probably spend about an hour and some change, going through my feed, getting in contact with friends, and discovering new profiles and people.
T: How do you take your photos?
J: It's about 95% self-taken and 5% with the help of others. Can't go wrong with a stack of books, or tripod, and a remote to snap a photo!
T: Which tools do you use?
J: I have a camera that connects to my phone, working as a remote, so taking photos and video is convenient. I can easily Wi-Fi transfer the photos to my phone and post them quickly.
T: What's your editorial flow?
J: I need to work on a calendar. I currently post in a very relaxed mood; in other words whenever I feel like it. But I can see how posting on a schedule can perhaps influence the algorithm, helping with growth and exposure. My day to day schedule varies substantially, so at the moment, I enjoy posting whenever I create something new and whenever I feel like I have something profound to share.
T: What are your favourite locations to take photos? And why?
J: This year has made it difficult to take photos outdoors, which I would love to do when it comes to my product shots, but the weather has been gross. I've been limited to taking photos indoors, but I try my best to set up near a big window and take in as much natural light possible.
Jess' Denim Style and Preferences
T: How did you get into denim?
J: Growing up, I was always a tomboy and loved myself a good pair of jeans. While I was in school finishing up my fashion design degree, I landed a gig as a denim tailor for a Levi's flagship store, and my love for denim took off from there.
I love denim as a textile so much! I love how durable and versatile it can be, so when I began making bags, I was naturally drawn to using denim. I regret nothing! To date, denim is my favorite textile to work with.
In terms of sharing updates on 'the deels,' I often find relief in sharing my experiences and feelings with anxiety and depression. I am able to go back and reference a bad day posting and look back from a more positive day and reflect on the growth and strength I've earned through sharing and relating to others also struggling with 'the feels.'
My hope within my community is to destigmatize mental health and create an environment where we should be eager to seek help when days get difficult and encourage one another to live their best self.
(Thank you for coming to my Ted talk. ?)
T: What's your favourite feature of jeans?
J: I love a pair of jeans that I don't have to baby. A comfortable fit with big pockets, and a clean look (with plenty of discreet details) are the way to my heart.
T: How do you wash your denim?
J: I have about 35 pairs? I can't wear them all, some no longer fit (but I love and keep for inspiration) and others are in my full rotation.
For the ones I don't wear too often, I have yet to wash them. I'm of the mindset that If they need to be cleaned (they stink, they are gross, I might get sick) I will wash them.
Handwashing and lay flat to dry is my go-to, but if they are filthy dirty I will machine wash them and still lay them flat to dry. Oh, I'm a huge fan of hot soaking my jeans to mold and fit them to my body so that will usually do for my jeans in terms of washing for a bit.
T: What's your favourite denim brand?
J: I have so many favorite denim brands, and all for different reasons, such as budget, purpose, look, fit, needs.
Companion and Roy are my favorites in terms of detailing. The attention to detail while keeping the look clean and classic is something to admire.
Railcar is an easy go to, you get a lot of 'bang for your buck' with them, and they're well made.
Levi's, American Apparel, and Uniqlo are what I usually recommend to those trying to find a pair of dry/raw denim on a budget and are looking for a variety of fits.
T: What's your favourite fit? And why?
J: I love a higher rise, I find it to be the most flattering for my body, and a slim straight leg opening.
I love my Roys Kinda Specials because (it's a men's fit) the pockets are big; the rise is just right, and the leg opening is not too slim. I love a cuff, however wide or small, so I do for a straight of slim straight whenever I wear boots.
My pair of Companions are made to order, so they fit spot on and have all the bells and whistles. (They have an actual rope in the hem!)
I love a Levi's 501, 511 or 514. The variety of rare/vintage jeans in my rotation keep things spicy in terms of fit and details. The Levi's 606 is also a favorite of mine for women, though I wish all of my jeans were button fly.
If I'm looking for a skinny jean, Railcar's Donnas fit is an easy go-to. They are my only pair of jeans with stretch, and they were extremely easy to break in.
I'm a big fan of soaking and altering a pair of anything to help it fit my body the way I would like them too, it's not always possible to get a pair of jeans custom made, but hemming and hot soaking usually get them pretty close. If they are unsanforized, they are already in the lead for me.
T: Which boots and leather goods do you wear with your denim?
J: I currently rock a pair of Trumans, Red Wing moc toes, and Ralph Lauren (Chelsea boots.) Sadly, I'm a bit limited in boot options because of the size range that is usually available, but I sneak in a pair of Converse sneakers whenever I feel like it and get a variety of footwear this way.
T: Which sneakers do you wear?
J: Converse, Vans, and a pair of Nikes are currently in my closet.
T: Favourite item that's not denim or leather?
J: Waffle knit tops, a good hoodie, and t-shirts are a big part of my essential's rotation. And, every jacket I've made myself. ?
T: Where do you buy your gear?
J: A variety of places, sometimes I thrift, or buy goods from people that hemmed their jeans too short or picked up the wrong size. Uniqlo usually for my basics, or I shop at small beautifully curated shops. Scout Classic in LA is an easy recommendation. I love Front General Store in NYC, Independence, Stock Mfg. Co., Mildblend Supply Co, are all in Chicago. The list goes on!
T: What's your monthly clothing budget?
J: I don't know that I buy things monthly. Generally, the stuff I purchase will last me a while, but I probably spend a few thousand USD a year on clothing.
T: What styling tips would you give your followers if they wanted your style?
J: You wear clothes, they don't wear you. I don't like following the 'musts' and 'rules' when it comes to apparel. If I want to pattern clash or wear denim on denim on denim that day, I'll wear it however I please.
Sometimes I'm feeling trendy, other days I want to dress like I'm on the set of a classic movie. I wear my mood. And I think the same way when it comes to fits. I'm not afraid to wear menswear (to find the look or fits I prefer) or alter clothing to fit me best.
Ready for More Q&As?
If you'd like to read more personal stories and Q&As, you can check out all the previous ones right here. Want to make sure you never miss one? Sign up for the free weekly Denimhunters email newsletter.