Read this FAQ before you ask Ruedi!
Ruedi Karrer aka @swissjeansfreak has been collecting jeans for over 45 years. He has more than 40k followers on Instagram, many of whom consider him an oracle of denim. And he is.
One of the consequences of his popularity is that he gets a lot of questions. He's told me that he sometimes spends up to an hour each day answering direct messages on Instagram. And many of the questions he gets are quite similar.
That gave me an idea; why not list the most common questions Ruedi gets with his answers in a blog post. So we did.
FAQ #1: Which jeans are best?
Ruedi: In my opinion, the best jeans are never-washed raw denim ones without any distressing, washings or other treatments. They have a smaller environmental footprint and also last longer than artificially destroyed jeans.
Suggested further reading: What is pre-washing?
In my experience, left-hand twill denim made from mid to long staple cotton, for example from Zimbabwe, are very durable.
In addition, roomier fits such as straight fits, bootcuts or tapered fits are put under less stress when they're worn compared to tight-fitting skinny jeans. This means they'll last longer.
A good pair of jeans is one that has gone through many indigo dyeing dips, not too fast, to achieve the dark intense colour tone, which makes the denim show great denim evolution progress over prolonged wear.
Also, they should be properly stitched, have nice hardware, and a good leather patch.
Best Places to Buy Well-Made Menswear
Whether you're looking for a pair of selvedge jeans, a denim jacket, a loopwheeled T-shirt, or anything that is made slowly and purposefully, start your search with these brands and retailers:
Support us when you shop: We earn a small commission when you buy from these merchants.
FAQ #2: What are your favourite jeans?
Ruedi: Raw denim jeans that weigh between 13 and 25 oz. and have a green cast and left-hand twill construction.
Some of my favourite jeans are my Lees, Benzak Denim Developers, and a pair of G-Stars from 1998.
But I like all raw denim brands that have a potential for 'strong denim evolution,' such as the Japanese brands Iron Heart, Samurai, Strike Gold, The Flat Head, Momotaro, Oni, Pure Blue Japan, Japan Blue, Edwin, Evisu.
From Europe, some of my favourite brands include Indigofera, A.P.C., Nudie, BDD, Hen's Teeth, Ullac, Blaumann, Pike Brothers, Tulp, Paul Kruize, Natural Selection, Atelier La Durance, Denim Demon.
From North America, there is Tellason, Rogue Territory, W.H. Ranch Dungarees, 3×1, 3sixteen, Naked and Famous, Rising Sun.
And from Indonesia, you have Oldblue Co., Sage, Nobrandedon, Doublehammer, Workershield, Warpweft.
In the end, far too many!
FAQ #3: How long should I wear my jeans before the first wash?
Ruedi: I never ever wash or soak my jeans because I don't want to lose the original raw denim colour.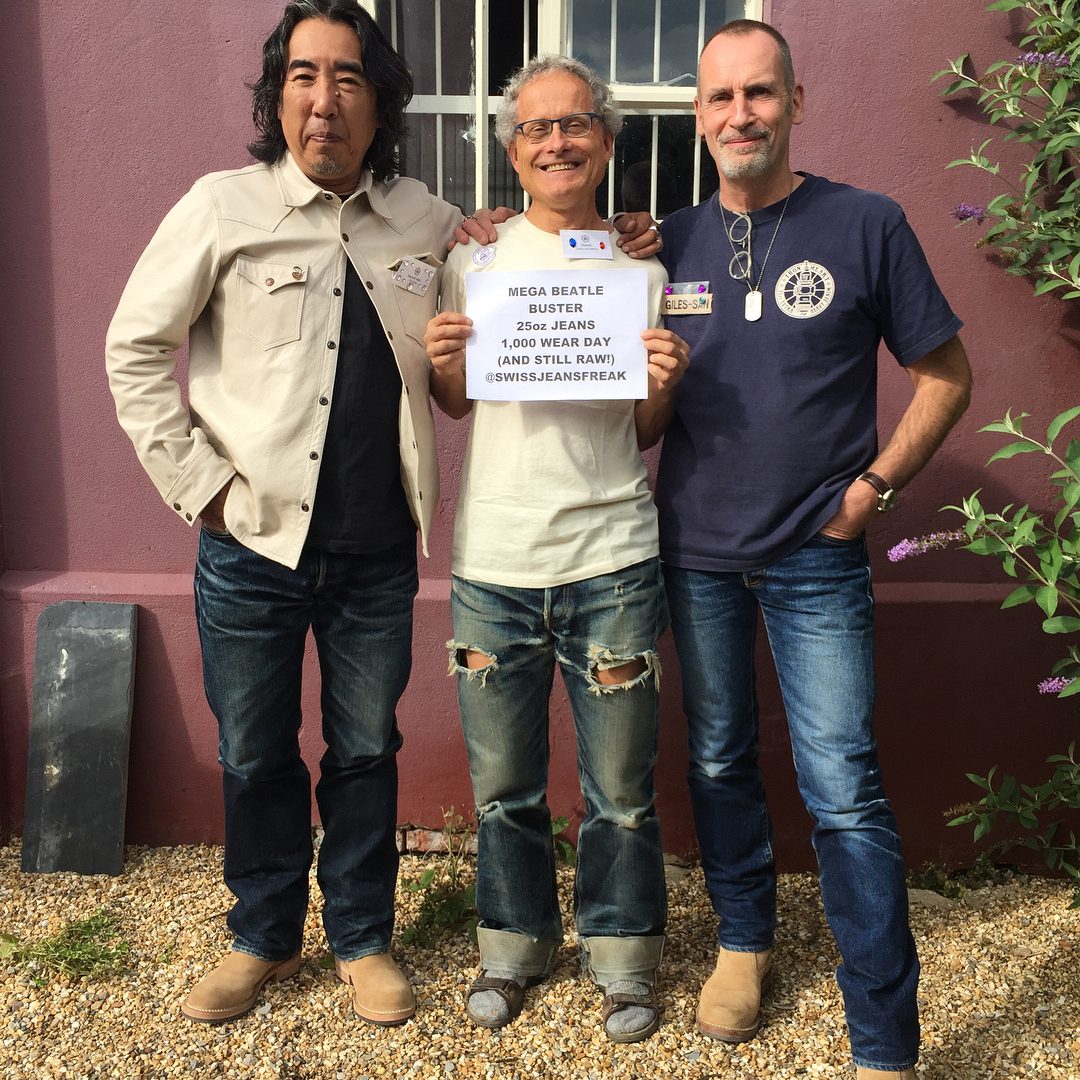 FAQ #4: Why do you never wash?
Ruedi: I love the original raw denim colour much more than the royal blue tone you get after the first wash.
After the cotton yarn is dipped in the indigo bath, all fibres get surrounded with indigo, which turns into this deep blue indigo with chemical reaction oxidisation. An intense dark blue colour can be achieved after many dips.
When you wash an unwashed pair of denim jeans the first time, the chemical reaction will be finished and the original raw colour will be transformed into a royal blue.
Suggested further reading: How indigo dyeing works
To avoid this, some raw denim purists, like me, just never get their raw denim jeans in contact with water (except a bit of rain or so, which doesn't affect the colour that much).
But there are some tricks to minimise the problems of never washing your jeans and extend the life of them (see FAQ #9).
FAQ #5: How do you recommend washing raw denim jeans?
Ruedi: Turn them inside out and hand wash in lukewarm water with a mild detergent and hang dry in the sun.
If you wash in the machine, turn them inside out, choose a cold water no-spin cycle, and let them hang dry in the sun. Never tumble dry.
FAQ #6: What was your first pair of jeans?
Ruedi: Levi's 501 Big E jeans from the 60s followed by a pair a Wranglers from 1975.
FAQ #7: What are the oldest jeans in the museum?
Ruedi: The oldest item in The Jeans Museum is actually not denim but a pair of Carhartt duck pants from around 1930.
FAQ #8: Who invented jeans?
Ruedi: It was the tailor Jacob Davis who got the idea of putting rivets at all stress points of jeans. The story of blue jeans really begins on May 20, 1873, when Levi's patented Jacob's idea.
So, Levi's was the first company to make riveted five pocket jeans.
You can read more about the history of jeans here.
FAQ #9: How to wear jeans without washing for as long as possible?
Method #1 for raw denim purists who never wash their jeans:
Ruedi: Start breaking in your new jeans at the beginning of the cold season (meaning from around October in the northern hemisphere) to reduce sweaty, smelly jeans already after a few days. This will not work in tropical areas.
Air them out every night on a hanger in the fresh air to reduce bad smells.
Buy one size too big to break in the stiff denim fabric in a more gentle way and to prevent a too early crotch blowouts. They will be less sweaty to wear as well and more comfortable.
Wear them in three stages: Office pants, outdoor pants, work pants. In the last stage, I don't care if I wear smelly and dirty jeans since I have to take a shower after using them anyway.
Method #2 for denimheads who prefer to wash their jeans:
Ruedi: A quick soak before you start wearing them. Turn the jeans inside out and soak them in cold or lukewarm water to get rid of the starch, and then hang dry them.
Wash them for the time after between 200-400 wear days depending on your daily activities. This strengthens the fibres and gets rid of the dirt and smell. Turn them inside out and hand wash with a mild detergent in lukewarm water. If you machine wash, do it inside out in cold water on a no-spin cycle and hang dry them in the sun. Do not tumble dry!
Wash whenever needed as the jeans get too smelly or dirty.
In addition, you can follow the tips in the purist section to reduce smell and dirtiness between the washes and to extend the time before the first wash and reduce the amount of the following washes.
Of course, you can combine the tips and tricks from both sections.
Still not sure how to wash your jeans? This in-depth blog post gives you the answer!
FAQ #10: What should I do with my worn-out jeans?
Ruedi: First of all, wear them as long as possible. Next, try repairing to extend their life.
If they're still in good condition but you don't fit into them any longer or you just wear them, give them to friends or someone else or donate them to charity.
You can also keep them and repurpose them as scraps for repairing other jeans.
Your last resort is to give them eternal life in the Jeans Museum (especially if you have a vintage, or a really heavily broken in pair of jeans or denim jacket, no matter how trashed or even filthy).
By showing people the power of the natural evolution of raw denim, the aim of the Museum is to convince everyone to create their own personal fades with a long-lasting dark blue raw denim instead of buying cheap fast fashion, which will be thrown away after only a few wears.
Send your jeans donations to:
The Jeans Museum, Köchlistrasse 25, 8004 Zürich, Switzerland
Need help finding the perfect pair of jeans?
Denimhunters is a knowledge portal for denim enthusiasts and newcomers. Launched in 2011 as a pioneering denim blog, we're a trustworthy source of denim knowledge and advice.
Our Well-Made Essentials buying guides help you build a timeless and adaptable wardrobe of carefully crafted items that're made to last. Start your hunt here!