The Indigo Invitational Tests 3 Common Denim Fading Myths
This post was written by Bryan Szabo, co-founder of the Indigo Invitational.
My role at the helm of the Indigo Invitational means that, on the first of each month, my inbox fills up with progress updates from nearly 100 international competitors. Sifting through these progress shots has been something of a masterclass in the science of denim fading.
This process has forced me to re-evaluate some of the more pervasive denim fading myths that I have long taken for granted. Under scrutiny, some of these myths have stretched and torn at the seams. Others have held fast.
In total, I've identified six denim fading myths that the competition is putting to the test. In this post, I'll be reviewing three of those myths that influence what we buy and why.
Looking for quality jeans and other well-made essentials?
Visit our buying guides before your next purchase. We guide you to the best raw selvedge jeans, denim jackets, heavy flannels and more.
Denim Fading Myth #1
Selvedge > Non-Selvedge
Nearly everybody in the Indigo Invitational chose to compete in selvedge rather than non-selvedge denim. The reasons for this choice have become more obvious with each passing month.
Fade fanatics almost always reach for selvedge when they are selecting a new pair. This means they need to dip a little further into their savings, but, to put the matter simply, they know that nothing fades like selvedge. Nothing competes with it in terms of fade potential.
This boils down to the maker's intention.
The selvedge brands popular among denim enthusiasts set out to make a pair of jeans that will fade beautifully. Everything—from how the denim is spun and dyed to how it is weaved and sewn—is considered in terms of fade potential.
Suggested further reading: Learn more about how denim is made here.
Non-selvedge brands tend to have a different kind of end consumer in mind. This is especially true with Western brands like the Wranglers and Kimes Ranch pictured below. These brands are both focused on the Western wear market, so they take pains to produce a durable and fade-resistant garment that will hold up in the saddle.
The non-selvedge jeans in this competition are remaining colourfast (doing, essentially, what they were designed to do). These non-selvedge pairs will fade, but not as quickly and not in the striking way that selvedge denim will.
This means that the competitors who are fading non-selvedge have an uphill climb ahead of them. Multiple washes are bringing out some of the richer blue tones locked beneath the surface, but striking whiskers, honeycombs, and stacks might be out of reach.
The non-selvedge competitors may produce beautiful vintage fades before the end of this competition, but they'll be hard up against it when placed head to head with the selvedge faders and their already-striking high-contrast fades.
Fade enthusiasts know that the leap in price from non-selvedge to selvedge is about much, much more than the flashy cuff. It's about upping your fade game.
If you're hesitating before making that leap, remember that those at the top of the fade game are all fading selvedge—precisely because it is made to fade.
MYTH STATUS: CONFIRMED
---
Denim Fading Myth #2
Japanese Denim > Everything Else
When I tried my first pair of Iron Hearts, there was, I said, no going back. The more Japanese denim I wore, the more I became convinced that the Japanese were doing denim better than anybody else on the planet.
This is hardly a controversial position. It's widely accepted that the combination of Japanese perfectionism and experimentalism has made Japanese mills the undisputed heavyweights of modern selvedge production.
There are some (mostly American-born vintage denim enthusiasts) who argue for the supremacy of American-made denim (particularly Cone Mills selvedge). An even smaller minority prefer Italian-made raw denim, but the lion's share of enthusiasts look towards the rising sun for their raw materials.
However, the tailors who assemble that denim into the finished product are another matter entirely.
The Japanese revived and then perfected the art of heritage workwear, and they're still seated firmly on the throne, but upstarts have started to emerge. First-rate ateliers in Southeast Asia, Europe, and Canada are challenging the notion that only the Japanese and the Americans can do denim right.
The majority of our faders are wearing Japanese brands, and these brands are performing exactly as expected. The Iron Hearts are being stubborn as all get out; the Samurais are glowing a vibrant electric blue; the PBJs are quick-fading slub monsters.
At every turn, though, the international crew have proven that they can more than hang with the big boys. They're not just running with the pack, they're (in some cases) leading the field.
Germany's Konrad Seifert is fading a pair of double natural indigo Ruttloff H3—a meticulously crafted pair of custom denim assembled by Germany's best denim tailor.
Not only are these one of the best-fitting pairs in the competition; they are also fading to a stunning soft blue as the natural indigo works its way out of the seat and thighs.
Ruttloff calls the inside of his jeans his "playground," and, with each month of fading, what is on the inside is emerging on the outside. Though few people in the competition knew Ruttloff's name six months ago, we all know it now.
In the same way, Mifflin Mabalot of the Philippines has introduced us all to Leon Denim.
The Filipino tailors behind Leon are every bit as painstakingly traditional as their Japanese counterparts. They source most of their denim from Collect Mills (part of the Japan Blue Group), and they assemble it in the traditional way, using salvaged vintage machines.
The results speak for themselves. Mabalot's 16 oz. LD001STF boast one of the more striking straight-cut silhouettes in the competition, and the fades spreading across the seat and the top block are sending out a clear signal: Leon is a brand to watch.
With the tailors out of Japan producing denim of this quality, the term Japanese denim may be slowly losing some of its clout (not all, but some). Among denim enthusiasts, Made in Japan may always mean something, but it no longer means everything.
MYTH STATUS: BUSTED
---
Denim Fading Myth #3
$$$$ > $
Asked to defend the undeniably high price of our jeans, many of us lean on that old market adage: you get what you pay for.
The initial leap into selvedge is fully justifiable for the fade fanatic. After that first price jump, though, the fade enthusiast faces diminishing returns.
A $400 pair of selvedge denim won't necessarily fade any faster or more beautifully than a $250 pair. The former will have all the fine finishing touches that enthusiasts look for, but these details don't translate to quick or striking fades.
What this means is that faders in the competition who shelled out the big bucks for their denim aren't enjoying an advantage over their stingier competitors.
We have, for example, a pair of Roy Loomstate jeans in the competition and a pair of Ruttloff custom double natural indigos—both handmade artisanal products with hefty price tags. They're both fading nicely, but they're not in a class apart.
The big spenders are running with the pack.
Among the frontrunners are faders wearing some of the competition's least expensive pairs. England's Karl Bentley is fading a pair of 18 oz. Deep Indigo Samurai Selvedge from SOSO Brothers. They cost him less than $200, but they're fading like million dollar champions.
Of course, the fades haven't come easy. Karl builds furniture in his workshop all day, and, rather than using his perfectly serviceable workbench, he does his work on the floor, causing his jeans to spend most of the day folding up like an accordion. The result: eye-popping stacks.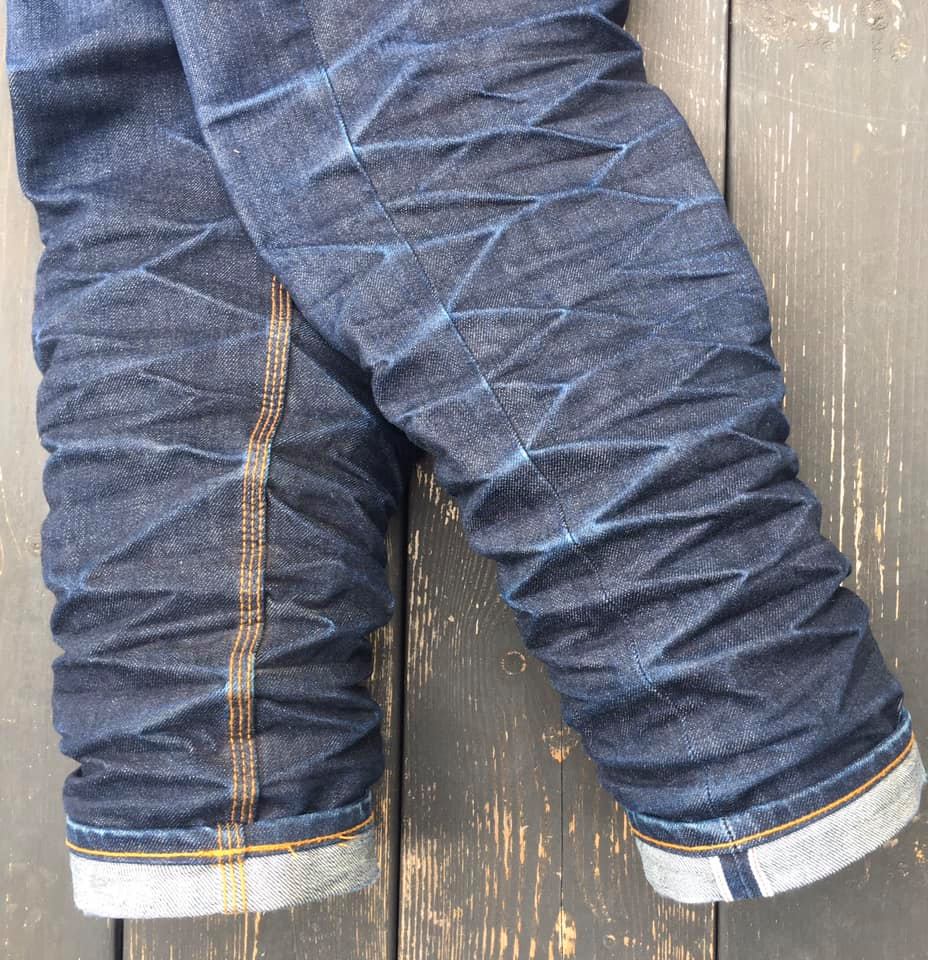 Weedy Weidenthal might not have stacks like Karl's, but, as the only competitor to sew his own jeans, he definitely deserves bragging rights. He also holds the distinction of the cheapest pair in the competition.
He took up sewing last year, and after working some of the kinks out, he was ready to put a pair of his own jeans through the wringer.
His competition pair started with a few yards of 14 oz. Cone Mills selvedge. He set to work with a single needle and, all told, he spent about $40 by the time he was finished.
They're holding up extremely well. He's set crisp honeycombs and whiskers with daily dirty work in a brewery. Bang for buck, his DIY denim is off the charts.
At the end of the day, fades come down to the wearer's willingness to invest, not money, but time and energy into their pair. The artisanal touches that cause a pair's value to skyrocket might lead to more pride of ownership, but you can't pay for amazing fades.
Want fades? You've got to earn them.
MYTH STATUS: BUSTED
---
If you want to read about more raw denim myths, check out the posts Thomas has written here.
Love denim and fades? Join the competition!
The Indigo Invitational started as a small group of enthusiasts who wanted an excuse to buy a new pair of denim and to see how far they could push themselves and each other.
There are thousands of dollars worth of prizes, but this is just the gravy. The meat underneath is a tight-knit community of enthusiasts held together by a mutual love of fades.
If this sounds like something you want to participate in, join the Facebook group, follow the competition's updates on Instagram and visit indigoinvitational.com.
Want to make sure you never miss a post? Sign up for Denimhunters' email newsletter.