Check Out These Competitors in the Indigo Invitational
This post was written by Bryan Szabo, co-founder of the Indigo Invitational.
In the first of two posts about faders to watch in the competition, I profiled 10 of the Southeast Asian competitors in the Indigo Invitational.
Now it's time to look to the West. In this post, we're looking at 11 of the competition's top faders from Europe, North America, and Australia.
Follow the competition
The Indigo Invitational is a year-long fading competition. It's free to join, and all brands and weights are welcome. All you need is a brand new pair of raw denim jeans, and the best fades win! Oh, and the prizes are insane!
Your jeans can be unsanforized or sanforized, as long as they're raw (factory one-washed jeans being the only exception). Year 3 of the competition runs from April 2022 to April 2023.
Visit indigoinvitational.com to learn more and stay up to date! If you need a new pair of jeans, check out our buying guides.
Wisconsin's Chris Clark is a manual machinist, fabricator, and welder. He comes into contact on an almost daily basis with industrial chemicals, solvents, and hydraulic oil—all of which make thick and raw denim (which he started wearing a few years ago) a necessity rather than a preference.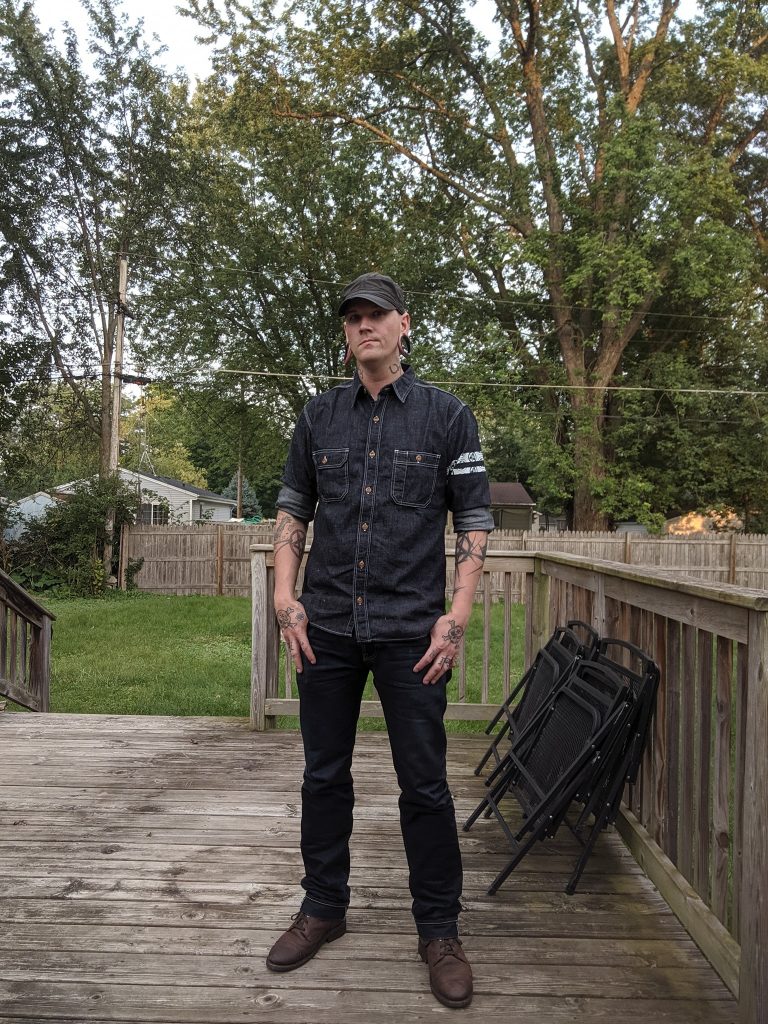 The Indigo Invitational is his first competition, and he joined because he wanted to see how he would do when stacked up next to some of the competition's more experienced and award-winning faders (he's doing his level best to keep pace with @denim_rambler).
He found his competition pair (Naked & Famous Elephant 2 Revenge Weird Guy) online shortly before the competition started, and he's been thrilled with the results so far. His pair has developed vertical electric blue fade lines below the pockets, and he's just given them their first wash (they were so filthy that the grime was concealing the fades that were starting to emerge).
He knows that the E2s are notoriously slow faders, but he is so tough on his jeans that he needs something with a thick skin (his last pair of 17 oz. Brave Stars only lasted him 4 months).
His advice for those who want great fades: "Do everything in them. I beat the hell out of my jeans at work, then I come home and work on my bikes and cars in them."
Columbus Ohio's Todd Hallowell (40) is a devoted husband and father. He's been married for 13 years to a woman who, he says, is "an amazing artist."
He's something of an artist himself, working with the kinds of manly materials (reclaimed barn wood in particular) that denimheads seem to love almost as much as denim and leather.
He loves wood's ability to wear its story on its surface, and, though he didn't know it at the time, this was priming him for his now full-blown denim obsession.
A few years back, Todd was fighting wildfires out west. The heat and exertion were so great that he returned home 25 pounds lighter than he was when he left. This meant his old denim no longer fit, so he needed to invest in a few new pairs.
He got his first taste of raw denim (as so many of us did) with a pair of Nudies. He was immediately hooked.
When the Indigo Invitational started, Todd already had plans to make the leap into the super-heavyweight denim category. He had his eyes on a pair of SOSO Brothers, who were preparing to drop their 33 oz. Breaker of Legs denim.
Slipping on the jeans is, he says, like wearing a firehose (and he would know). Fading them is heavy work, but he's no stranger to hard work or, for that matter, to sweat.
Todd says that the key to great fades is fit. If the jeans start loose, they'll only get looser as the denim breaks in. Looser fit = less dramatic fades. Start with a great fit and the fades will follow.
Some parting advice from Todd:
"Rotate your denim when you like, and wash when you wish. Live in your denim and enjoy the ride."
Boulder denizen Alex (38) grew up in Montana, where he spent his adolescence skateboarding, snowboarding, and spinning records with his friends. He worked in a skate shop, and he still skates every day (his sense of style reflects this).
In his early twenties, Alex discovered a passion for food and wine, and he's been active in the food and beverage industry ever since (he's always keen to share a great meal or tip a glass, so reach out if you're ever cruising through Colorado).
Alex stumbled into the world of raw denim by chance.
Like many of us, he had grown tired of the mountains of garbage denim that the world of fast fashion has to offer. Five years ago, while shopping, one dark blue pair stood out from all the rest. It had the word selvedge on the tag, and his interest was piqued.
He left that pair of Naked and Famous on the shelf, but he went home and started researching, falling headfirst down the rabbit hole. It was his red pill/blue pill moment, and he chose the red pill.
He saw the light and, as he says, "woke up from the monotonous denim matrix." He was reborn into the world of quality craftsmen-made goods. Since then, denim and its related products (especially leather and silver) have become a forever part of his life.
His fade recipe was an immediate success. He won last year's Pure Blue Japan x Blue Owl Workshop fade contest, even though he was a late entrant. He was competing against a pool of competitors who were all wearing the same pair (18 oz. indigo x indigo x black overdye), and he was one of the only competitors without any serious fade experience.
His gold-medal fades prove that experience means very little. Passion and dedication mean everything.
He's bringing his winning track record and his enthusiasm for this scene to the Indigo Invitational. "It's amazing to me," he says, "how a passion for cool pants and quality goods can unite so many people. I'm excited to continue learning and meeting like-minded people from around the world."
He's fading a pair of Iron Heart 555XHSib (25 oz., indigo warp, reactive dyed black weft). The indigo x black is by far his favourite combo, and he's never really put a pair of true heavyweights through their paces, so, when he was looking for a competition pair, the Iron Hearts were a natural fit.
His fade recipe is simple:
"Don't overthink it. Have fun and enjoy the process. Jeans are meant to be worn, lived in, and abused. Patience over time will yield the reward."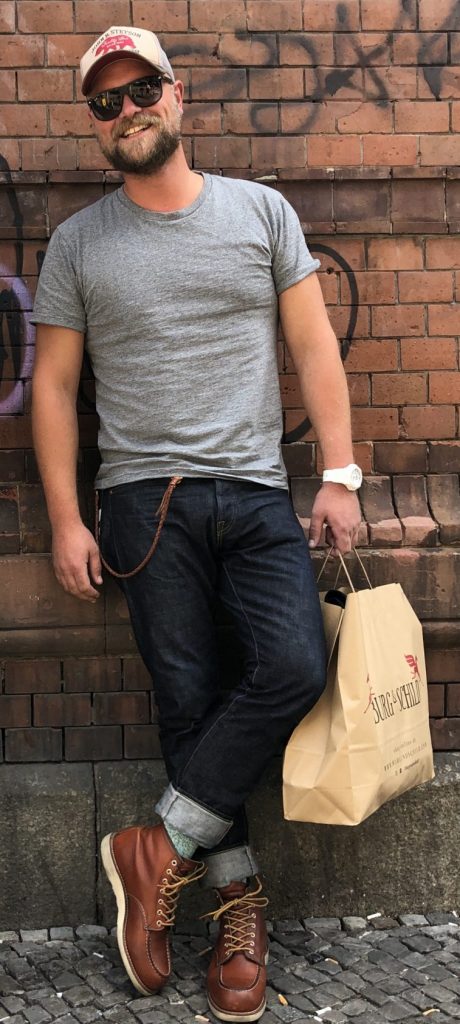 Marc (36) is a luxury car broker in Enschede, Netherlands. He is relatively new to the world of raw denim. He slid on his first pair of raws ( a 22 oz. pair of Lee 101s) less than two years ago.
He was drawn to the world of selvedge by the unmistakable quality and the chance to create unique fades that reflect the wearer's lifestyle. Like so many other faders, he went deeper with each pair, climbing the ladder until he purchased his first pair of Japanese denim.
When he decided to compete in the Indigo Invitational, he knew he wanted a stand-out pair that would fade beautifully. He went with a true fade icon: Momotaro 0405-SP (15.7 oz.).
Momotaro's battle stripes make them immediately recognizable to everybody from initiates to seasoned denim heads, and their electric blue fade patterns make them perfect for patient faders like Marc.
The step-up into the Japanese brands has fully converted Marc. Waiting patiently in his closet are pairs of Samurais and Iron Hearts, which he'll turn to when the competition is over. He doesn't want to own more jeans than he can wear, but he definitely wants a deep rotation of top-shelf denim.
As for his competition pair, he's planning to beat the blue out of them in the usual way: an active lifestyle, including bike rides and frequent walks in the park with his dog.
Jeremy Osztreicher – @jeremyosz
Melbourne's Jeremy Osztreicher (27) is a web developer by day and a leatherworker/shoemaker by night.
He was drawn to the world of raw denim by its promise to provide an unbeatable custom fit. He struggled to find a pair that fit him like he thought a good pair of jeans should, so he moved away from fast fashion and into the world of raw denim.
The minute he saw that first pair (Acne Studios Max Raws) starting to fade, that was it. He was hooked.
Like many of the faders in the Indigo Invitational, Jeremy joined the competition looking for an excuse to do some serious damage to a top-shelf pair. His closet was bursting with pairs of raw, but he wasn't giving any single pair the attention it deserved.
His Iron Hearts (888XHSib 25 oz.) have been the perfect companion on this journey. Super dark, with a high waist and roomy thighs, they're Jeremy's idea of a perfect jean—easy to slide on every morning without fail.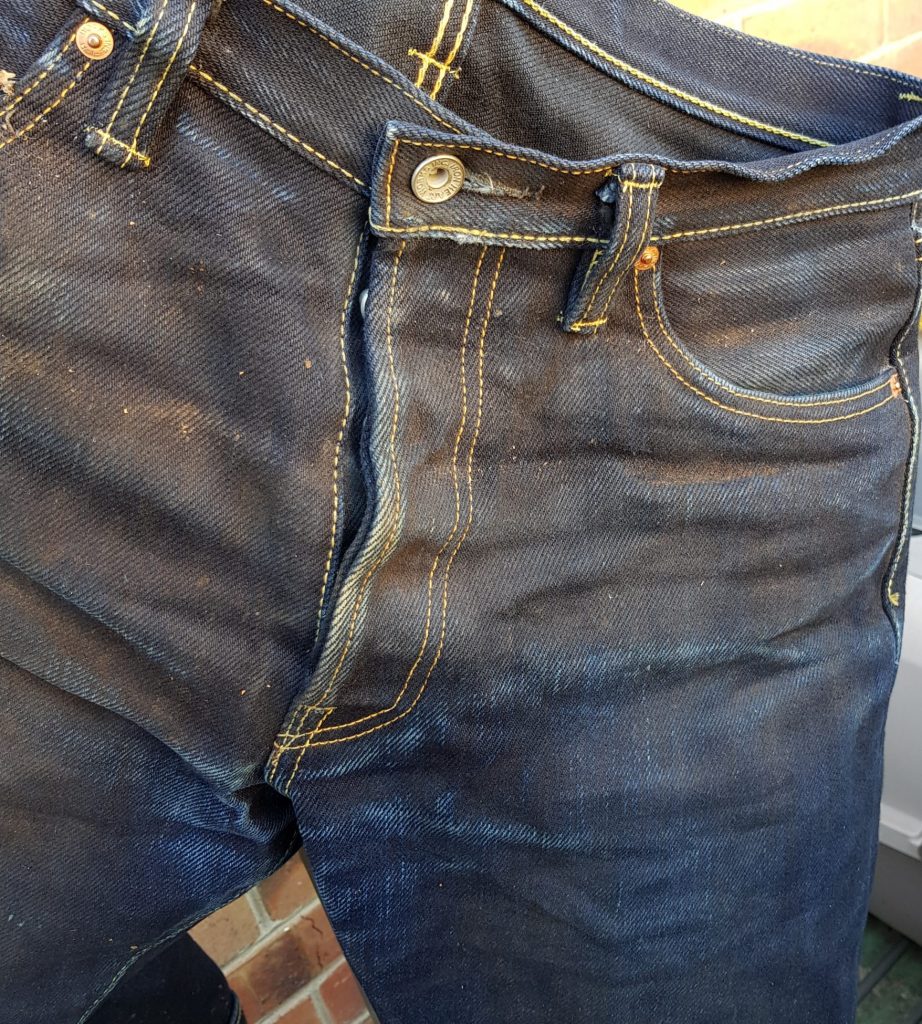 Jeremy is throwing down the gauntlet, standing his ground as a white-collar fader: "Don't underestimate office fades," he says. After all, office chairs have produced honeycombs that can stand toe to toe even with motorcycle fades.
As for fading tips, Jeremy says that you shouldn't be afraid to wash your jeans when they get dirty (presumably, his co-workers are grateful that he's not a never-wash fader).
Alexander Barker (32) hails from Hillerød (north of Copenhagen), where he shares a home with his "long-time-soon-to-be" wife and their two daughters (his oldest is five, his youngest was born just a few days into the competition).
They've just moved into a new house, so he's spending a great deal of his time on construction and renovation projects, getting his jeans filthy in the process.
When he's not being a devoted father and husband or working as a Google Ads consultant, he is exploring the world of raw denim and reviewing jeans.
Alexander joined the Indigo Invitational looking for the opportunity to interact with denimheads and hardcore faders like himself. He also (like so many of us) has an extremely deep rotation. With so many pairs to choose from, it's tough to string 100 days of consecutive wear together (let alone 365).
Alexander is the only competitor wearing Edwins (ED55 14 oz. unsanforized). He feels as though Edwins don't get enough love from the denim community, and he's keen to show the competitive faders what they've been missing.
He's confident that wearing his jeans every day and doing a little yard and renovation work will make him a contender.
A raw denim and quality goods enthusiast with a BA in design, Katie (23) is the only female competitor in the competition who has come here entirely under her own steam. She's as deeply a committed enthusiast as you'll find in the competition, and she's giving the boys a run for their money.
She lives in San Luis Obispo County in California, and she's an active member of California's denim community, especially in the subset of denim jacket enthusiasts.
She worked, for a time, for Office Hours, a small brick and mortar quality good retailer. Though she's no longer an employee there, you'll still see her there regularly browsing and chatting with the staff.
Katie made a strong statement when joining this competition by choosing to fade one of the heaviest pairs in the competition (the NBDN 25.6 oz. Golden Leviathan in their slim straight fit).
Why this pair? They were the only ones she had in the closet that were still in brand new condition when the competition began on June 1, 2019.
She's determined to wear the hell out her competition jeans and to go as long as she can with washing them so she can develop some stunning high-contrast fades. She's well on her way.
Andre Williams (27) is the competition's only professional athlete. The six-foot, 220-pound running back was drafted by the New York Giants in 2014, moving to the L.A. Chargers in 2016. His focus right now is on his denim line, which he launched recently.
As many guys with athletic builds (at least the ones who don't skip legs days) will tell you, there is very little in the world of raw denim for the gentleman with tree-trunk thighs.
He couldn't find a pair that fit him right—not until he started his own line: All Weather Workers & Travelers.
He's wearing one of his own pairs (AW Brads) in the competition, so the next year is something of a testing period for his product and its durability and fade potential.
He uses proprietary Japanese fabrics, with sturdy stitching in the same color as the dye, so he's off to a running start.
He wears his jeans daily, but he's also trying to give himself a bit of an edge by experimenting with coffee washes. Most of us who wear denim daily and can't live without caffeine have experience trying to get coffee out of our denim.
Andre is going in the opposite direction, brushing his denim periodically with diluted coffee water (he's heard that the acidity in coffee will accelerate his fades).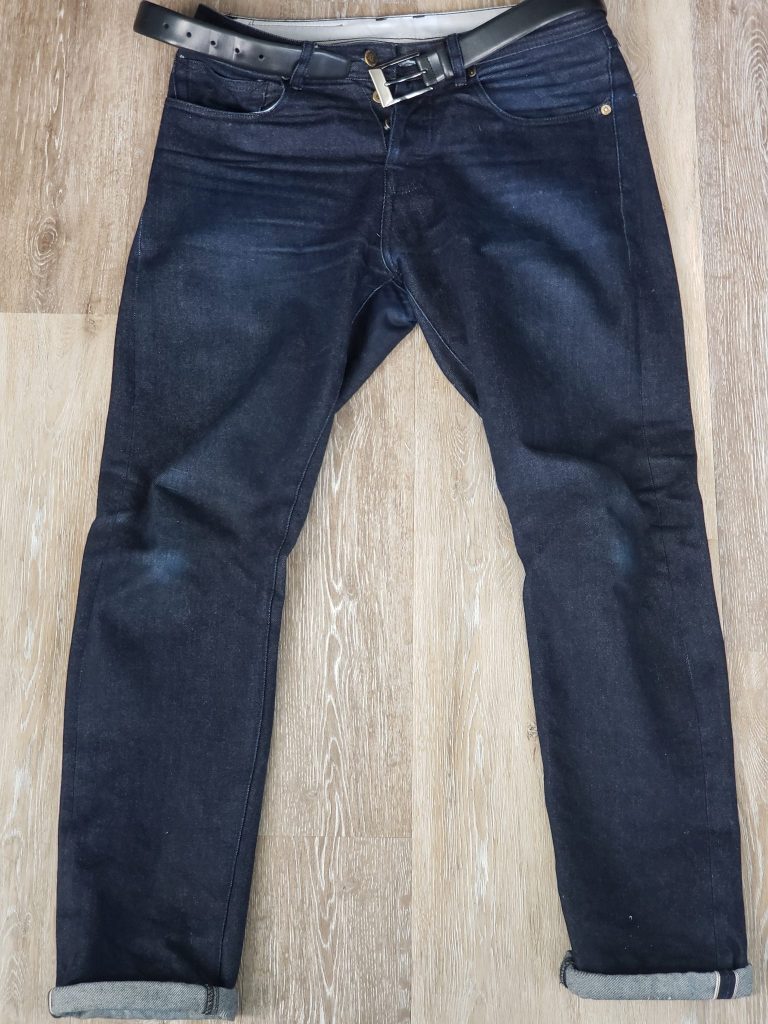 Only time will tell how this will work for him. "It is," he says, "either pure stupidity or pure genius." That's the pioneering spirit at work.
Karl hails from Leeds in West Yorkshire, but he's lived in and around London for the past 22 years. He had a 17-year career in retail buying for a leading department store with a focus on menswear.
A few years ago, Karl decided he needed more time with his family, so he built a workshop in his garden and retrained as an upholsterer. Discerning clients have been quick to recognise Karl's careful work and attention to detail.
He found the Indigo Invitational through the Raw Denim Facebook group (a non-pretentious hivemind of denim enthusiasts), and he immediately signed up, eager to put a pair through its paces.
He also wanted to go head to head with some of the fade heavyweights in the competition. There's no shortage of formidable competitors in the Indigo Invitational, and Karl thinks he's got a winning fade recipe.
This starts, of course, with the right pair of jeans. After some research, Karl settled on a pair of SOSO Brothers (18 oz. Deep Indigo Samurai, triple-stitched, with camo pocket bags).
He had heard a lot of good things about Iron Heart and some of the other Japanese brands, but he wasn't prepared to make that big price-point leap.
SOSO offered a bevy of details and customizing options. Best of all was the high-contrast fade potential (which he's highlighted with his fades).
Karl's fades (particularly his stacks) have turned heads inside and outside of the competition. The jeans were a little looser than he expected, but the extra denim below the knees has turned out to be a blessing in disguise.
He held out as long as he could, finally washing them on day 88 (more out of boredom, he says, than necessity).
His eye-popping fades are the result of hours and hours in the workshop, where the heat and humidity are off the charts. He airs the jeans out at the end of each day, letting them dry in the sun. The result is stiff accordion-like stacks like nothing else in the competition.
He's got one more secret ingredient. Karl would normally do most of his work on one of three tables at standing height in his workshop, but he wants to bend and crease his denim as much as possible, so he's doing the majority of his work on the floor.
Few people can match this level of denim dedication.
Louis (27) hails from Perth, Australia, where he's a retail manager by day and a budding denim enthusiast by night.
He joined the Indigo Invitational hoping to connect with other like-minded denim enthusiasts and share the year-long experience of fading a single pair of jeans.
He took the rather unusual step of letting the denim community decide what kind of jeans he should fade. When the votes were tabulated, surprisingly, the winning pair came not from Japan but from Northern China: Red Cloud R400 (17 oz. Turpan cotton, twisted yarn twill).
When it comes to fading tips, Louis says that it's all about keeping it simple:
"Just wear them normally like you would any other pants. Just let the fades come naturally. Denim evolves with each individual wearer—that's what makes it unique. Just be patient and let that evolution happen."
Asked to describe himself in four words, Stephen Snider (38) gave us the following: multipotentialite, philomath, coddiwomple, and bibliophile.
The fade scene veteran grew up in a military family. His father was a great military leader with a passion for people, math, and languages; his mother was, he says, a mix of Marilyn Monroe and the lady who drove the magic school bus (add equal parts beauty, insight, and humour and stir vigorously).
She shared with him her passion for adventure, and it was catching—it streaked across his life, he says, "like a blazing meteorite."
He served in the United States Air Force Reserves for 6 years, and, after that, spent 15 years in the Fire Service. "I've extinguished more fires, delivered more babies, and been with more people in their final moments than I can count," he says.
Today, he lives in Delta Junction, Alaska (where the ALCAN ends), and he works in occupational safety and health.
His transparent passion for adventure means that what the future holds for Snider is far from certain. All he knows for sure is that he will have fun in the years ahead and endeavor to have a positive impact on people, processes, policies, and programs.
He also wants to continue learning. He already has a few degrees, and he's in the last year of his doctorate, but his education, he says, won't stop there.
While some Indigo Invitational competitors are making adjustments so they can wear denim every day, Snider already does this, so the competition was a natural fit for him.
He says that the Indigo Invitational is less a competition than it is a "cool opportunity for a diverse group of people to take a denim journey together." We couldn't agree more.
Snider was a late entrant. He had a perfect pair in mind for the competition, and he knew that his hard-wearing lifestyle would more than make up for the lost time.
He's wearing what will surely be remembered as this season's hottest collaborations: the Okayama Denim x Pure Blue Japan ODPBJ002 (18 oz., Kakishibu weft, leather patch designed by Nathan Spoor and hand-painted by Mike Falkner of Wild Frontier Goods).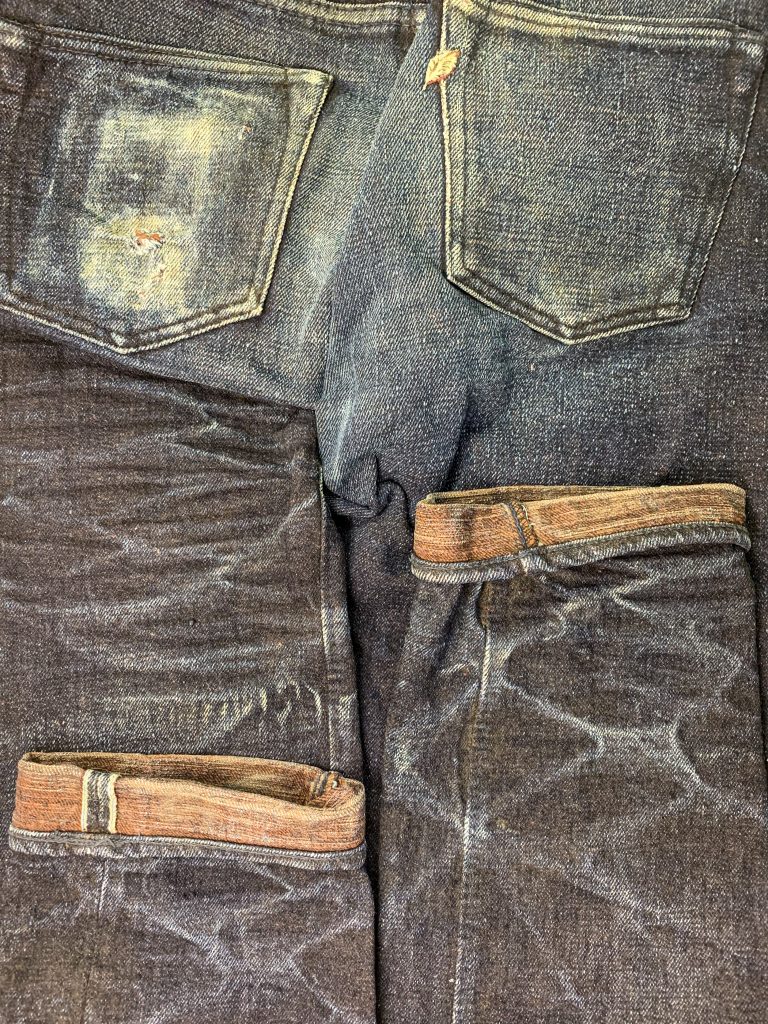 Snider is a big fan of all the brands involved, but he's particularly keen to support Merv of Okayama Denim—one of the denim scene's most passionate visionaries (he and Snider have this vision and passion in common).
Snider says, "When you wear denim, your life imprints onto them—they become a reflection of who you are." The attention to detail (dye, weft, threading, etc.) that is so common in this scene is, he says, all about clarifying this reflection so that what we wear on the outside is a more perfect match for who we are on the inside.
Want fades like Snider's? Hike 100 miles a month through some of the most beautiful and harshest environments this planet has to offer. "Everything beautiful in life," he says, "is born from either pain or time, or both. Denim is no different."
Fade on, brother rambler.
Love denim and fades? Join the competition!
The Indigo Invitational started as a small group of enthusiasts who wanted an excuse to buy a new pair of denim and to see how far they could push themselves and each other.
There are thousands of dollars worth of prizes, but this is just the gravy. The meat underneath is a tight-knit community of enthusiasts held together by a mutual love of fades.
If this sounds like something you want to participate in, join the Facebook group, follow the competition's updates on Instagram and visit indigoinvitational.com.
Want to make sure you never miss a post? Sign up for Denimhunters' email newsletter.