If you want to know which countries have the hottest and most active denim scenes, just take a look at Instagram.
Countries like Malaysia, The Netherlands and Sweden have loads of denimheads who're active on Instagram. But you don't find that many from countries like Romania. At least I haven't found them yet.
There is one Romanian denimhead I've followed for a while, though. His name is Daniel Petre Toma, and on Instagram he simply goes by @daniel_petre_toma (I dig uncomplicated usernames like that) ?
I sent him my Q&A to hear his story. Here it is!
What's your story
Name: Daniel Petre Toma
Birth year: 1980
Location: Braila, Romania
Profession: Business consultant
I live with my wife and our two dogs in Braila, a town by the bank of the river Danube. I like sports, especially football and tennis, and I like travelling.
Daniel Instagram Routines
Thomas: How did it all start with your Instagram feed?
Daniel: In 2016, I posted a picture. I remember I was wearing my first pair of Nudie jeans, and I had an unexpected amount of positive feedback. Everything started with that picture ?
Then I discovered some great feeds like @andreasbergstrom83, @sennah0j, @yonagrinberg, @swissjeansfreak, to name a few, and they inspired me and made me rediscover my passion for denim.
T: Why Instagram? What are your goals?
D: I have no goals other than connecting with the denim community, find inspiration and maybe inspire others ? It's wonderful to be able to be in contact and communicate with people from all over the world who have the same passion!
T: How much time do you spend on Instagram on a daily basis?
D: Honestly, I think it's somewhere between about one or two hours per day.
T: Which tools do you use?
D: I only use my iPhone, and the pictures I take on my own or with the help of my wife. I use some IG filters and Pixlr.
T: What's your editorial flow?
D: I don't plan anything; most of my pictures I take spontaneously when I get inspired by a place or a building. I don't have a favourite location, I get inspired by the place I'm in at a certain moment.
T: Do you make it a priority to post on a regular schedule?
D: It's not a priority for me to post every day. When I do post, I interact with others, inspire them and they inspire me, and that makes me post almost every day ?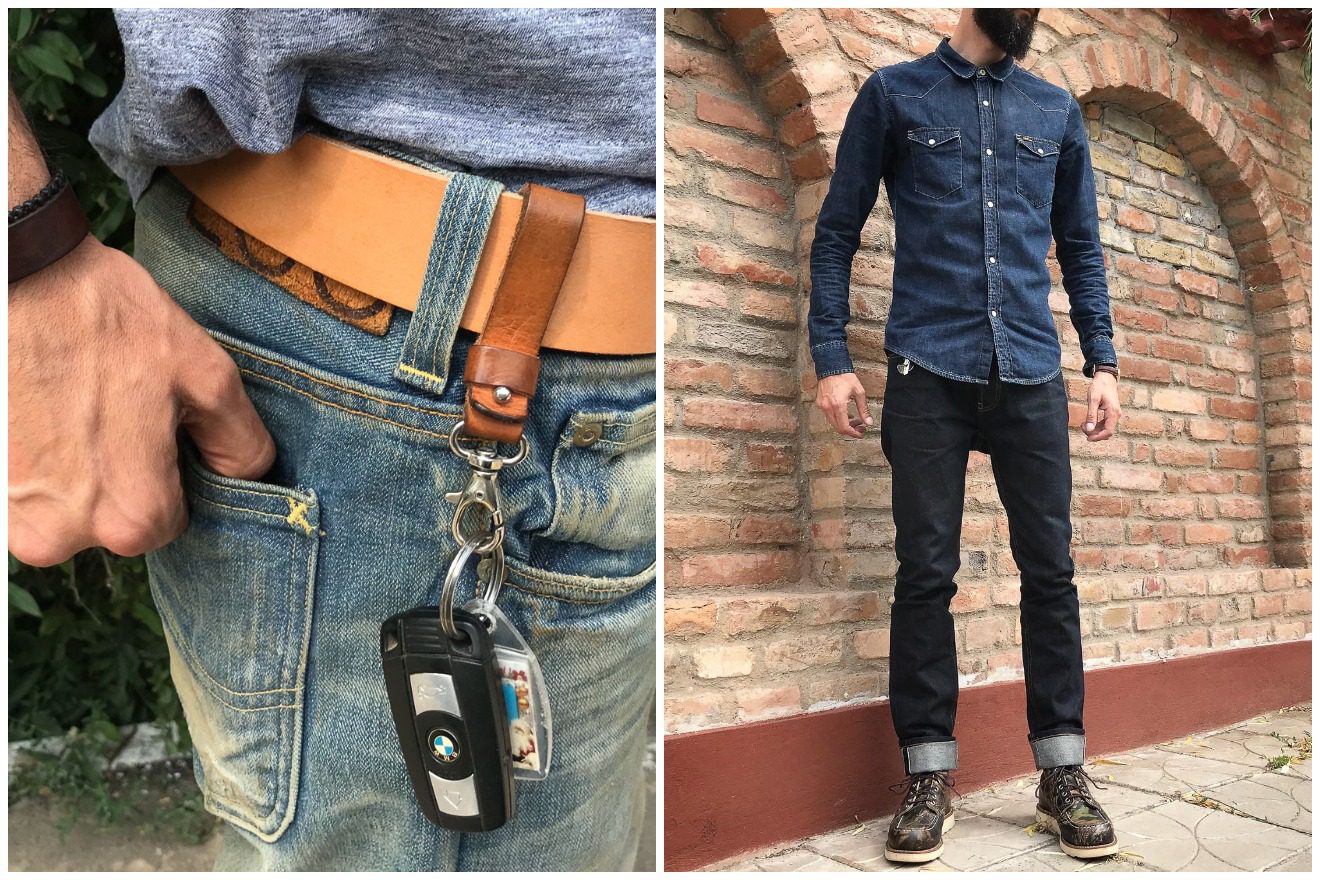 Daniel's Denim Style and Preferences
T: What is your favourite feature of jeans?
D: My favourite feature is the back pockets. That's why I love Lee jeans; I think they have the perfect back pockets.
T: How do you wash your denim?
D: I have over 20 pairs of jeans in my collection and I've only washed one pair of my Nudies four times. The rest have never been washed, just a few soaks.
T: What's your favourite fit? And what's your least favourite fit?
D: Being a slim guy, I like slim fits. My least favourite is bootcut.
T: Which boots and leather goods do you wear with your denim?
D: I wear Red Wing 8884 moctoes, Frye Arkansas, Clark's Clarkdale Bud. As for leather goods, I have a belt and a wallet made by Levi's, an amazing leather strap for my vintage watch made by a friend of mine @vladradich, and a belt, cuff and two key fobs I've made myself ?
T: Which sneakers do you wear?
D: Mainly Converse. I also have two pairs of Pony that are extremely comfortable. For really hot days, I have two pairs of Bensimon.
T: Favourite item that's not denim or leather?
D: My favourite non-denim items are my Zippo lighter, my Raketa vintage watch that belonged to my grandfather, and my Tissot LeLocle watch.
T: Where do you buy your gear?
D: Unfortunately, there are no real denim stores in Romania, so everything I have I've bought online, except a few things I bought this summer in Munich.
T: What styling tips would you give your followers?
D: Just be yourself, read about denim, and to ask for advice.