Q&A with Dave aka @ruggedworkwear on Instagram
Dave's been wearing Red Wings since he was in college in the mid-90s. After he set up an Instagram account a couple years ago, his leather obsession spread to raw denim too. Here's his story.
What's your story
Name: Dave Mathias
Birth year: 1974
Location: Marietta, Georgia, USA
Profession: Information technology
I'm married and have three children 12, 10, 6 years of age. The children keep my wife and me very busy. We do a lot of hiking, swimming, and walks and the kids have lots of activities (music lessons, swim team, et cetera).
Besides my denim, boots, and leather craft hobbies, I like to read and I like automobiles big and small (sports cars, off-road, trucks, Jeeps, and so on).
Dave's Routines on Instagram
Thomas: How did it all start with your Instagram feed?
Dave: I started an Instagram account a few years ago when my oldest son got his first mobile device and he started an account. From there, I noticed a lot of really awesome pictures.
At first, I was all over the place looking at hiking pics, tattoo pics, car pics, Jeep pics. Eventually, I really started liking the boots and denim community; I already had a lot of nice boots and shoes before Instagram, so it was a logical evolution.
Now that's my main area of interest on Instagram: the boots, denim, and leather community. As far as the boots, I've liked Red Wing since I worked construction with my father in the summers of 1995 and 1996 when I between college semesters. That's what got me started in the boot hobby all those years ago.
T: Why Instagram? What are your goals?
D: I love Instagram for the simplicity and the fact you can spend very little time or a lot of time on it, depending how much time you have available. The community is the main thing I'm on Instagram for now. I talk quite a bit with people all over the world in this community and they have become friends, some of which I've even met in person.
My goals are to just enjoy the community and help progress it forward. I do have some sponsorship relationships and those are fun too. So I would say it's a little bit business but mostly pleasure for me.
T: How much time do you spend on Instagram on a daily basis?
D: I spend probably more time exploring if I have enough time. Maybe 30-60 minutes exploring in small snippets throughout the day.
I usually post 1-3 times a day depending on how much time I have. Prepping tags and cropping takes me maybe 10-15 minutes for each photo. As of late, I've been really busy, so it's only been 1-2 pics a day.
T: How do you take your photos?
D: All of my pics are taken on my phone. I'm not a photographer at all, but this hobby has given me an immense respect for photographers and their skillset.
I take many pictures alone, but the pics that obviously are not me taking the photo are quick shots taken by a family member, most of the time my oldest son. I spend very little time getting the shots. We're talking a couple minutes for one outfit or boots. Max.
T: Which tools do you use?
D: I'm currently using a Google Pixel XL Android phone. It has a pretty decent camera.
T: What are your favourite locations to take photos? And why?
D: 99% of my pics are taken at inside my house or in my yard. I have a large plot of land (a couple acres) with a very large amount of space between me and neighbouring homes, so I can take some decent outside pics.
T: What's your editorial flow?
D: I don't have time to do elaborate planning. The pics are just outfits, boots, or things I own. Very simple. Very natural. While I respect photography level pics, and they are beautiful, they are also very time consuming and quite honestly staged, and not real. A whited-out background looks very cool but it's fake.
T: Do you repost? (Yes or no? And why or why not?)
D: A couple times, I've reposted a very awesome boot or denim picture from a fellow in the community that tagged me in the original photo. And one time a really cool before and after denim evolution picture.
I advertise in my profile that I will promote the best pics that tag or mention me. While I do that for interested folks, I almost never repost. 99% of the promotions I do as stories that run for 24 hours.
Once in a while, a friend will ask me to advertise something. I make it obvious with photo credit if I do that sort of thing.
Dave's Denim and Boot Addiction
T: How did you discover raw denim?
D: I got into raw denim after being a huge boot aficionado and noticing repeatedly very awesome looking denim worn by several people posting pictures of boots on Instagram. That led to me purchasing a pair of entry-level Japanese selvedge denim jeans from Gustin. From there, the hobby just grew like wildfire.
T: What is your favourite feature of jeans?
D: The obvious answer is selvedge. But there are so many aspects of denim that are cool. I really like unique or hidden features in raw denim. Such cool individuality and originality across manufacturers when you see those features.
For example, on my Grease Point Workwear work trousers (14.5 oz. Italian double indigo denim from Candiani), there's double selvedge on the inside of the button fly that I honestly hadn't even noticed until one of my denim buddies Rob (@raw.denim.ocd) pointed out the feature. Also, the completely custom design of those work trousers; it's so unique, original to those pants, and rad. I love it!
T: How do you wash your denim?
D: I very rarely wash my denim. I mainly soak unless somehow it gets very dirty. Even if it gets dirty, I try to first spot clean rather than wash.
If I have to wash, it's just soaking in a tub with some mild soap and super gentle agitation. My current Iron Heart 777-XHS 25 oz. jeans were purchased in December. I've worn them most days in 2018 and I've never washed them yet.
My project last year with Shockoe Atelier Kojima 14.5 oz. denim jeans, I only soaked three times and washed once the entire year, and I wore it at least 300 times. That denim saw more variety in wear between outside physical work and casual wear.
T: What's your favourite fit? And what's your least favourite fit?
D: I like all fit depending on what kind of outfit I'm wearing, which typically ranges between physical workwear, casual style, and business casual style.
My favourite fit is probably work pants, which is a little more relaxed to allow for more ease of movement. Slim fit rarely fits me right. My Iron Heart jeans are slim and they just barely fit my legs. But I like slim fits for a more dressed-up look.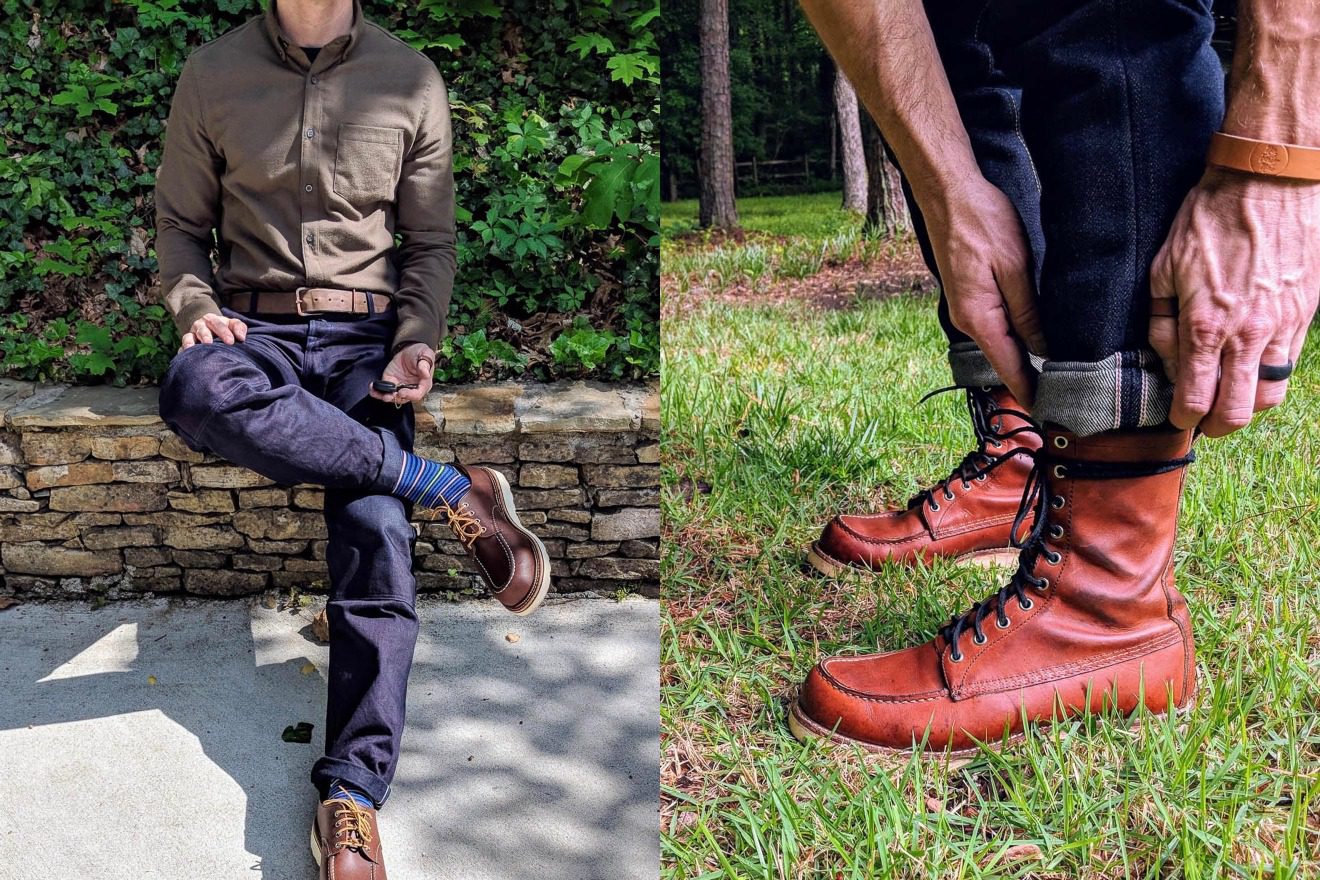 T: Which boots and leather goods do you wear with your denim?
D: This is a long list. My boots vary between Red Wing, Oak Street Bootmakers, Rancourt, Woolrich, and Tricker's. My shoes range between Red Wing and Allen Edmonds, for the most part.
For leather goods, the list is even longer. Whiskey Leatherworks, Ragnar Goods, No. Forty Nine Leather Co., Thirteen 50 Leather, District Leather, Tannery South, Go Forth Goods, Scout & Pine, and more. I have a variety of high-quality rings, bracelets, wallets, and bags from those leather companies.
T: Which sneakers do you wear?
D: Mainly Converse Chucks or whichever running shoe I haven't worn out yet.
T: Favourite item that's not denim or leather?
D: Really tough. I have an awesome looking Huckberry Zippo lighter. And lots of cool pocket knives.
T: Where do you buy your gear?
D: Mainly online. I've gotten a lot of quality goods from Clobber Calm Supply Co. Outside that, I typically buy directly from the manufacturer with the exception of Red Wings; I buy those wherever I can find the best deal.
T: What styling tips would you give to your followers?
D: Just be yourself. Buy slow fashion at the highest quality you can afford. Wear and repair it as long as it will last. Totally cool fashion to see evolved quality fine goods over time.