Q&A with Greg Tamura aka @denimhound
Name: Greg Tamura
Birth year: 1981
Location: Los Angeles, CA
Profession: Actor/director, writer, denim blogger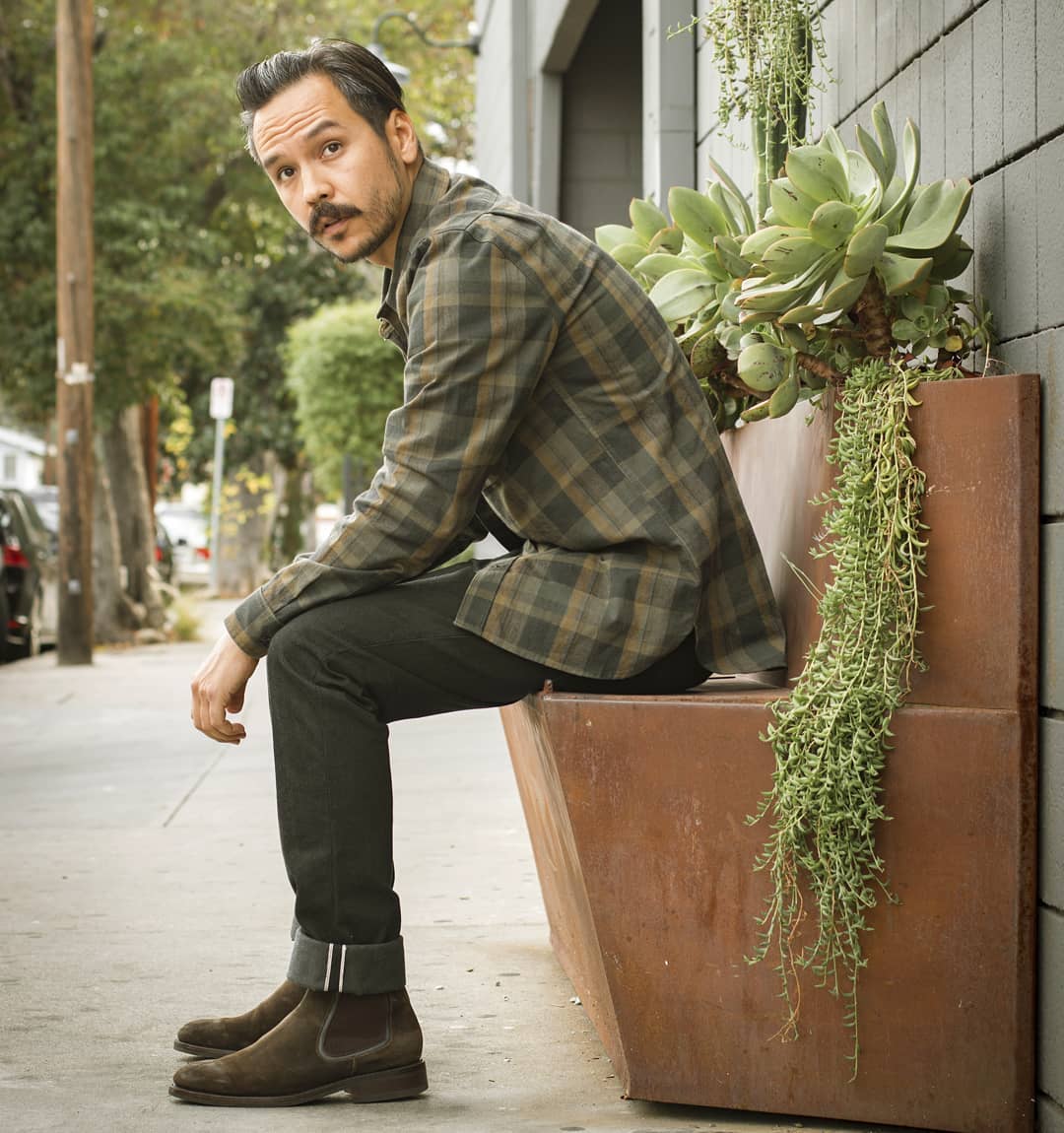 How Greg Keeps His Instagram Feed Fresh
Thomas: How did it all start with your Instagram feed?
Greg: The Denim Hound thing started when my girlfriend was fed up hearing me relentlessly talk on and on about denim, trying to teach her stuff about it.
She said, "I don't want to hear anything else about denim! You need to start a blog or something." I laughed it off but the thought stuck with me.
A few weeks later, she walked into the room when I was sniffing some jeans to see if they need a wash. She said, "you're like a dog." I replied, "I'm a denim hound!" Later that day I started the Instagram feed.
After a month or so, I realised I needed a platform to go into more extensive detail, so I started the blog.
T: Why Instagram? What are your goals?
G: I like Instagram above all other social media because of my photography background. Also because it's just a more positive and creative network than other social media platforms, in my opinion.
T: How much time do you spend on Instagram on a daily basis?
G: I used to spend 2 to 3 hours a day, at least. Now I keep it at under an hour a day on principle. This year, I've actually had days where I didn't go on Instagram at all. For me, that's a big step in the right direction, I think ?
T: How do you take your photos?
G: I usually take my own photos with a tripod and app on my phone. I love shooting with other people though. You can get angles that are hard to get with a tripod, and it's a faster, easier and more enjoyable process. And you don't look like an asshole, having a photo shoot by yourself ?
T: Which tools do you use?
G: A Canon 70D (I want to upgrade soon) and a Canon 50mm prime lens. I shoot in raw and edit in Photoshop. All manual settings and no presets or filters.
T: What's your editorial flow?
G: I used to give myself deadlines on my denim reviews and a set amount of reviews a month. Now I just do it when I feel like it, which makes me less 'productive' with the blog, but it's much more enjoyable. With my acting, writing and directing carrier, I don't have as much time for the denim stuff as I used too.
T: What are your favourite locations to take photos? And why?
G: The streets. Deep in the streets. Cause I keep it real ??
Greg' Denim Obsession and How It Started
T: How did you get into denim?
G: My love of denim began in the 80s when I met a kid at school who wore a black t-shirt, Levi's 501 cuffed high, black and white Converse All-stars, and a digital watch.
It was the first time I've ever seen a kid wear a watch; it was the first time I saw Levi's. He listened to the Beastie Boys on a Walkman and didn't talk to anyone. He was the coolest kid I'd ever seen.
"Why don't I have a Walkman? Who are the fucking Beasties Boys?!" I thought about it seriously.
I was too young to understand that when my parents divorced a year or so before, it took everything my mother had to raise my little brother and me. She was busy worrying about how to close the gap between my father's child support and our bills.
I was so disappointed when I got black acid wash stretch pants instead of 501's. Payless knock offs instead of Chuck Taylors.
In the late 80s, I got really into glam rock, leather pants and jackets. I didn't like when leather would look too clean and new. I didn't yet know the word patina. Obviously, leather clothing was out of the question for a child.
By the time the 90s rolled around, I was a full-blown skateboarder who loved garage rock and gangster rap. I finally got my first pair of Levi's. A dark black warp with a white weft. I wore them every day for a couple of years until I grew out of them.
Later, I got into shopping at Army surplus stores. Camouflage cargo pants, scratchy cotton tees. I wore one shirt and pair of pants at a time watching them get softer and softer until they slowly dissolved away completely.
In the mid-2000s, I picked up a pair of Levis 501s super skinny and it slowly rekindled my current obsession with denim fabric and watching it age.
T: What's your favourite feature of jeans?
G: How the denim evolves.
T: How do you wash your denim?
G: Cold water in the tub for an hour, agitating every 15 minutes or so. Usually, no detergent unless needed. Roll up in a towel and squeeze, then hang dry. I do this after every 20-30 wears or so.
T: What's your favourite denim brand?
G: Japan made: Tanuki, Oni, Pure Blue Japan. Made in USA: Freenote Cloth.
T: What's your favourite fit? And why?
G: I've come to the conclusion that a straight fit or relaxed tapered (not too much taper) works best for me.
T: Which boots and leather goods do you wear with your denim?
G: I love Pigeon Tree Crafting and Wild Frontier Goods and Himel Bros. For boots, I go with Red Wing, Lucchese, Grenson, Dr. Martens, 2120 Handcrafted or Thursday Boots.
T: Which sneakers do you wear?
G: Vans or Chucks.
T: Favourite item that's not denim or leather?
G: My skateboard.
T: Where do you buy your gear?
G: Freenote Cloth, General Quarters, Okayama Denim, Denimio, eBay.
T: What's your monthly clothing budget?
G: I am on a buying freeze. I'm actually getting ready to sell a huge part of my collection. I have a wedding to save up for!
T: What styling tips would you give your followers if they wanted your style?
G: My style is dark colors with high contrast offset. Blacks, chocolate brown, indigo of all shades with red, grey or white color pops. Somewhere between classic American, modern metropolitan, sea captain and rock 'n' roll.
Ready for More Stories …?
Greg might be too humble to mention it himself, but he's actually done a collaboration jean with Kojima Genes. You can read all about it here.
If you'd like to read more Q&As, you can check out all the previous ones right here.
And if you'd like to get a heads up whenever I post new stuff here on the blog, you can sign up for the free email newsletter.