Well-Made Essentials » Leather boots
Leather Boots Buying Guide for Denimheads
While you can say that this or that pair of denim is essential without raising any eyebrows, say the same thing about a pair of boots and you'll elicit strong responses (both for and against). In the world of well-made boots, allegiances and enmities die hard. Any strong opinion is a controversial one.
Psst, you should really check out our NEW BOOK!
Sorry to interrupt your reading, but there's something we're dying to tell you: We have a NEW BOOK out!
It's called the Rebel's Wardrobe and it looks beyond denim and jeans to explore the often-surprising origins of the garments we all wear and love.
If you identify as a denimhead, chances are you care deeply about your wear below the cuff. You know that a well-heeled man makes a strong and immediate impression. At the same time, you know that the wrong pair of boots or shoes will quickly erode the foundations of an otherwise perfect kit.
With so much riding on our boots, we need to choose carefully, and there is no consensus. Some people are brand exclusive (Red Wing being a popular choice for obsessives), others build collections featuring iconic pairs from the world's best makers.
The debates that swirl around the boot scene centre on which pairs are the true icons. One man's must-have is the next man's monstrosity. We're as biased as the next man, but we'd tried to cover as much ground as possible below without straying from our particular tastes and principles.
The boots below are, we feel, the most iconic and adaptable boots on the market. These are not the most-expensive boots (far from it), and they are definitely not the only makers worth considering. But if you're looking to get into a well-made pair of boots, the list below is as good a starting point as you'll find anywhere.
This is not a collect them all kind of list. We don't want to help you stack shoeboxes under the bed or in the closet. Like jeans, boots are only worth the investment when we wear them day in and day out. We want to help you find that perfect pair that you can patinate to perfection.
When you get it right, you'll have a new best friend. That perfect boot will be sitting by the door wagging its tongue at you, just begging to be taken out for a walk.
The sections we cover in this guide:
If you want to know more about why we created these guides, please read our Manifesto. If you want to understand the criteria we apply for each item, read our definitions of 'well-made' and 'essential'.
Our guides are reader-supported. We earn a small commission when you make a purchase, but it doesn't cost you anything. Prices include local VAT and are subject to change.
---
Why a Well-Made Pair of Boots Is Essential
Leather boots, and especially well-made ones, are both timeless and adaptable. The truly classic boot styles simply refuse to go out of style.
Fashions come and go, but the simple blue-collar aesthetic of well-worn leather boots has remained steadfast. There's still nothing that pairs better with a pair of jeans (new or old). Absolutely everybody should have at least one pair in their kit.
A Well-Made Pair of Boots Is Timeless
Even a brisk walk through the history of boots would be a long and sweaty slog. Based on cave paintings, humans have been wearing leather boots in some form or another since at least 12,000 BCE.
It's safe to assume that, when we swung down from the trees and planted our feet on terra firma, it wasn't long before we started covering the soles of our feet (and just about everything else) with animal hides.
More than any other item on our Well-Made Essentials lists, boots (a leather upper with a reinforced sole) have passed down through every age of human history in a form that has undergone surprisingly little change.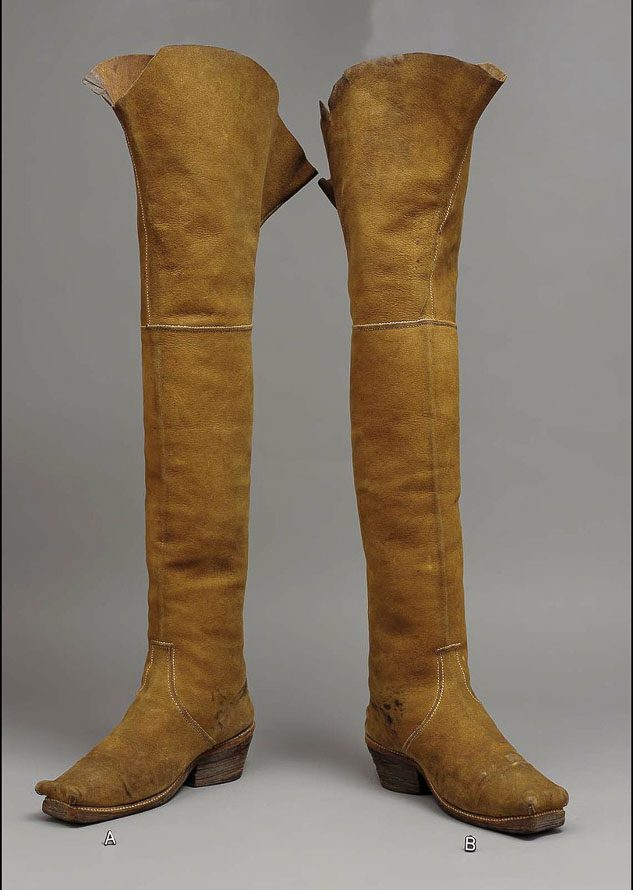 Cavalier boots from the seventeenth and eighteenth centuries could still be worn under cuffed selvedge without raising an eyebrow, and cobblers in the old world and the new are still doing versions of the Blucher boot and its close cousin the derby shoe. Blucher, an eighteenth-century Prussian field marshal, asked for durable leather footwear for his soldiers—a request that birthed the lace-up combat boot.
Some of the bookmakers on this list have been making well-made boots since the nineteenth century. Iconic bootmakers Wolverine and Red Wing started producing their trademark rugged leather footwear early in the twentieth century, and their ability to combine affordability and durability made their boots a smash hit among the working classes.
Many of the features we associate with well-made quality boots can trace their roots back to these innovators. From the dockworkers and lumberjacks to Hollywood trendsetters and road-worn outlaws, boots wove their way through the twentieth and the twenty-first centuries—almost always paired with denim.
Style icons like Brando and Dean combined leather and denim in instantly iconic ways, and we still are trying to recreate many of these looks. For the vintage nut, the combination of the motorcycle jacket, engineer boots, with denim and a tee between them, remains the untouchable standard.
For more modern denim enthusiasts, the six-inch or eight-inch lace-up boot is the boot par excellence. Nothing else will do. We can handle them roughly or polish them obsessively. Either way, there's simply no beating them.
A Well-Made Pair of Boots Is Adaptable
In terms of adaptability, the six-inch lace-up boot leaves all others behind. Versions of this boot make up the bulk of our list because they draw a wide circle around more than a century of workwear looks, pulling in everything from railroad workers and miners to loggers and assembly line jockeys.
At the same time, they are perfectly at home in more modern looks. Shine your boots and they're right at home with a crisp dress shirt and blazer. Let them go to tatters and they're a perfect companion for your heavily faded denim pieces.
We've also included a few pairs of engineer boots. As long as you're working with straight cuts on the wider end of the spectrum, engineer boots will work exceptionally well. Lace-up boots, though, don't have any restrictions. A pair of brown or black lace-up boots work with everything.
If you want to take full advantage of the adaptability of leather boots, stick with the classics that we've listed below.
If you're building or adding to a collection, a higher boot or a slip-on will widen the spectrum of looks you have access to. If, however, you're looking for a pair that will go with absolutely everything, pick one of the six-inch boots we profile below. You can't go wrong, and they'll just keep getting better the more you use and abuse them.
---
How to Identify a Well-Made Pair of Boots
There are quite a few brands in the boot space with well-deserved reputations for producing boots that will age beautifully. That said, there are a few brands that have let their quality slip, so it's crucial to give the pair a once-over before you slap the plastic on the counter. Here's what to look for.
What It's Made of
Chances are, if the boot advertises itself as 100% leather, it's a dud. The brands we'll be highlighting below all tell you significantly more than this.
They all use full-grain leather, and they'll include the name of the tannery either in the name or right at the top in the product description. Horween leather is a very good starting point. At the top end of the scale, you're usually looking at shell cordovan (worth every penny and then some if only the best will do).
If you've drooled over a pair of beautifully aged heritage boots, you might be tempted to jump to the end of the process and buy a pair that's had the patina added in the factory. Premium stockists will sic the dogs on you if you ask them to help you cheat like this. It's the equivalent of asking a selvedge stockist if they have anything with ripped knees.
The patina is the reward you'll get for putting the work in. Let this process happen naturally. Clean and condition your boots fairly regularly, but don't polish them nightly, weekly, or even monthly. You're not in boot camp, so there's no need to keep that mirror finish on your toes—unless, of course, you want to keep that leather looking shiny and new for as long as possible.
Flip the boots over. Depending on what you're using the boots for, you'll be looking for different kinds of soles. A full leather sole is the dressiest option. It gives the boot a sleek profile that allows you to dress it up or down however you like. This is the sole you want if you're going to be wearing your boot exclusively on the street or indoors.
If you're going to be using your boots as all-purpose footwear, a Danite sole will give you added grip and durability without interfering with the silhouette of the boot too much.
If you're planning on scaling mountains, or if you're regularly around rusty and pointy things, look for Vibram.
Just as Horween and shell cordovan are by no means the only leathers to look for, these are by no means the only types of soles you'll find on well-made boots, but you'll find them on most of the pairs listed below.
What to look for in a well-made pair of boots:
Full-grain leather from a respected tannery
100% leather is NOT enough
No factory patina
Classic colours (brown or black) for adaptability
Leather sole for urban use
Dainite sole for all-purpose
Vibram lug for rugged use
How It's Made
First things first: What makes the work we put into getting a beautiful patina on our boots worthwhile is our ability to swap out our worn-down soles with brand new ones. This is a straightforward process for shoemakers when the boot is welted.
You should be able to see a layer of leather between the outsole and the upper. Rather than being stitched (or worse, glued) directly to the sole, the upper has been stitched down onto this welt.
If you wear through this welt, you'll be looking at a full rebuild, so, if you want to make sure your investment in well-made boots pays off, keep an eye out for those trademark signs of worn down soles.
If you're looking at a welted boot, you can start to dig a little deeper into its bag of tricks. At the well-made entry point, you can expect boots to be primarily handmade. There's a big difference between what qualifies for hand-made at the lower end of the scale and the top end.
At the lower end of the scale, you're looking at a team of specialised employees, each of whom guides the boot through the different stages of the manufacturing process. All told, the plant (like the one in Red Wing, Minnesota) might produce upwards of 5,000 boots per day.
At the top end of the scale, you're looking at a boot that passed through a master craftsman's studio. On a good week, they might produce a few pairs. They have a vision and then execute every stage of the process. It doesn't pass from hand to hand unless it's passed from their hands to yours.
The industrial process is dependable and repeatable. Companies like Red Wing have built solid reputations on the back of their ability to produce great-looking and sturdy pieces by the thousands without sacrificing much to the division of labour.
Something is undeniably lost, though. It's plain to see when you compare the boots side by side. It's similar to the difference between, say, a Porsche and a Ferrari. There are plenty of people who, given the choice, will take the German car built on an assembly line over the hand-assembled and tuned Italian one. The Porsche is more than enough car to satisfy an exacting consumer, but the latter is made with purists in mind.
For these enthusiasts, the six-figure price bump comes with much, much more than badge prestige, and the same can be said for the three- or four-figure price bump that purists will pay for a hand-built boot from a respected maker. Pop the hood by flipping the boot upside down and you'll quickly see why boot fanatics will happily wait months or even years for their grail pair from their favourite maker.
At the end of the day, it comes down to a combination of budget and how you're planning to use the boot. If you're looking for a rugged and good-looking leather boot, the entry point and the mid-tier have got you covered. If, however, you care deeply about craftsmanship and artistry, the prestige bookmakers on this list will make your heart and feet sing in unison.
Construction details to look for in a well-made pair of boots:
Goodyear welted as a bare minimum
Hand welted at the upper end
Meticulous finishing
Solid and heavy hardware
Shank (usually either steel or leather, but sometimes wood)
Carefully executed heavy-duty stitching
Why It's Made
There are really two categories here. There are boots for great looks and boots for rugged use. Here's the thing, though. A great pair of leather boots, regardless of who made them, can fit into both moulds.
At the well-made entry point, boots like Nick's Loggers or Red Wing's Iron Rangers might not lend themselves as well as polished oxfords to fancy occasions. When cleaned up and paired with the right pair of jeans or chinos, they can move through a wide range of social settings with ease and aplomb.
With regular cleaning and polishing, the top-tier boots have a wow factor when cleaned and polished regularly that's hard to beat, but some of the most beautifully aged boots we've seen are the result of consumers who put away the polish and treat their boots like the working man's pieces they are at heart.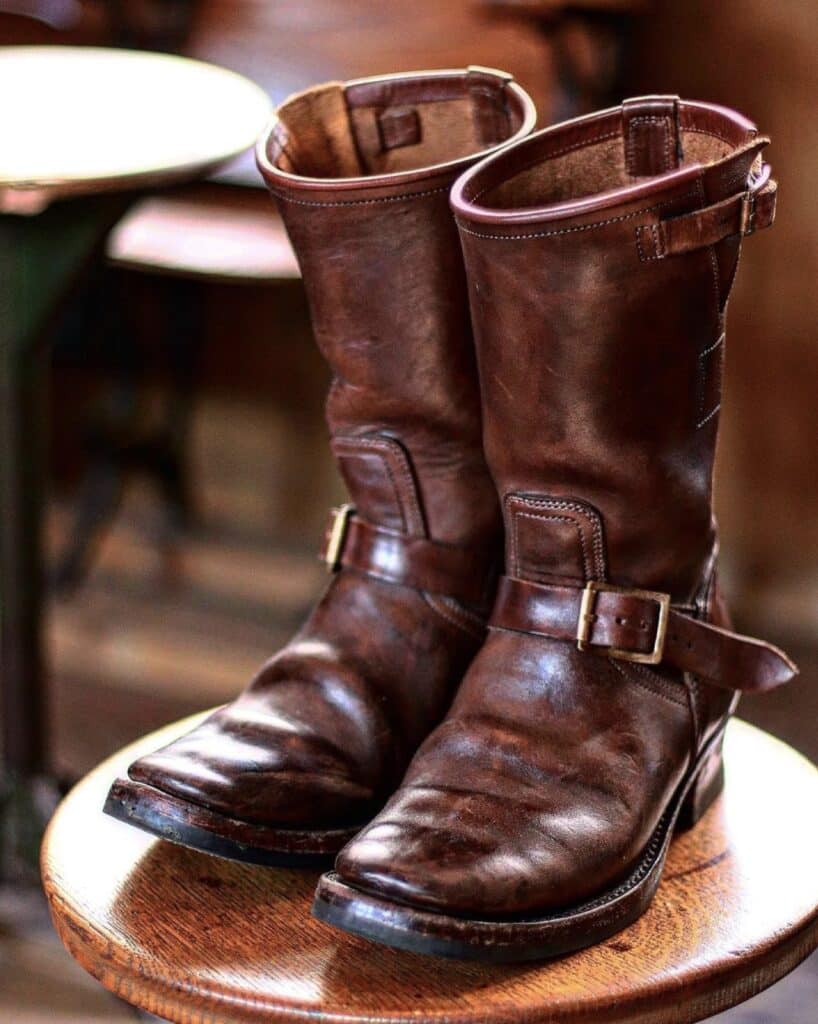 None of the boots we'll cover below fall into the pure luxury category. Even the most expensive boots on this list are made to withstand abuse. Puddle jump or pound sand. Throw everything you've got at them both in terms of budget and lifestyle. Burn through a sole a year and, by the time you're ready for your second or third resole, you'll be standing in a class of your own.
---
10 Well-Made and Essential Pairs of Leather Boots
Like you, we have preferences, and these preferences have guided our choices. We prefer classically and simply styled boots that do their work diligently and quietly. The ten pairs below all do this.
If you're looking for a style that's not included here, the brands and the other styles from each of them we recommend will be an excellent starting point.
---
We're not leading off with the Red Wing Iron Ranger because it's the best boot on the market (although some die-hards might argue otherwise). No list of serious boots for denimheads, though, would be complete without Red Wing's standard bearer. Take a few dozen random shots of cuffed selvedge, and, chances are, you're looking at Iron Rangers in three-quarters of the pictures.
Red Wing has been making shoes at their Minnesota plant since 1905, and they pride themselves on their long tradition of quality footwear. Thanks to superior waterproofing and durability, their boots helped soldiers avoid the dreaded trench foot during WW1, which quickly made them one of the most successful boot companies in America. They were manufacturing nearly a quarter-million of them by 1915, and they've been bent over that cobbler's bench without respite ever since.
The Iron Ranger, while inspired by mining boots from the 30s, was developed for the Japanese market in the '90s. If you are a fan of the boot, you have Japanese Amerikaji passion to thank.
The style is simple and timeless. The unmissable toe cap definitely identifies it as a work boot, so it doesn't have as much upward style mobility as boots like White's Semi-Dress. It will, however, work exceptionally well with selvedge in every cut and cuff style imaginable. Cuff it high and show off your socks or let your jeans stack up on the vamp. Either way, the marriage is a happy one.
Key features of the Iron Ranger
Full grain amber harness leather
Vibram 430 mini-lug outsole
Made in the USA
Goodyear welt
Leather insole
Cork midsole
Brass speed hooks
It should be noted that Iron Ranger has a number of strong competitors that should be at least considered, chief among them the Wolverine 1000 Mile. Though not quite as durable as the IR, the Wolverine's sleeker silhouette and leather soles make it a great city boot.
Other Red Wings to consider: Blacksmith (a dressier boot with incredible patina potential), Beckman (similar to the Blacksmith, but better for polish than for patina), and the 877 Moc Toe (America's favourite 8″ moc-toe work boot)
Franklin & Poe ship from the US. If they're sold out or you're looking for other places to buy Red Wing boots, try: Red Wing (global), Stag Provisions (USA), Brund (Denmark), and Corlection (Australia)
---
A bit of a jump up from the mid-tier boots, but for the extra money, you get one of the most iconic silhouettes in the world of well-made boots.
White's has been making boots for rugged outdoorsmen since 1915, and the loggers and soldiers who prefer their boots to all others can whistle while they work, knowing they're better-shod than most.
You can see almost immediately that, while this boot has dressier pretensions, it gains ground in terms of toughness as well. The sole has more heft, and there's an aggressive forward tilt to the boot that spreads the wearer's weight more evenly through the foot.
The Semi Dress is a boot made for boot lovers, and it's not uncommon to see a well-worn pair sitting by the door in a boot fanatic's home.
Highlighted features of the Semi Dress
Full-grain water-resistant leather upper
Half-composition sole
Handsewn stitchdown construction
Leather midsole and shank
Arch-ease last (comfortable right out of the box)
Rebuildable/resoleable
Available in five leathers
Other White's boots to consider: Smokejumper (iconic ten-inch boot for high-lacing firefighting excellence) and the forest-ready 350 are both among the brand's best boots.
Division Road ships from the US. If they're sold out or you're looking for other places to buy White's boots, try: White's (USA), Clutch Café (UK), and East West Apparel (UK).
---
Another strong contender for the king of the 6-inch boots, Viberg's Service Boot has been a Viberg staple for almost a century.
The brand started in a farmer's workshop in Saskatchewan before moving west, settling for a while in the very heart of logging country, Prince George, British Columbia (where your humble author spent his formative years). When the boom in logging died down, they moved further west, settling on Vancouver Island, where they've been producing some of the world's most dependable and rugged footwear ever since.
Their service boot recently underwent a bit of a design update, but the features that made the boot an instant classic remain intact. It's got a sleek silhouette that conceals it's tough-as-nails guts. It remains a top choice for those who want their boots to speak softly while carrying a redwood-sized stick.
Viberg Service Boot features
Brown Chromexcel leather
Stitchdown construction
Natural leather midsole
Dainite sole
Made in Canada
Partially structured toe
Vintage brass eyelets
Available in a wide range of leathers both with and without toe cap
Viberg also make an excellent slip-on Chelsea Boot and a stunning Hiking Boot in Regency Calf (a popular outdoorsman favourite).
Viberg ship from Canada. If they're sold out or you're looking for other places to buy Viberg boots, try: Brooklyn Clothing (Canada), Division Road (USA), Rivet & Hide (UK), Cultizm (Germany), and Denim Heads (Czech Republic)
---
You might be noticing a theme here. Viberg, Nick's, White's, and Wesco all hail from either British Columbia or Washington State. The Pacific Northwest was ground zero of the early-twentieth-century logging boom, making it a magnet for talented leather workers.
John Shoemaker (yes, that's his real name) started Wesco in 1918 with his logger boots quickly becoming his top seller. As the company's reputation grew, they branched out into all-purpose work and motorcycle boots.
When the rugged scene kicked into high gear, Wesco's Mister Lou became one of the most popular versions of the engineer boot. Ready-to-wear versions fly off the shelves extremely quickly, and there's a long lineup to get into one of their custom builds, but they're worth waiting for.
Wesco boots features
Full-grain horsehide
Fully customisable
300+ billion possible configurations
Slim shaft that fits under most jeans
Re-solable
Hand-built in the USA
Family-owned business
Other Wesco boots worth considering: The classic ready-to-wear Jobmaster (with trademark kiltie), and the Boss (a chunkier and less-expensive motorcycle boot).
Iron Heart ship from the US and the UK. The boots sell out very quickly, so check their other stockists if Iron Heart is sold out: The Shop Vancouver (Canada), Franklin & Poe (USA), Division Road (USA), Standard & Strange (US), and Brund (Denmark)
---
The last Pacific Northwest maker on this list is, for many fans of the brand, the hands-down best of the bunch. With "only" five decades under their belt, Nick's is still a rowdy adolescent in the well-made boot world, but they can stand toe to toe with the legendary makers.
Their fitting process comes as close to a guaranteed perfect fit as you can get. They've got more than 2,500 lasts covering a far wider range of foot shapes and sizes than other brands. If your feet break the mould, Nick's will get you fitted.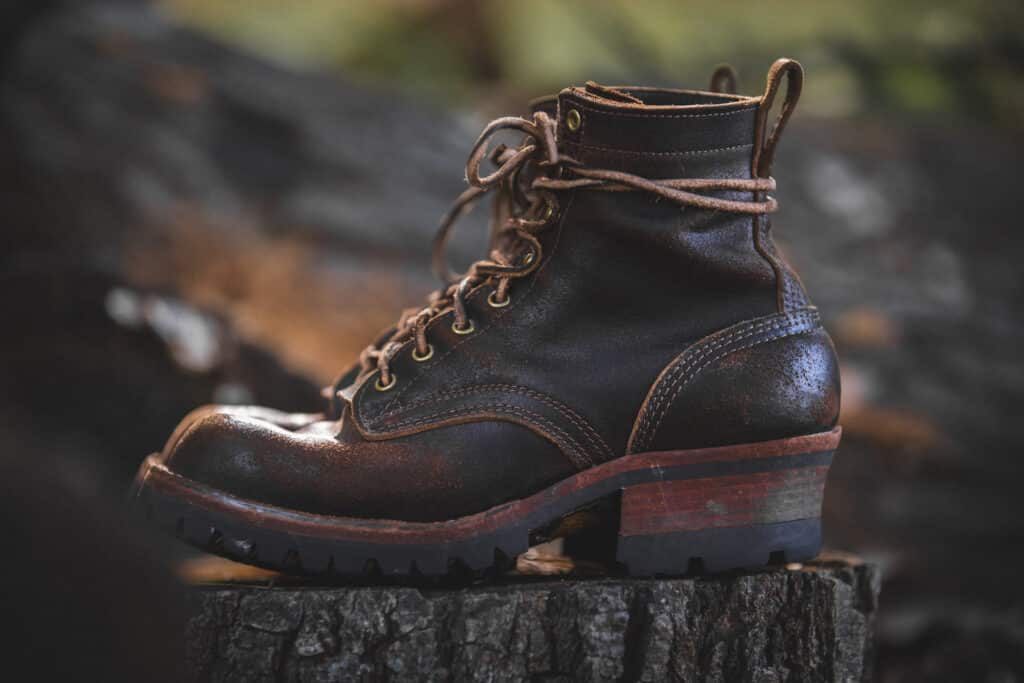 Their four-layer arch support gives their boots one of the more distinctive silhouettes out there. It's more than is absolutely necessary, but this is how they approach every stage of production. They do little things and big things equally well, and it's not uncommon for first-time customers to forsake all other brands once they've broken in their first pair of Nick's.
Their Logger boots are the perfect introduction to the brand. Thanks to the heavy-duty Vibram lug, they lean distinctly towards the utilitarian, but this doesn't make the boot any less at home on the street or in the coffee shop.
Key features of the Urban Logger from Nick's Boots
6-7 oz. waxed flesh full grain leather
Vibram V-100 lug
Hand-built in the USA
Four-layer arch support
Copper hardware
Extensive fitting process
Fully rebuildable and resoleable
Other Nick's boots to consider: Traveler Predator (eight-inch lace-up with ultra-comfy crepe sole), Urban Drifter (similar to the logger, but with a block heel), Officer Boot (eight-inch casual urban boot), Charley Boot (one of their dressier boots)
---
We're crossing the Pacific to look at a few of the Japanese boot makers that have essentially perfected the art form. For the true diehard boot enthusiasts, it doesn't get much better than the shoe-repair-genius-turned-boot-god Minoru Matsuura.
Working out of a pair of Tokyo workshops (each specialising in different areas of construction), the five master craftsmen behind the brand have an extremely narrow range of boots, but, whether it's their six-inch lace-ups or their category-defining engineer boots, they execute each piece to absolute perfection.
Matsuura's process is as far from the highly efficient American factory-made production as you can get. The hand welting and lasting is done with such care and precision that the boots are as much a work of art on the inside as they are on the outside. They produce ecstatic moans from shoemakers when they peel the sole off. Boot fanatics have similar reactions when they spot a pair in the wild or, even better, under lights in a shop window.
This is true enthusiast territory with a price tag and a brutal break-in period to match. The diehards know that the cost is worth it. This is why stockists can't keep them on the shelves. They're at the apex of global boot production. In fifty or sixty years' time, we may be talking about this decade as the golden age of Japanese boot artisanry. If so, these boots will be museum pieces.
Features of the Clinch Engineers
Extremely thick and hand-selected veg-tanned European horsebutt leather
O'Sullivans reproduction soles
Hand-made in Tokyo
Nails, welting, and hardware all made in Japan
Unstructured toe box
Resoleable and rebuildable
Bragging rights game winner
Other Clinch boots to consider: Lace-Up Boot (six-inch latigo stunner), Natural Engineer Boots (patina ready perfection), Hi-Liner (elegant lace-way-ups)
Clinch boots sell out quickly, so be prepared to do a bit of hunting and probably a good deal of waiting if you want a pair.
If you order directly from Brass Tokyo, be prepared to wait at least six months. The best places to enquire are Clutch Café (UK) and Standard & Strange (US).
---
John Lofgren was born and raised near Fresno, but his name is synonymous with made-in-Japan quality. Lofgren started Speedway (a must-visit shop in Sendai, Japan) in 1998, and he quickly decided that he wanted to start making his own footwear.
After experimenting with countless iterations, he brought his first engineer boot to market in 2012. They'd sold out before he'd finished producing them. He's been a pillar in the vintage footwear scene ever since.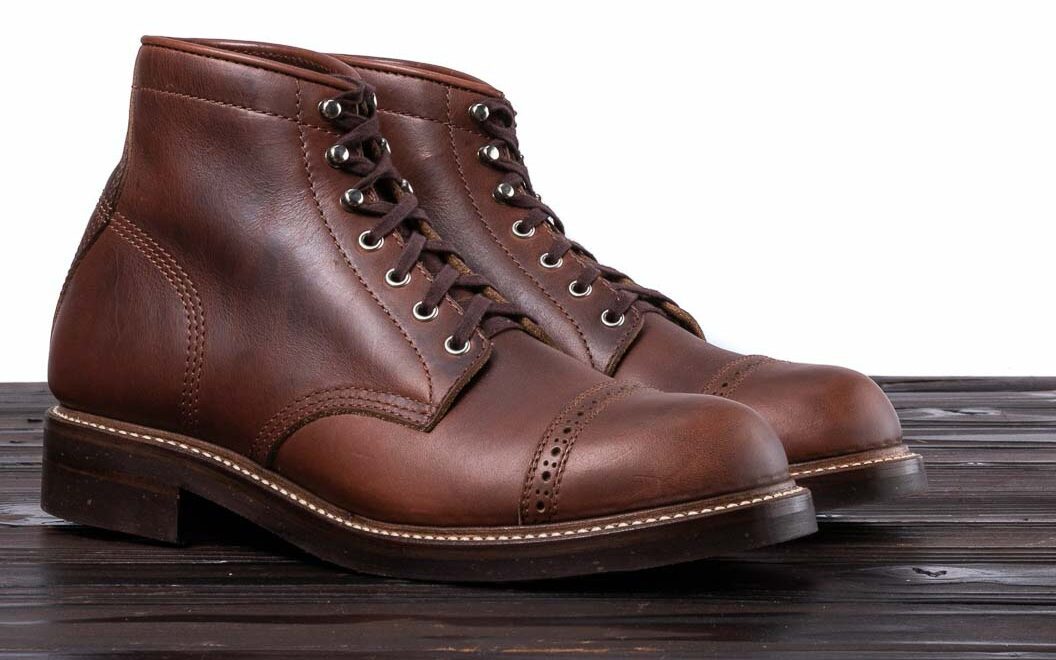 Lofgren is a man with deeply rooted principles that inform not just what he makes but how he makes it. This goes well beyond materials and construction.
When Lofgren was still a young man, he visited Egypt and was given a tour of a rug-weaving factory there. He saw a girl who couldn't have been more than six or seven bent over her work.
It opened his eyes, and he started his brand determined to do things differently—to pay all of his workers a living wage and to source his materials exclusively from companies who share his passion for ethical manufacturing.
He is best known for his engineer boot, and if you're in the market for one, Lofgren's is one of the best. We've chosen his Combat Boots because they are by far the most timeless and adaptable boot bearing the Lofregn badge.
Features of the John Lofgren Combat Boots
Timber chromexcel Horween leather
Vibram 705 sole
Vibram 700 heel
Made in Japan
Goodyear welted
American-made brass eyelets and speed hooks
Most wearers size down
Other Lofgren boots to consider: Engineer Boot in Black CXL (the brand's standard bearer; also available in natural and burgundy), Moc Toe Boot (arguably the best moc toe on the market), M-43 Service Boot (a touch dressier than the Combat Boots), and the Donkey Puncher (lace to toe beauties)
Standard & Strange ship from the US. If they're sold out or you're looking for other places to buy John Lofgren, try: Standard & Strange (US), Burg & Schild (Germany), and Second Sunrise (Sweden)
---
We can't leave Japan without a stop at the Real McCoy's. The kings of vintage reproductions made their name with leather, and they continue to be an extremely popular choice (especially in Asia) for boot lovers. Their horsehide engineer boots are a sight to behold but don't work with all styles.
Their Bear Head six-inch boot, which is made of the same strong horsehide as the engineer boot, is not only an adaptable boot. It is also a strong contender for the best six-inch boot made outside of America.
The Bear Head has a stiff double midsole that takes a little while for the foot to adjust to, but most wearers report that this is one of the most comfortable out-of-the-box boots you can find. When new, they are a treat for both the eyes and the feet.
They age beautifully, but many wearers choose polish over patina, putting the work in to keep them looking the same as the day they bought them.
The iconic stitching on the backstay does work best when it's got a clean and shiny black surface to work with. If you've got large feet, you might have to give this one a pass. Finding one larger than a size 11 seems to be impossible.
Joe McCoy Bear Head features
Black horsehide
Cat's Paw soles
Hand sewn by master craftsmen
Impeccable finishing
Goodyear welted
Nickel eyelets and speed hooks
Iconic backstay stitching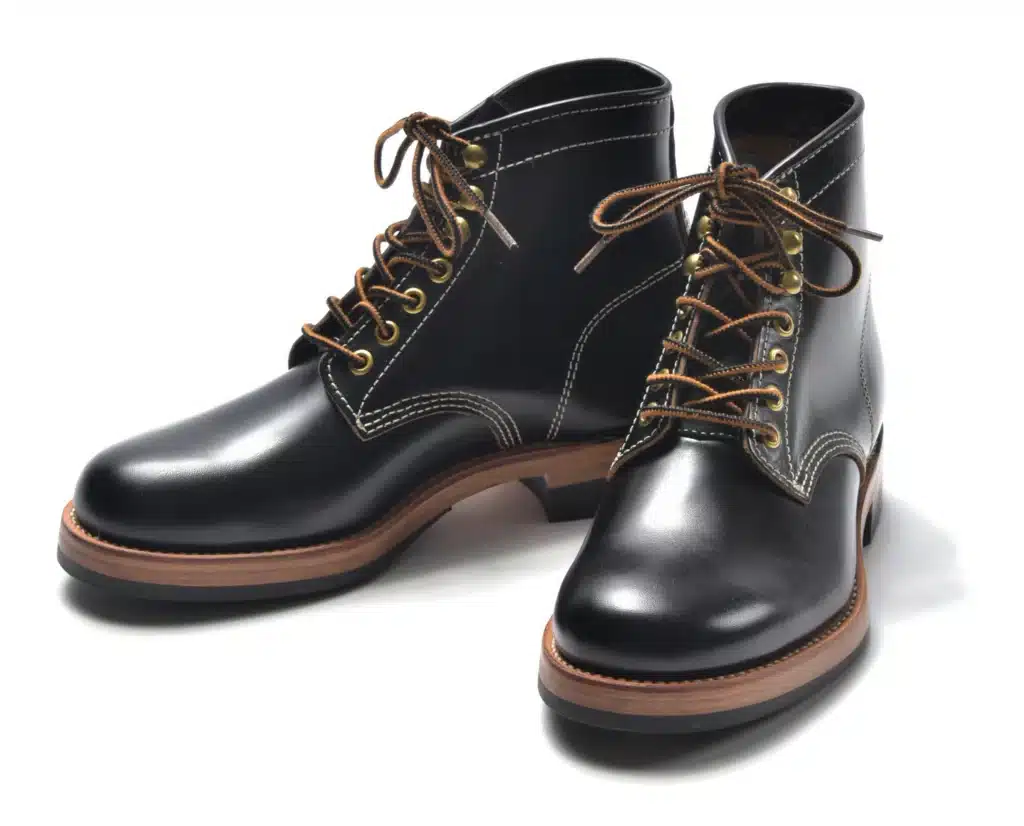 Other Real McCoy's boots to consider: Buco Shell Cordovan Engineer Boot (neck and neck with Clinch for the best in the game), Buco Horsehide Engineer Boot (same leather as the Bear Head)
The Real McCoy's ship from Japan. Other places to buy Real McCoy's include: Lost & Found (ship from Canada), Clutch Café (ships from the UK) The Real McCoy's international (ship from the UK), Standard & Strange (ship from the US)
---
We're touching down in the USA again, and we're hitting the tarmac snorting fire and shooting smoke out of our ears. Kreosote Boots is the suitably named re-branding of MYG Handmade. The bootmaker behind it all, JD Gabbard, started MYG in 2015, and he quickly built himself a reputation as the bootmaker to see if you wanted a shock-and-awe piece.
He's poured gasoline on the old brand and used the heat from the flames to forge a new brand with a name that better captures the spirit behind his boots. He does his best work in black. His bench-built boots have a stance like a late '60s muscle car. They don't stand on the road so much as grip it, their muscles flexed, ready to start tearing up the tarmac. They eat three pairs of Doc Martens between larger meals.
RS stands for 'ribbed shifter,' and MCB stands for 'motorcycle boot,' so the eye-catching stitching on the toe is far from decorative. These boots are designed with riders in mind, and to truly answer their calling, they need to be fed a steady diet of chrome and gasoline.
Kreosote 1940 RS-1 MCB features
5.5 oz. full grain Horween chromexcel
Ribbed shifter: 4 rows of harness leather
10mm heavy-duty rubber sole stitched with hand-cranked Gritzner
9 separate pieces of leather in the trademark heel capped with Vibram 700
Hand welted and hand-stitched
Antique brass eyelets
Structured cap toe (using 3 oz. veg-tan leather)
Other Kreosote boots to consider: Nine Ditches (veg tanned harness leather), Nail Shank-2 (flesh side out boots that look like they've just come off the feet of hell's coal shoveller), Eight Ball (Hand-dyed jet black—the most refined of the bunch)
Kreosote boots are exclusively available through Gabbard's webshop.
---
If you've even brushed up against the world of boot enthusiasm, you've heard of Brian the Bootmaker.
The LA-based bootmaker has won legions of fans since he started making his boots in a small shop under the tutelage of Ignacio Palacios. Ignacio, who started making boots in the old ways at the tender-footed age of eight, has taught Brian well, and the boot world has been quick to shower praise on both of them.
Brian might be the most in-demand bootmaker in America, and he has the waitlist to prove it. He builds ever pair of Role Club boots by hand in his small workshop, so, if you want one, you're going to just have to stack your order on the pile by the door and wait.
It's not uncommon for customers to chew their fingernails to the quick waiting for their pair. It says that the wait list is about a year long on their website, but each month he gets more orders than he can produce, so this list will only grow longer.
The wait is always worth it in the end. His Underdog can snap its jaws shut around almost any lace-up boot on the market, but it's his Engineer Boots that truly set him apart from other makers.
They age like nothing else, and Brian takes precise measurements of your feet before building your pair (it's really worthwhile, if possible, to have him measure your feet in person). From solid brass hardware to the immaculate finishing, it's unlikely you'll ever own a better boot.
Features of the Role Club boots
4-5 oz. Horween CXL horsehide
Double-stitched and riveted Role Club half-sole
Triple-ribbed wishbone shank secured with brass rivet
Hand-cut, hand-lasted, and hand-welted
Solid brass roller buckles
Triple-stitched and lined vamp
40s woodsman stacked leather heel
Other Role Club boots to consider: The Underdog (Brian's lace-up masterpiece), Boondocker (ready for a night out on the town), Role Club Lace To Toe (the name speaks for itself)
The boots are exclusively available through Role Club.
---
Honourable Mention and Kitting Out Your Boots
We limited ourselves to ten makers. But before closing, we should note that there are a few makers that deserve at least honourable mention:
If you've got the boots, you'll need a great pair of raw selvedge jeans to pair with them. Nothing pairs better with downstairs leather than upstairs cow or horsehide, so why not try a military-inspired leather jacket? Do your well-made boots justice with a well-made kit to match.