Name: Jim Fox
Birth year: 1965
Location: Cologne
Profession: Sign painter and part-time jeans slinger at Kentaurus
Jim's Instagram Routines
Thomas: How did it all start with your Instagram feed?
Jim: Back in 2011, I started my Instagram account due to my tattoo profession.
T: Why Instagram? What are your goals?
J: In the beginning, it was to keep up with other tattoo bros from around the globe and as an advertisement for my business. I don't have any goals on Instagram. It's just something to do when I've got a couple minutes to spare.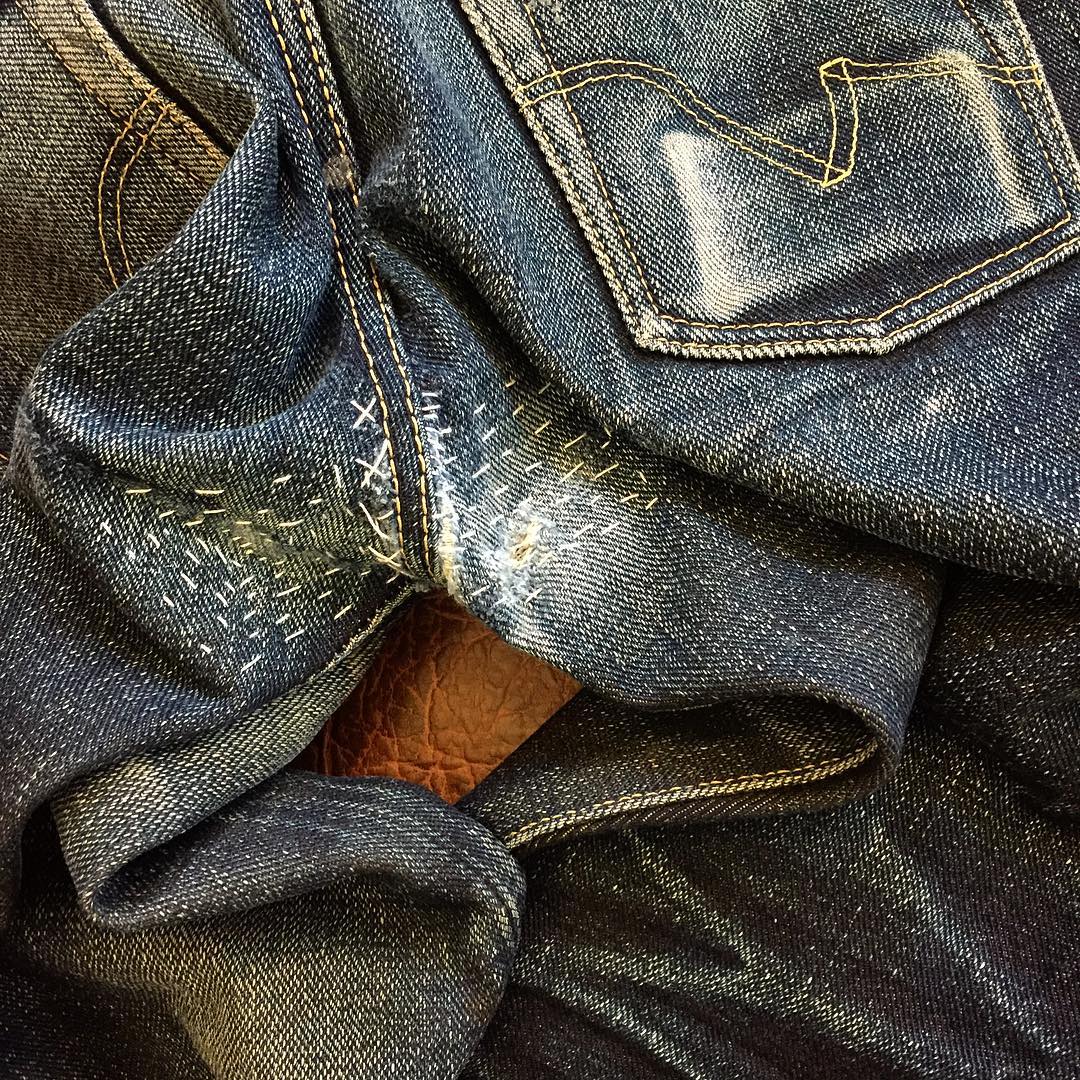 T: How much time do you spend on Instagram on a daily basis?
J: 10-12 minutes.
T: How do you take your photos?
J: I only use my iPhone and just prop it up however I can.
T: Which tools do you use?
J: I have a mini-tripod but don't usually have it with me. I find a rock or whatever is around, and that works fine.
T: What's your editorial flow?
J: No plan.
T: What are your favourite locations to take photos? And why?
J: The doorway of the shop I'm working in because it's easy and looks cool. At least I think so ?
Jim's Denim Preferences
T: How did you get into denim?
J: One leg at a time! Ha! I got my first pair of Levi's (non-selvedge) jeans in 1975 when I was 10 years old! I've been in love with blue denim jeans ever since!
T: What's your favourite feature of jeans?
J: Jeans are beautiful! The material, the way they fit after wearing them for days. They're just cool.
T: How do you wash your denim?
J: In the washing machine, inside-out, with a spin cycle of maximum 200-400 rpm, at 30-40°C, and hang dry. Simple.
Suggested further reading: How to wash your jeans
T: What's your favourite denim brand?
J: I think followers can make that determination for themselves.
T: What's your favourite fit? And why?
J: Slim-straight because I'm not 19 anymore! ?
T: Which boots and leather goods do you wear with your denim?
J: I like work boots and military-influenced boots that are well made and comfortable. I got used to boots like this in the 80s because I was in the punk scene and I worked in a cabinet shop. Boots were a must for both interests. I wear a leather belt to hold up my old blue jeans.
T: Which sneakers do you wear?
J: I only wear sneakers for sports. I do wear Chucks and Vans in the summer, sometimes.
T: Favourite item that's not denim or leather?
J: My watch cap!
T: Where do you buy your gear?
J: Well, a lot comes from Kentaurus, of course!
T: What's your monthly clothing budget?
J: I have acquired enough gear over the last couple of years to be set for the next few years. I'm not buying anything unless it needs to be replaced, so my monthly budget is currently €0 ?
T: What styling tips would you give your followers if they wanted your style?
J: Less is more! No one needs 30 pairs of jeans. Buy a few key items and honour the maker by wearing them until they are in need of replacement!
As for my 'style,' I believe there are way too many people dressing the same. You need to have style! It's not just what you wear. Be yourself and experiment, don't just try to dress like your favourite Instagrammers. It's about finding what works for you and your body and soul. That's my style advice.

Ready for More Q&As?
If you'd like to read more personal stories and Q&As, you can check out all the previous ones right here. Want to make sure you never miss one? Sign up for the free weekly Denimhunters email newsletter.