Well-Made Essentials » CPOs and overshirts
The Shortlist of Well-Made and Essential CPOs and Overshirts Every Denimhead Should Own
Is there any better season than autumn for us denimheads? We sweat it out all summer in our heavy gear, waiting for the first signs of yellow and red on the branches.
When the leaves and the birds start heading south, the weather finally starts to match our clothes. As the evenings get longer and colder, we can start stacking our pieces on top of each other.
Overshirts (mostly of the ill-fitting and poorly constructed variety) have become fashionable in recent years. But the kinds of overshirts you can find by the rackful in fast-fashion outlets (like mass-market flannels) lack the bona fides of the genuine well-made articles that we'll be discussing below.
If you want an overshirt or a CPO that is a fitting companion for your heavy raw denim, don't settle for pretenders. If you want a rugged and timeless piece that will take your layering game to the next level, nothing but the real deal will do.
Our guides are reader-supported. We earn a small commission when you make a purchase, but it doesn't cost you anything. Prices include local VAT and are subject to change.
---
9 Well-Made and Essential CPOs and Overshirts
Thanks to the increased fashionability of overshirts, it's not hard to find something that looks the part. Finding a heritage-inspired CPO or an everlasting overshirt is another story entirely.
We've looked high and low and managed to locate nine shirts from Japan, the US, and Europe that meet our well-made and essential criteria. Let's dive in with a stitch-for-stitch Japanese reproduction of the classic military-grade CPO.
---
Real McCoy's is the first name in vintage Americana reproductions. Founder Hitoshi Tsujimoto began his fashion career as an avid collector of classic American pieces (especially military jackets).
The brand has set out to produce pieces that stay true to the look of the original while subtly improving on construction and finishing. The result is pieces that represent a new chapter in archival renewal.
Real McCoy's uses melton wool in their CPOs. The tightly woven and neatly finished woollen fabric is perhaps best known as the wool used in the iconic red and gold fox hunting jackets worn by blue bloods and social climbers in England for centuries, and you'll find it in some of the most robust wool outerwear garments on the planet. It's a wool like no other—a perfect fit for a CPO with few rivals.
100% melton wool
Made in Japan
Meticulous reproduction
Single buttoned flap chest pocket
Anchor buttons
Classic Naval Clothing Factory label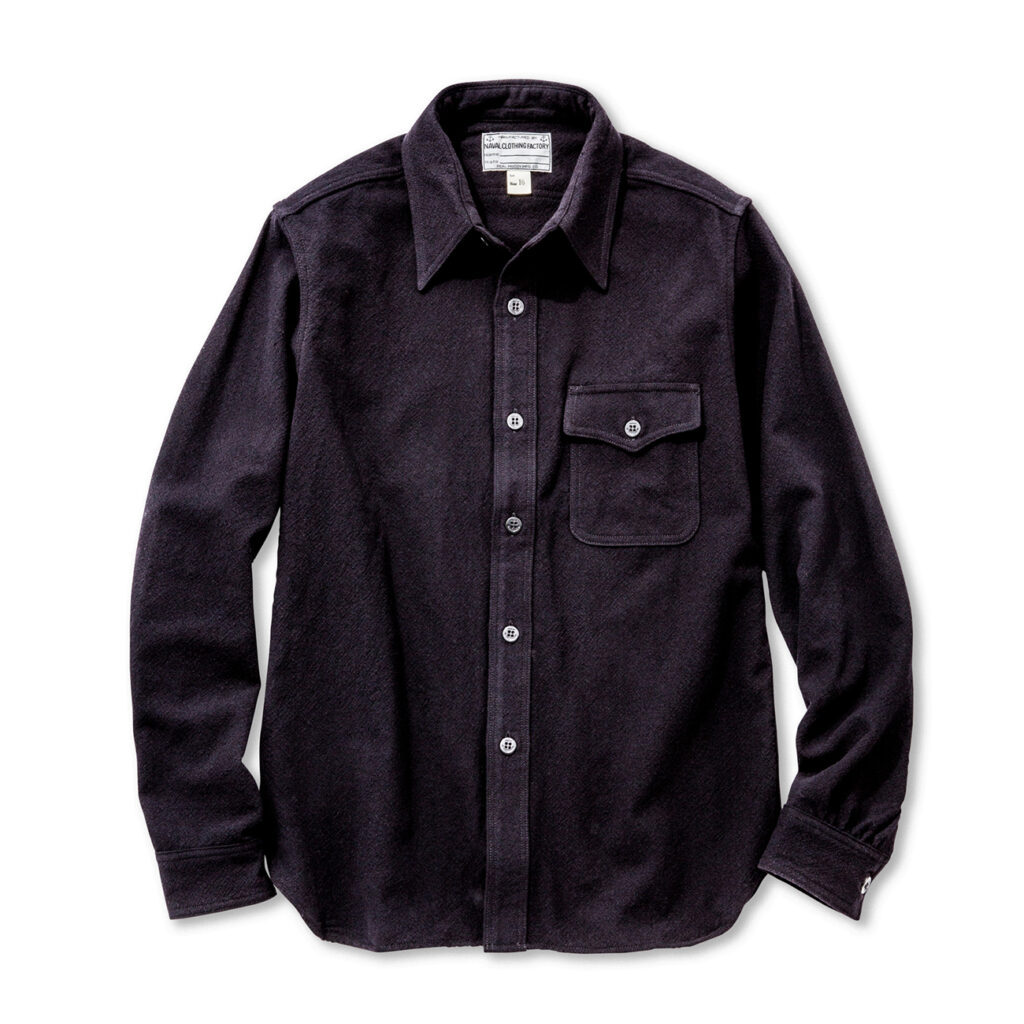 Other Real McCoy's overshirts to consider: Striker CPO (button-down collar and vintage patches), JM Wool Pile Western Jacket (shaggy and incredibly warm)
The Real McCoy's ship from Japan. Other places to buy Real McCoy's include: Lost & Found (ship from Canada), Clutch Café (ships from the UK) The Real McCoy's international (ship from the UK), Standard & Strange (ship from the US)
---
Like so many other great American drapers (the wool-producing kind, not the ad executives), Dehen hails from the Pacific Northwest. Founded in, you guessed it, 1920 by a hard-working German immigrant, they have built their reputation on rugged, made-to-last wool and leather pieces (particularly varsity jackets). When the winds of manufacturing shirted, they refused to shift with them. They have stood fast on their Made-in-America principles, planting their feet in Portland and never outsourcing a stitch.
Dehen 1920's Crissman Overshirt is available in a beautiful array of classic colours, but there's something about this shirt in light grey with the ochre lining that really speaks to us. The 14 oz. melton wool, with cotton interior accents and reinforced elbows, will more than stand the test of time.
14 oz. melton wool
100% cotton accent liner
Milled in the UK
Made in the USA
Double welt hand pockets
Inside pocket
Keyhole buttonholes and heavy-duty snap neck closure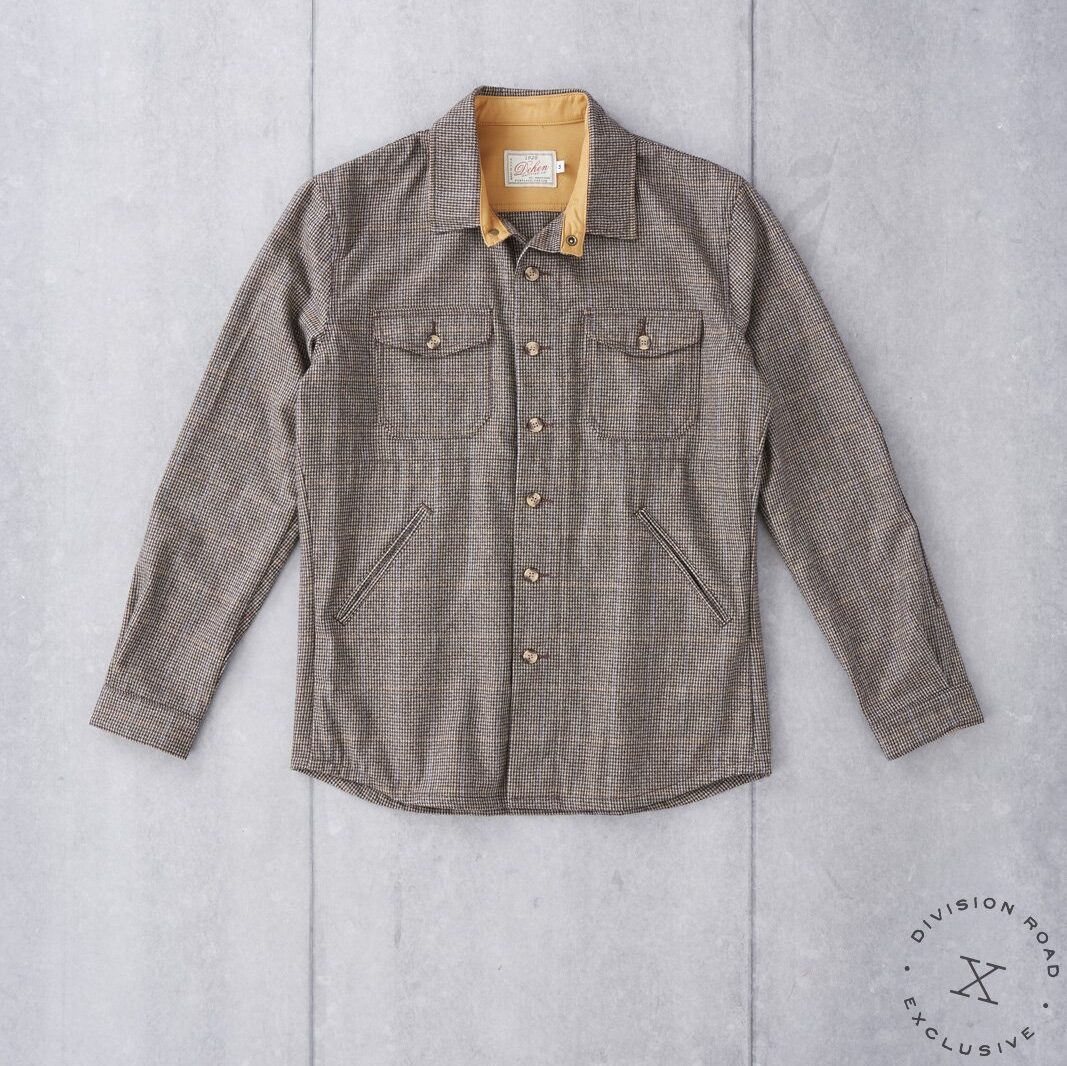 Other Dehen 1920 overshirts to consider: We're also fond of the Crissman in the loden green, blue mix, charcoal, and dark navy
Division road ship from the USA. If they are sold out, or if you are looking for other places to buy Dehen 1920, check these places: Dehen directly (USA), Rivet & Hide (UK), Burg & Schild (Germany), Godspeed (AUS)
---
This American upstart sold their first collection a dozen years ago in a Nashville service station. They ventured into the world of well-made denim with one pair of jeans for men (The Willie) and another pair for women (The Imogene). The first pairs sold out so quickly that they were able to start expanding, keeping their focus on clothing built to be worn day in and day out by men and women passionate about their long-lasting and good-looking workwear.
Their take on the CPO emphasizes comfort and wearability without sacrificing in terms of build quality. They've used a double-faced wool blend with a navy melange exterior, and they've enlisted the services of the storied weavers at the American Woolen Company. The result is a delicate yet rugged balance of navy and grey that cries out to be worn and touched.
51% Wool / 32% cotton / 17% recycled nylon
Made in the USA
Double-faced wool blend
Contrasting back woven by American Woolen Company
Snugger fit than most CPOs
Built for comfort and style
Other Imogene + Willie overshirts to consider: Jack Jacket (soft French work jacket)
Imogene + Willie ship from the USA. If they are sold out, or if you are looking for other places to buy Imogene + Willie, have a look at: Stag Provisions (USA)
---
You can't talk about well-made overshirts with at least brushing up against Filson. Yes, they no longer make their shirts on US soil, but we can't hold this against them when they continue to set the standard for rugged and gorgeous workwear that ages like fine wine.
The Mackinaw Jac-Shirt, made of a combination of 26 oz. 100% virgin Mackinaw wool and an 8 oz. cotton flannel lining can handle whatever you can throw at it. The classic combination of oxblood and black makes this a piece that will begin to look vintage the moment you beat some of the softness out of it.
Be prepared, you may need to put in 100+ hours before this made-to-work classic kicks off its shoes and puts its feet up by the fire.
26 oz. 100% virgin Mackinaw Wool
8 oz. cotton flannel lining
Snap closures
Rain repellent
Flannel-lined hand-warmer pockets
Synthetic sleeve liner
"Imported"
Other Filson overshirts to consider: Hyder Quilted Jac-Shirt (insulated for added warmth), Jac-Shirt (the classic 100% wool overshirt)
Milworks ship from the USA. If they are sold out, or if you are looking for other places to buy Filson, try: Brund (Denmark), Cultizm (Germany), Mr Porter (global), Nordstrom (USA), HepCat Store (Sweden)
---
The good people at Pendleton (running neck and neck with Canada's Hudson's Bay Company for the most iconic woollen blanket makers on the continent) may call this a coat, but it's got overshirt written on every inch of its virgin wool surface.
With roots deep in the rain-sodden Pacific Northwest, Pendleton knows a thing or two about keeping the cold and damp out, and this heavy shirt can go head to head with any of the heavy wool shirts on this list without breaking a sweat.
The wool is both milled and constructed in the company's self-owned and operated mills in either Oregon or Washington. It's stain and water-resistant, and to keep the moisture at bay, it's got a double yoke layer that buttons down onto the two chest pockets.
It's also got hidden hand-warmer pockets along the side seam, which don't interrupt the sleek design lines. It's a gorgeous piece—one that would be perfectly at home hanging from a rusty nail in a log cabin, its heavy red and blue tones mimicking the dancing firelight and the autumnal shadows.
100% 23 oz. virgin wool
Milled and constructed in the USA
Poly/cotton inner trim (unlined, but accented)
Relaxed fit (meant to be worn as a heavy layering piece)
Button-down yoke front
Dual side seam hand pockets
Dry clean only
Other Pendleton overshirts to consider: Lodge Shirt (classic wool cabin shirt), Elbow Patch Trail Shirt (professor approved), Quilted Shirt Jacket (lightly insulated)
Pendleton ship from the USA. If they are sold out, or if you are looking for other places to buy Pendleton, check out: M.W. Reynolds (USA)
---
The classic CPO is a no-frills, no-nonsense garment, so it's no surprise that Germany's premier vintage workwear atelier makes an appearance on this list. Like a Mercedes or a BMW, the 1943 CPO shirt just works. Those behind the brand see themselves as storytellers as much as garment makers, and each story they tell is an old one (usually set in the first half of the last century).
They've stayed faithful to the CPO's vintage naval roots, and they haven't gone overboard in any way. Unlike the aircraft carriers elsewhere on this list, this piece is a nimble destroyer. They've gone with a middleweight wool/polyamide blend that makes the piece ideal as the middle piece in a layered look. Anchor buttons are the finishing touch that makes this a vintage piece for the ages.
80% wool / 20% polyamide middleweight blend
Made in Portugal
True to original 1943 design
Anchor buttons
Double chest pockets
Unlined
Available in several colours and fabrics
Other Pike Brothers CPOs to consider: 1943 CPO in black wabash (13 oz. selvedge denim wabash), 1943 CPO Buffalo Flannel (CPO pattern in buffalo plaid), 1943 CPO Mulholland Black (CPO in heavy black suede)
Pike Brothers ship from Germany. If they are sold out, or if you're looking for other places to buy the brand, try: Cultizm (Germany), American Classics London (UK)
---
Both of us live in places with four seasons (winter being—or at least feeling—the longest of the bunch in Scandi-land). You might come from somewhere a little closer to the equator, but this doesn't mean that you should give the overshirt category a miss. You just need something a little lighter weight, and the Save Khaki Blanket Twill Overshirt will be a perfect companion when the temperature is anything less than sweltering.
Woven from 100% grown-in-America cotton on antique selvedge looms in Pennsylvania, this piece is as American-made as they come, and it seems to capture this in both look and feel. It's got a rugged exterior and a soft heart, and the pronounced right-hand twill demands a closer look. These run on the large side, so size down if you want that skin on twill contact.
100% Cotton
Milled from USA-grown cotton
Woven on antique shuttle looms in Pennsylvania
Constructed in the USA
Buttoned placket and barrel cuff
Patch chest pocket
Oversized fit
Other Save Khaki overshirts to consider: Herringbone Overshirt (middleweight overshirt available in cream or navy)
Save Khaki ship from the US. If they're sold out ofOther places to buy Save Khaki: Stag Provisions (USA), Lost and Found (Canada), End. (UK)
---
Available in several patterns, each more striking than the last, the Wax London overshirt turns heads fast enough to cause spinal injuries. It's not just the colours that draw the eye. It's the thick cotton twill (sourced from a century-old French mill that specialises in sustainable manufacturing and recycled materials). The combination of heavy fabric and bold colours makes this an unmissable shirt—your layering-game ace in the hole.
Though the Whiting Overshirt layers exceptionally well, it's a shame to hide these colours and this fabric under anything, so we're recommending that you use the Whiting Overshirt as a fall top layer. Throw it on (buttoned up or unbuttoned—both look great) over a tee shirt or a henley and you're good to go. Don't be surprised if you catch a few double takes per block.
Heavyweight 100% cotton weave
Milled in France
Made from recycled materials
Italian corozo buttons
Vintage feel with modern styling
Relaxed fit
Available in a number of striking colours
Other Wax London overshirts to consider: Whiting Marine Beatnik (navy and white), Whiting Madras Navy (strong vintage vibe), Whiting Ombre Kerouac (eternal fall colours)
Wax London ship from the UK. If they are sold out, or if you're looking for other places to buy the brand, try: John Lewis (UK), James Dant (USA)
---
We're closing out this list with a nod to all you denimheads out there who see layering season as an opportunity to stack denim pieces on top of each other. Iron Heart, the kings of heavyweight selvedge, have taken stabs at wool CPOs in the past, but in more recent years they've returned to their wheelhouse.
Their blanket lined take on the CPO is essentially a lined western shirt with hand-warmer pockets. They've gone with a 14.7 oz. brown-weft selvedge denim for the outer layer and a rough mixture of cotton and wool for the striped blanket lining (switching to quilted nylon satin for the sleeve lining). It's meant to be taken behind the woodshed and thrashed daily, so don't drop the dollars unless you're prepared to do this incredible piece justice.
Other Iron Heart CPOs to consider: IHSH-177 (18 oz. unlined indigo denim CPO), IHSH-188 (18 oz. unlined black denim CPO), IHJ-74-BLK (PrimaLoft Gold Quilted CPO)
Iron Heart ship from the UK and the US. If they are sold out, or if you are looking for other places to buy Iron Heart, check out: Franklin & Poe (US), Corlection (AUS), Self Edge (US), Brund (Denmark), Statement (Germany)
---
Why Well-Made CPOs and Overshirts Are Essential
Well-made CPOs and overshirts are essential because they're both timeless and adaptable. They are built to outlast the season (both weather and fashion), and they can be slotted in to just about any denim-based kit. If you have any doubts, allow us to dispel them.
Well-Made CPOs and Overshirts Are Timeless
The CPO first made its appearance on the decks of US Navy ships in the 1930s. The heavy wool shirts with the single flap pocket were issued to Chief Petty Officers (hence the name CPO shirt). The shirt was by no means exclusive to the Navy, but it quickly became associated with the heavy blues favoured by seagoing soldiers.
Thanks to its combination of practicality and rugged good looks, the CPO remained a mainstay in blue-collar looks. Hand-warmer pockets and a matching flapped chest pocket rounded out the look, but, even with these changes, the heavy blue wool piece maintained its simple and briny charm.
Today, the CPO and its overshirt siblings are playgrounds for well-made artisans. Some makers take pains to recreate the original, while other forward-looking makers introduce more modern takes on the classic.
Whether they're looking backwards or forwards, they all know that the key to the CPO's longevity is its simplicity. Heavy and dark, functional and fashionable, these shirts will never go out of style.
Well-Made CPOs and Overshirts Are Adaptable
This category is dominated by solid and dark colours. If you're looking for a bold, stand-out piece, you'll probably have to look elsewhere.
With its naval roots, the CPO is an extremely conservative piece, and the overshirts we'll be looking at below fall into the same territory, but this doesn't have to mean that your outfit has to be tucked in as tight as a private's bedsheets.
A heavy overshirt or CPO can pair beautifully with a rolled-neck sweater (especially one with some vertical texture) or with a loose henley or long-sleeve tee. It can be worn unbuttoned (partially or fully), or it can be buttoned up right to the throat. It makes a great layering piece if you've got a loose flowy jacket, but, due to its length and boxy fit, it's an either/or decision with denim jackets.
In its navy blue incarnations, when paired with a fresh pair of raws, a heavy overshirt can give off strong man-in-uniform vibes. If this is the look you want, lean into it: shine your boots and grab that watch cap. If you want to steer clear of this, brighten up the outfit with a printed shirt or pair it with a thoroughly faded pair of jeans.
It may not work with absolutely everything, but it's still an adaptable cool-weather piece that can forge a lasting peace with your fair-weather standards.
---
How to Identify a Well-Made CPO or Overshirt
With overshirts cresting the fashionable waterline in recent years, it can be easy to be drawn to something that looks great on a mannequin or hanger. Get up close, though, and you'll quickly see that pieces that look heavy and warm from a distance don't always stand up to scrutiny.
A well-made CPO or overshirt is an investment. Here are a few details to look for if you want to make sure that investment will pay dividends.
What It's Made of
The first thing that should leap out at you is the weight. A lightweight flannel might slide into the rotation nicely, but a lightweight overshirt or CPO won't stand to attention when it's name is called. It'll whither under pressure and go to pieces in the ocean spray. The well-made article should be thick and sturdy, and its heft should always be a little surprising when you take it off the hanger.
If it's a proper CPO, you should be looking at 100% wool or cotton (often brushed for increased loft). If there's a liner, you might be looking at something soft and synthetic, but you shouldn't see any synthetic fibres in the outer shell. If warmth is your top priority, stick with wool.
Be wary of plaids. CPOs are almost always either black or navy, and the best overshirts tend to come in solid colours as well. There are a number of well-made plaid overshirt exceptions (three of them on our list below), but for every genuine article there are dozens of pretenders. Most of them are little more than ill-fitting flannels, so look them over carefully. Stick to our list below and you can't go wrong.
What to look for in well-made CPO or overshirt:
Solid colours or conservative plaids
100% wool for warmth
100% cotton for comfort
The heavier the better
Loft (thickness)
Brushed (not a must)
Stiff at first (will relax with wear)
How It's Made
The classic CPO is made for military use, so it should be built like a tank. A good overshirt should be similar. Both should plant their feet firmly, not giving an inch.
The break-in period might be months or even years, so don't expect it to drape nicely or to give you that comfy lived-in feeling straight out of the gate.
At the top end of the scale, overshirts and CPOs feel more like jackets than shirts. This should be reflected in the stitching and the hardware. The stitching should be all-but-invisible, but you should feel it there, ready to hold the fort whenever it's called upon. Seams should be flat-felled. Heavy-duty buttons are the standard (bonus CPO points if they feature an anchor). If there are snaps, they should come together with an intensely satisfying click.
The collar and cuffs should stand at attention, and the front placket (the double layer that you feed the buttons through) should feel as strong as Popeye's forearms.
The cut should be fairly boxy. It is, after all, meant to be worn over your other layers. This doesn't mean that it should be shapeless, though. Button it up and take the front placket in both hands. When you pull it away from your body, there should be a little bit of room, but definitely not enough to fit another person in there.
Construction details to look for in well-made CPOs or overshirts:
Sturdy but subtle stitching
Flat-felled seams throughout
Heavy-duty buttons or snaps
Sturdy collars and cuffs
Boxy (but not baggy)
Why It's Made
Those who make truly great CPOs and overshirts are guided by the same design principles as those who made the classic military-grade CPOs. These shirts were only accidentally fashionable. They were, first and foremost, functional clothing—designed to keep seagoing wearers warm in the wet.
CPOs and overshirts that toe this line can be recognised almost immediately. Put it on in the store and you'll almost immediately feel the temperature rising inside the shirt. They call out for the great outdoors, and particularly for cooler climes. Bring one on an early autumn hike and you'll soon find yourself carrying it. Bring one to a late-autumn campfire, though, and you'll be set for the night.
A great overshirt might not be a piece that gets 300+ wears in a year, but, for perhaps 100 nights out of the year, it'll be your boon cool-weather companion.
---
Looking for something that's just a little lighter?
If you're looking for other cool-weather essentials, check out our guide to the best heavy flannels you can buy. Armed with a well-made overshirt and a flannel you'll be ready for whatever the season blows your way.