Q&A with Andreas aka @vonabiszett on Instagram
You can find some quirky usernames on Instagram.
For the longest time, I couldn't wrap my head around "vonabiszett." Turns out it's a play on Andreas' last name: Andreas A … Z = A²Z or 'from A to Z,' which in German is 'von A bis Zett.' This is his story.
What's your story
Name: Andreas A………z
Birth year: 1972
Location: near Düsseldorf, Germany
Profession: Management assistant at a metal foundry
I live with my two sons, aged 13 and 19, and my lovely wife near Düsseldorf in the North-Rhine-Westphalia region. We have a nice house and my wife cares about its styling and interior, also because she's running an interior blog and Instagram feed.
Being half Italian, I like the Italian habits such as food, espresso and family life. I'm a coffee addict and love sports like soccer, cycling and running.
Instagram questions
Thomas: How did it all start with your Instagram feed?
Andreas: My wife started first and I became curious about the success and interaction she had.
The funny thing is that I stepped on the Instagram train and started my feed with nature and industrial shots. It all changed with a post of my Red Wing Boots and some denim. Suddenly, there was a feedback and I was part of this awesome denim community with even more motivation than before.
T: Why Instagram? What are your goals?
A: Instagram is the easiest way to post something, share interests and interact with like-minded people. I really like the community and the interaction with all the nice folks.
It's also pretty cool to see how the pieces fit and look when worn and after some time, so you can get an idea before buying.
I don't consider myself an influencer and I'm not pursuing any business objective, but I've done some few sponsored posts. I'd do that only for things that I'm convinced of and that reflect my lifestyle. I've already rejected some requests.
T: How much time do you spend on Instagram on a daily basis?
A: I'd have to check my phone stats to answer that. Probably too much time, but not as much as at the beginning of my Instagram 'career.'
T: Which tools do you use?
A: I mainly use my iPhone 7 Plus, often in portrait mode, using the self-timer or with a little help from one of my family members. I try to keep it simple.
Sometimes, especially for detail shots and when I have more time, I grab my Nikon DSLR camera. I intend to use it more with my new lens (a 50mm/1.8f).
I use Snapseed or Photoscape to create more texture and sharpness or to enhance and refine the lighting.
Probably, I'll try some professional tools in the future, who knows. That's not what Instagram originally was meant to be, but I see it's getting more and more professional.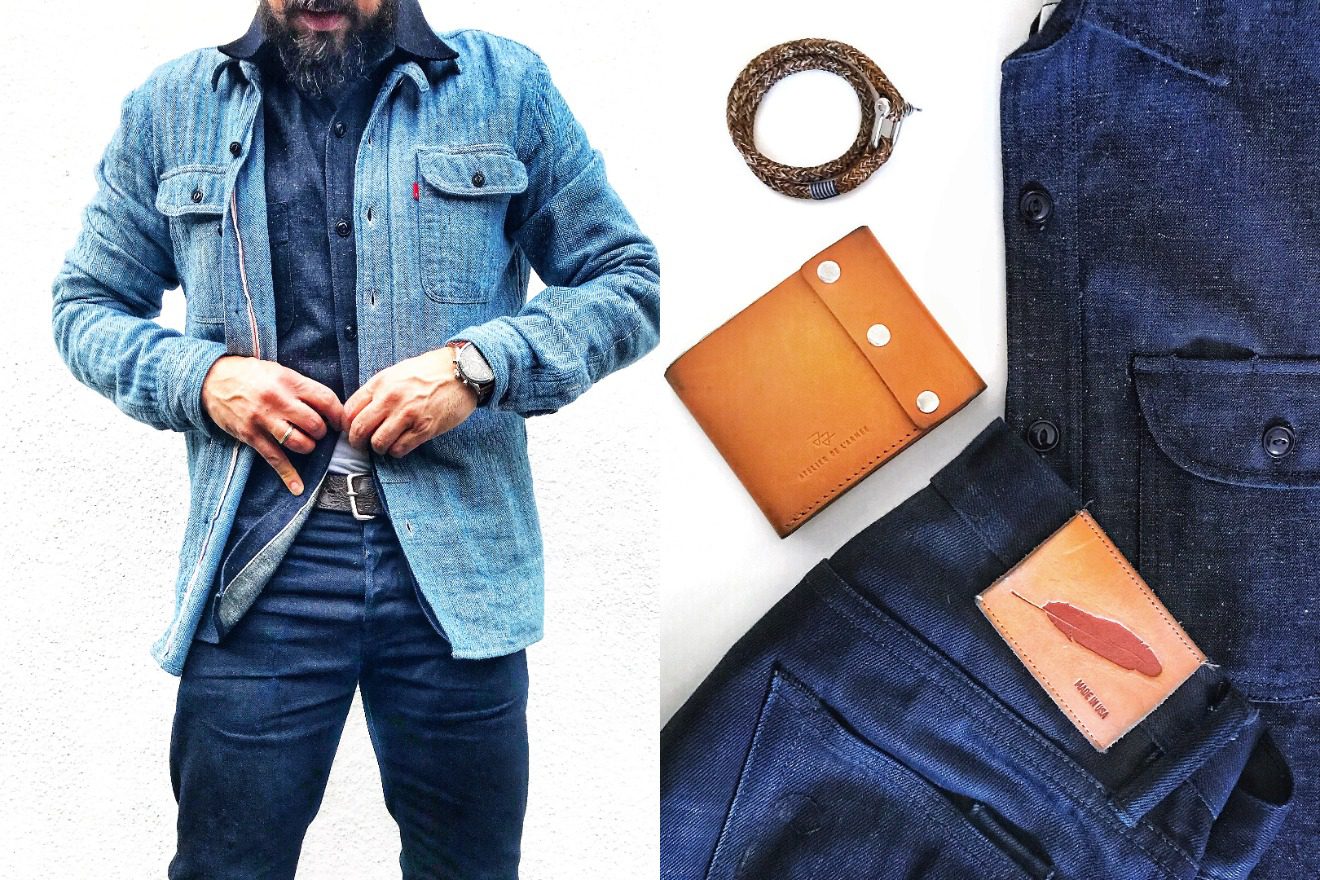 T: How do you come up with new ideas, and what's your planning like?
A: That's totally different from day to day. Sometimes, when I feel like I have a good idea, I try to realise it immediately. On other days, I take multiple pics, for example when the lighting is right, and post it up from the archives.
I don't have a specific structure. My posts are mostly spontaneous and influenced by my current mood. So you can find flat lays, on-fit pics and detail shots in my feed.
T: Do you make it a priority to post on a regular schedule?
A: Normally, I try to post on a daily basis, but I don't mind missing a day. There's still a (real) life outside of Instagram ?
T: Do you repost?
A: I think for me it's better to keep it personal, so I don't repost, but there are really cool repost feeds out there!
Denim questions
T: What is your favourite feature on jeans?
A: I like it raw and selvedge, with a button fly and some nice little details like the bandana pockets and the buttons of my @leftfieldnyc Greaser or the leather patch of my @rgt and the fabric of my The Strike Golds.
T: How do you wash your denim?
A: In the early lifecycle of a new pair of raws, I really try to postpone the first wash (not the initial soak when unsanforized). The first wash is always done by hand in the tub, with the denim turned inside out with a detergent for dark fabrics and hang dry after that.
After some handwashes, I switch to a gentle machine wash, but always hang dry.
T: What's your favourite fit? And what's your least favourite fit?
A: I changed my preference from slim straights (slightly tapered) to a more tapered fit, like on my actual fade project: The Strike Gold 16.5 oz.
Wide-cut denims or 70s-style flared legs are not really my flavour.
T: Which boots and leather goods do you wear with your denim?
A: I have a small collection of @redwingheritage boots, a snap wallet from @atelierdelarmee, a minimalist wallet for credit cards from @alexandervonbronewski, and a comb in a leather case from @ondura_durable_goods, that's all.
T: Which sneakers do you wear?
A: I'm really into sneakers lately. My favourites are 70s Chucks and Nikes Air Max, which my older son introduced me to.
T: Favourite item that's not denim or leather?
A: That's easy, my @apolis wool chore coat is a great variable jacket and my @pigandhen bracelets are my absolutely favourite accessories. They combine a very tough quality with a maritime touch.
T: Where do you buy your gear?
A: To be honest, I buy most of it online, and I prefer @cultizm.
My go-to store, which I would highly recommend, is stuf│f fine goods. Nice people who will help you out with a great range and even more knowledge, and they have a good espresso as well.
T: What styling tips would you give your followers if they wanted your style?
A: Find your own style and the right fit depending on your budget and preferences. Instagram is a good platform to get an idea of how individual pieces look, but always remember that everyone is individual and that some styles or even brands might not fit or flatter your body type.
Personally, I really try to get away from the uniform indigo denim look and to set some colour highlights with a tee or a shirt.
I want to put some wear in my clothes, not only to own them, because I like the fact how they evolve over time, like worn-in boots or all those pretty faded denim.
It's like 'buy less buy better,' but my wife always tells me that I've got way too much stuff, so you can't call me a minimalist.
… Don't Miss the Next Blue Blooded Interview!
With that confession, you've reached the end of the seventh instalment in the series of Q&A with Blue Blooded Instagrammers! If you haven't done so already, remember to follow Andreas on Instagram!
Next week, you can read @yonagrinberg's story.